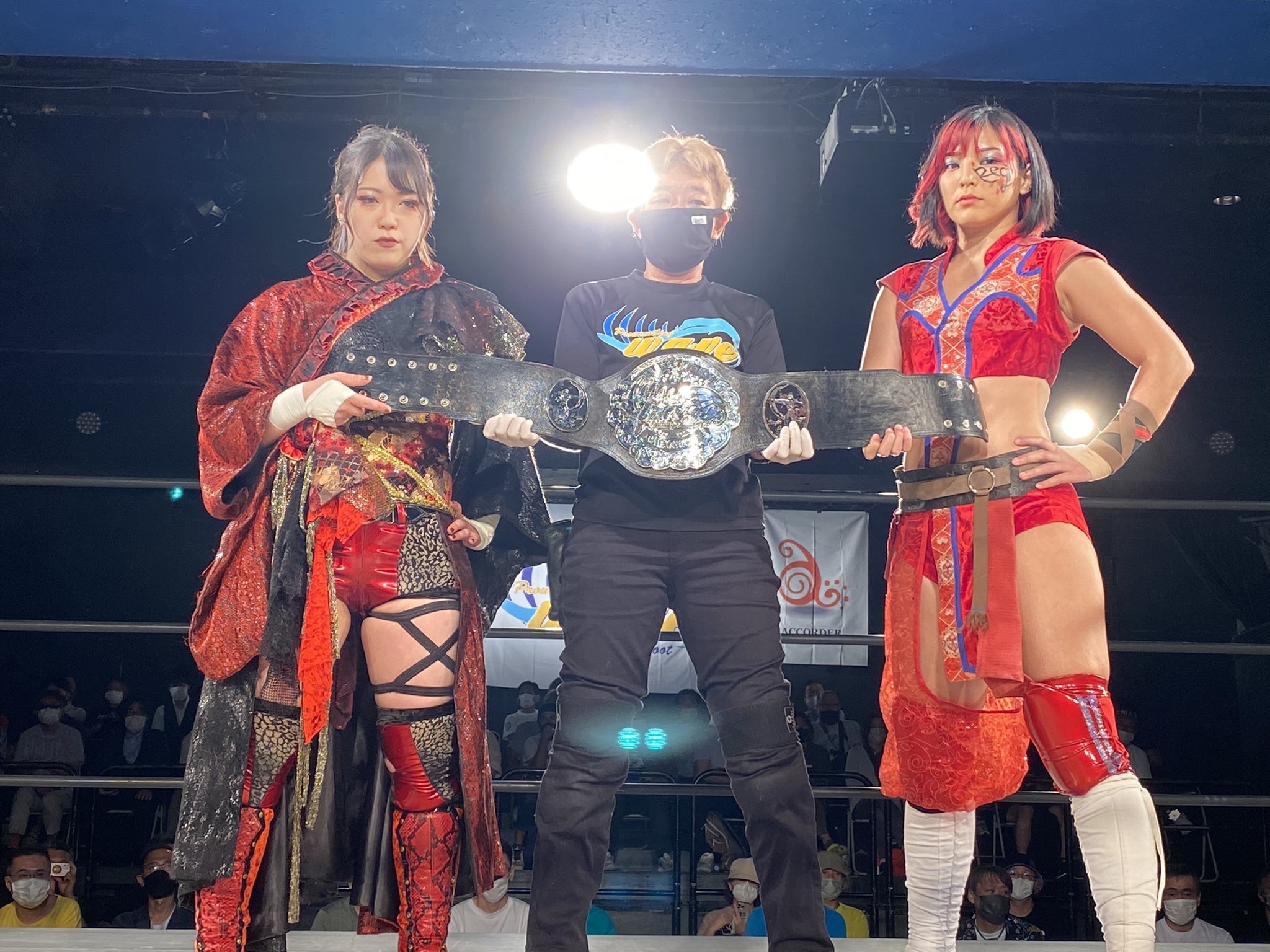 STARDOM:
The annual 5STAR GP Tournament continued this week with three shows. The first was a big Korakuen Hall Show on Thursday, headlined by MIRAI beating Suzu Suzuki. The second show was in Saki Kashima's hometown Shimane where she gained her first win against Maika and the third show was in Okayama headlined by Momo Watanabe gaining her third win in a row against Natsupoi. Momo is one of the biggest winners of this week, beating her Tag Team Partner Starlight Kid, Hanan and Natsupoi. Another big winner is AZM who first upset Tam Nakano with the Azumi Sushi and won two more matches Momo Kohgo and Himeka. The biggest Winner in this 5STAR yet is Hazuki who is still undefeated after 5 Matches and sits on the top of the Blue Stars Block with a lot of momentum going into the rest of the tournament.
On August 21st, STARDOM is also holding the STARDOMxSTARDOM PPV Event which is headlined by the two "History" Matches. The newly formed Team of Tam Nakano & Natsupoi are challenging Hazuki and Koguma for the Goddesses Of Stardom Titles, KAIRI is challenging Saya Kamitani for the Wonder Of Stardom Title and Syuri is defending her World Of Stardom Title against the first-ever Red Belt Champion in STARDOM history Nanae Takahashi

Full Card:
Hanan (c) vs Miyu Amasaki – Future Of Stardom Title
Giulia & Mai Sakurai vs Rina & Ruaka
Mayu Iwatani & Momo Kohgo & Saya Iida vs AZM & Lady C & Utami Hayashishita
Momo Watanabe & Saki Kashima & Starlight Kid (c) vs Mina Shirakawa & SAKI & Unagi Sayaka – Artist Of Stardom Title
Hazuki & Koguma (c) vs Natsupoi & Tam Nakano – Goddess Of Stardom Title
Saya Kamitani (c) vs KAIRI – Wonder Of Stardom Title
Syuri (c) vs Nanae Takahashi – World Of Stardom Title

Next Week's 5STAR Grand Prix Matches:
Day 8 on August 20th in Osaka:
Syuri vs Saki Kashima
Momo Kohgo vs Risa Sera
Koguma vs Mai Sakurai
Maika vs SAKI
Hazuki vs Suzu Suzuki
Hanan vs Starlight Kid
Giulia vs Saya Iida
Ami Sourei vs Momo Watanabe

Official 5STAR Grand Prix Standings following Day 7:

RED STARS BLOCK –
8 – AZM (4-1-0)
8 – Utami Hayashishita (4-1-0)
6 – Himeka (3-2-0)
6 – Syuri (3-1-0)
4 – Koguma (2-3-0)
4 – Risa Sera (2-1-0)
4 – Mai Sakurai (2-2-0)
4 – SAKI (2-1-0)
2 – Maika (1-2-0)
2 – Saki Kashima (1-3-0)
2 – Tam Nakano (1-1-0)
2 – Unagi Sayaka (1-3-0)
0 – Momo Kohgo (0-5-0)

BLUE STARS BLOCK –
10 – Hazuki (5-0-0)
6 – MIRAI (3-2-0)
6 – Momo Watanabe (3-2-0)
6 – Saya Kamitani (3-1-0)
4 – Ami Sourei (2-1-0)
4 – Mina Shirakawa (2-1-0)
4 – Mayu Iwatani (2-1-0)
4 – Natsupoi (2-3-0)
2 – Starlight Kid (1-2-0)
2 – Giulia (1-2-0)
0 – Hanan (0-5-0)
0 – Saya Iida (0-3-0)
0 – Suzu Suzuki (0-1-0)
MATCH RECOMMENDATIONS:
AZM vs Tam Nakano (11/08/2022)
Momo Watanabe vs Starlight Kid (11/08/2022)
Hazuki vs Natsupoi (11/08/2022)
Risa Sera vs Utami Hayashishita (11/08/2022)
MIRAI vs Suzu Suzuki (11/08/2022)
---
TJPW
On the 13th & 14th, TJPW held two Korakuen Hall shows with the Semi and Final of the 9th Tokyo Princess Cup. On the first Show, Yuka Sakazaki defeated the up-and-comer Suzume and Miu Watanabe defeated the Ace of TJPW Miyu Yamashita in one of the best Women's Matches this year to move on to the finals after now beating two of the four pillars of TJPW. It all looked like it was Miu Watanabe's time but she came short to Yuka Sakazaki and with that, the pillar wins her first Princess Cup and is the first one to lift the new trophy up!
Yuka will challenge Princess Of Princess Champion Shoko Nakajima at Wrestle Princess 3 on October 9th. This is the first time ever TJPW is doing a rematch during a POP Title Reign. Yuka already challenged Shoko once at this year's Cyberfight Festival, where she came short.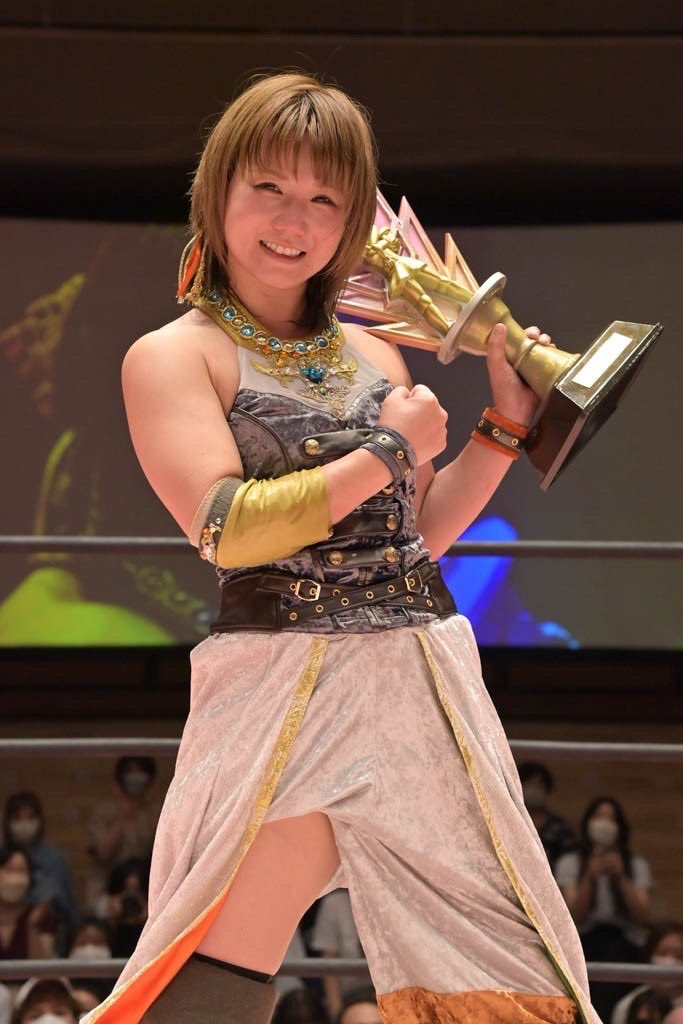 MATCH RECOMMENDATIONS:

Miu Watanabe vs Miyu Yamashita (13/08/2022)
Yuka Sakazaki vs Miu Watanabe (14/08/2022)
---

Pro Wrestling WAVE
Over the weekend, WAVE held five shows to celebrate its 15th Anniversary. The Main Event of the Anniversary was Suzu Suzuki defending her Regina Di WAVE Title for the first time against former AEW Women's World Champion Hikaru Shida. Suzu won the vacant Regina Di WAVE Title with her Catch The WAVE victory last month after the Ace of WAVE Nagisa Nozaki tore her ACL. Shida was able to defeat Suzu Suzuki and crown herself the 19th Regina Di WAVE Champion. It will be her 2nd run with the title after holding the belt once in 2014.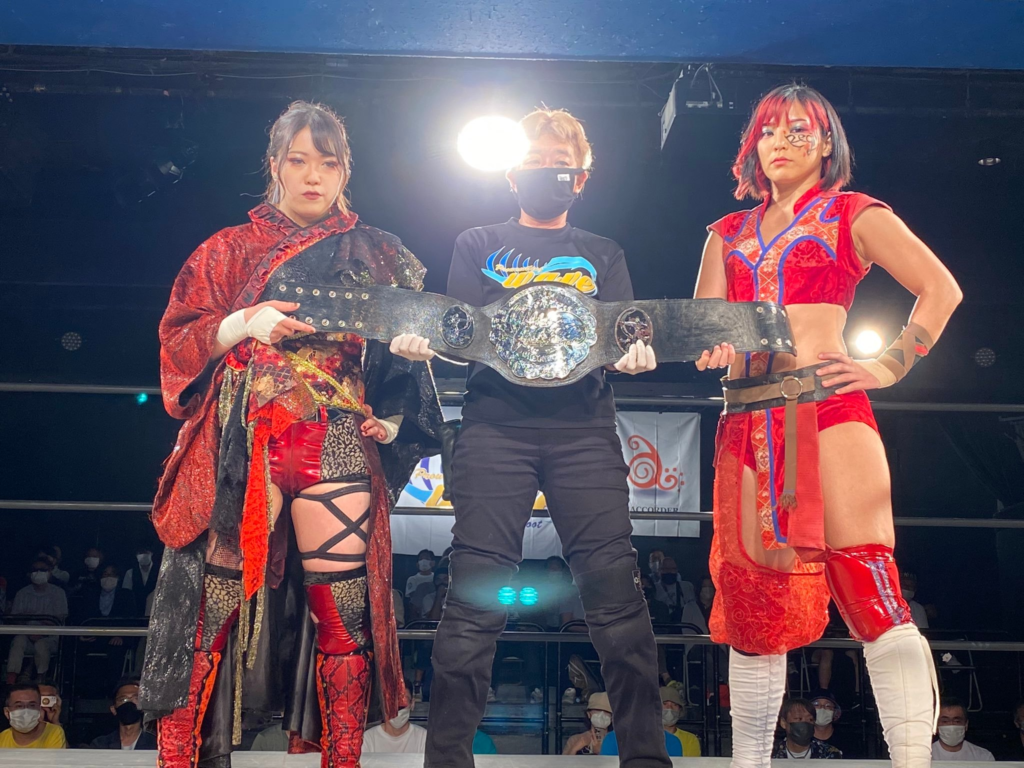 After her Title victory, Shida announced she will take the title with her to the States and defend it overseas. She also said that she will come back to WAVE for the next Korakuen Hall Show in November. It's likely that we will see the Regina Di WAVE Title on AEW program soon! The Match where Shida won the Title will be aired on August 18th.
---
Marvelous
Marvelous held the KAORU Retirement Show in the Korakuen Hall Show on August 8th which also was her 36th Anniversary as a Wrestler. KAORU planned to retire last year but it got postponed due to her injury. The Main Event was her last match. For one last time she teamed up with her W-FIX Stable Mates Chikayo Nagashima, DASH Chisako & Megumi Yabushita to face the Marvelous Roster in a 4 vs 5 Handicap Match. In her last match ever, KAORU lost after Iroha hit the Running Three for the three count.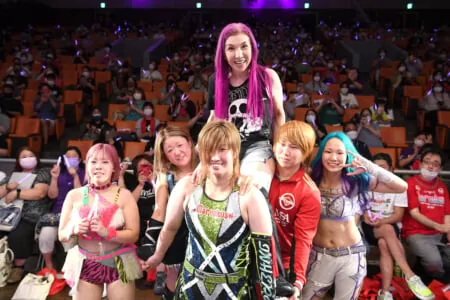 The Match originally was planned to be a 4 vs 8 Handicap Match but the Marvelous Owner Chigusa Nagayo, Ai Houzan and Rin Kadokura got Covid shortly before the Event. Rin also was planned for a Tag Title defense but instead, her Tag Team Partner Itsuki Aoki unsuccessfully challenged Takumi Iroha for the AAAW Title.

MATCH RECOMMENDATIONS:

Takumi Iroha (c) vs Itsuki Aoki (08/08/2022)
W-FIX vs Marvelous (08/08/2022)
---
Performer Of The Week
This week's performer of the week is Miu Watanabe. She wrestled two amazing matches in TJPW this weekend. First against the Pink Striker and the top Star of TJPW Miyu Yamashita in one of the best Matches of the year and then after against the Magical Girl Yuka Sakazaki. Miu got everyone behind her with her outstanding babyface and underdog performances that made everyone believe till the last moment that she will overcome. In the end, she suffered the loss but went out as the winner for the fans. Her Tokyo Princess Cup run will be remembered in a good way, even with its sad ending of it.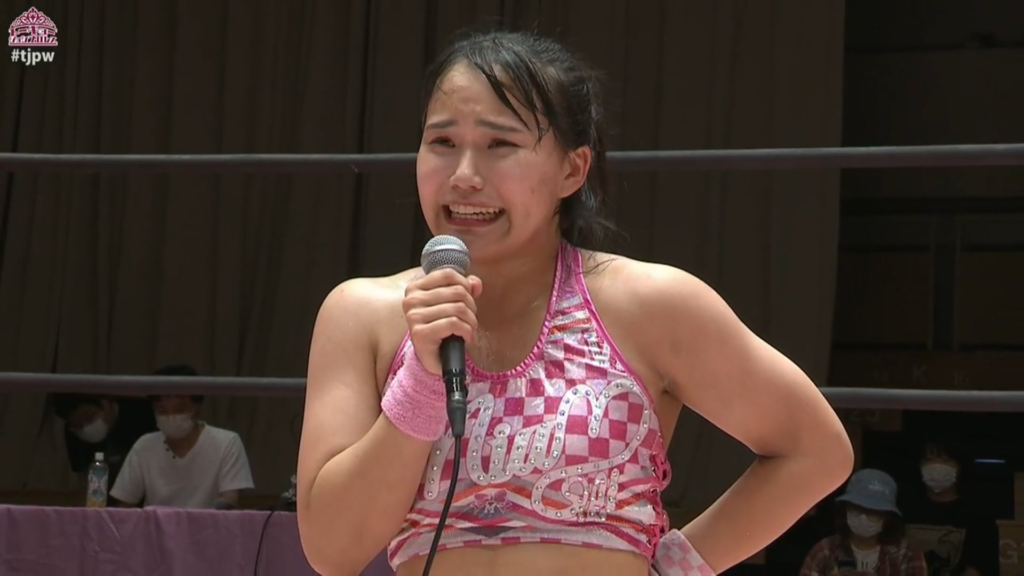 ---
Match Of The Week
The Match Of The Week also comes from Tokyo Joshi Pro Wrestling and it also included Miu Watanabe. It was her semi-final bout against the deadly Pink Striker Miyu Yamashita. A nearly 20 minutes match full of great action and an amazing underdog story. Yamashita looked unbeatable at some moments but Miu always overcame them and came back. The crowd was really loud and wanted Miu to do the unthinkable and beat the Ace and she did. Miu ducked the Skull Kick and hit her finisher the "Tear Drop" for the Three Count in an outstanding match. This is my personal favorite Match of TJPW this year and one of my favorite Joshi Matches overall. Outstanding Match and totally the best Match Of The Week!

**** 1/2