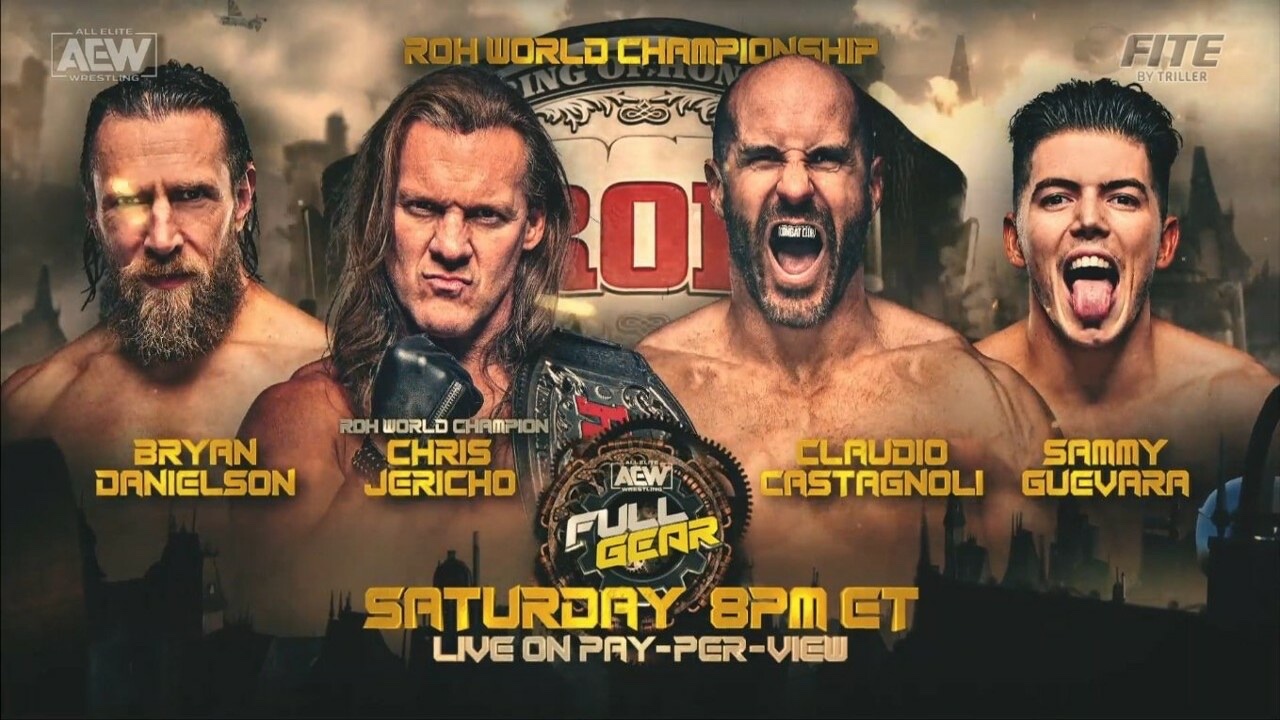 Chris Jericho (c) vs Bryan Danielson vs Sammy Guevara vs Claudio Castagnoli
Let me tell y'all something. The 4-way Ring Of Honor World Title Match at Full Gear was freaking amazing, a true work of art. A true professional with a keen eye for wrestling (just like myself) would tell you, this was a once in a lifetime match with some phenomenal wrestlers and Sammy Guevara. To me this 4 way would have been a great match to end this feud between the Jericho Appreciation Society & Blackpool Combat Club. If you want a match with a ton of physicality and "emotion" this match was for you.
I'm sorry but before this match started, everyone came out looking like stars besides Sammy Guevara who looked like he was on his way to a sex dungeon or something ridicious like that.
Okay, now that I got my jokes off and I got that out of my system we can break down, sit down and talk about the sweet science of professional wrestling. These 4 guys started off hot and it became an obvious 2 on 2 situation, with both JAS and BCC stablemates joining in together to try to get the advantage. They tried to establish in the first opening minutes of the match that Jericho & Guevara were no match for Claudio & Bryan when they worked together, so Jericho or Sammy had to to make it a 2 on 1 situation. Which was a cool way to establish the power dynamic. This match was already gas, but fuck, man, it hit another level when Danielson & Claudio were in the ring together going 1 on 1. They were so physical in there it would make a grown man cry with the beauty of strikes and holds that were getting exchanged.
Then the match took an "emotional" route when Sammy Guevara interrupted Jericho's pin attempt because Sammy wanted to win just as much as Jericho. In what I can only explain as a SNL skit was that Jericho and Sammy built up for this spot where it was to get Sammy over as a babyface but ended up making him look more like a fool because the crowd started chanting repeatedly "you fucked up" which was an all time visual. I feel so bad for Sammy because he's working his ass off but man, this crowd hates him. Doesn't matter that he's the one doing all the cool spots in the match.
After the Sammy thing, the in ring work went to another level that I didn't think was possible. Especially with Claudio and Danielson. They did this cool sequence where they just beat the shit out of Sammy, and Danielson head whips Sammy towards Claudio where Claudio just lifts him to throw him on top of Jericho who was on the outside of the ring. What a visual.
THAN AFTER CLAUDIO DOES THAT, WE JUST WITNESS ONE OF THE GREATEST NEAR FALLS EVER.
CLAUDIO TURNS AROUND TO FACE DANIELSON BUT IS QUICKLY MET WITH DANIELSON'S FLY KNEE FOR A FALSE FINISH THAT HAD ME LEAPING OUT OF MY GAMING CHAIR.
IT WAS SO INSANE IT EVEN HAD ME JUMPING LIKE THAT AGAIN ON THE REWATCH.
Man, I'm on my feet brother. This is just some electric shit that we're watching. Man, I was chanting " ROH ROH ROH" from my bedroom. Then CLAUDIO FUCKING CASTAGNOLI WENT OFF. I don't know how he does it but Claudio is always able to get the people on their feet going bananas. He takes Jericho out with a clothesline to the floor, then just throws him into some barricades with some nasty european uppercut. THEN HE CATCHES BRYAN DANIELSON IN THE AIR AND TURNS IT INTO THE NEUTRALIZER TO THE FLOOR. Then that bum, Dumpy Guevara comes out of nowhere to hit a shooting star press to the floor, but fortunately my OG Claudio ain't a wuss and no sold that shit to hit Dumpy Guevara with a super european uppercut and hit him with the SWINGS.
After this, Chris Jericho, the God of this shit, did the most insane thing someone his age should not be attempting. He tried to do a leaping Judas Effect over Sammy to land on Claudio. It is a must watch if you haven't seen it. He missed Claudio's face completely but that spot was a 10 out of 10 and made the match something even more special. Jericho and Claudio are pros and redid the spot putting over Claudio as this monster. Fuck man, I'm telling you right now Jericho is one of the greatest ROH champs ever and he's on one hell of final run as a top guy. His only dud was that dork dump dump Colt Cabana.
Agendas aside this match was must watch and everyone has to seek this match out. You won't regret it. You could argue whether this, The Elite/ Death Triangle or Toni vs Hayter were the matches of the night at Full Gear. Well to be fair you can't go wrong with any of those 3, but as a ROH homer, this is the one I'm choosing for y'all to watch. The only downside to this match on a personal note is that I'm probably going to get Sammy vs Jericho for the ROH world title at some point, which is a self own. But I love this business and I'll eat the bullet to attend this to make content for y'all. Also, the hotel is non refundable so I kinda have to go now.