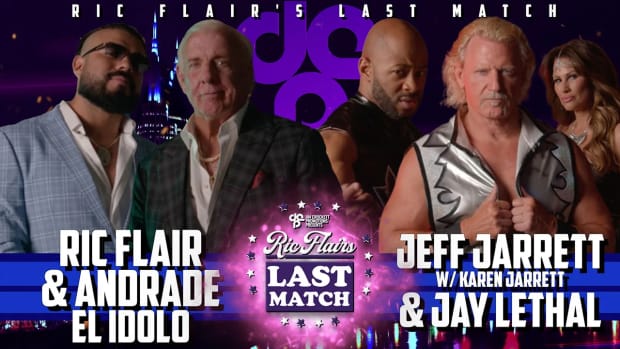 Last night saw Jim Crockett Promotions return to present 'Ric Flair's Last Match', with the two-time WWE Hall of Famer teaming with his son-in-law Andrade El Idolo to defeat the team of Jay Lethal and Jeff Jarrett in a brutal affair that had many worrying for the health of the 73 year old wrestling legend.
Speaking with Marc Raimondi of ESPN after the match, Jarrett labelled the match "overwhelming" and made it clear that despite the enormous pressure on the four men's shoulders, he's happy with the way the natch turned out.
"It's his last one. If anything goes wrong, it's on me. It's on others. I'm so damn happy for Ric, I don't know what to say. … As a spectator, y'all watched it and went home tonight. When you're participating, it's a whole other level of pressure that I've never been under,"

-Jeff Jarrett
Andrade then gave his own thoughts on the match, highlighting how special of a moment it was to team with his father-in-law.
"This match is the most important of my career… This is unbelievable. I don't even have words for this. [Flair] feels better than guys 20 years old. He's an inspiration to me."

-Andrade El Idolo
ROH star Jay Lethal had been training with the Nature Boy ahead of their match last night, with the pair having a storied history with eachother in the ring. Lethal revealed that he was worried that Flair would bleed too much during the match, given his age.
"That's the unknown variability. I hate to give too much away in wrestling, but Ric, he likes to do what's called walking and talking. There isn't a lot that's planned. But I can foresee how a lot of the moves will go. The only thing I can't foresee is how much he will bleed, is it controllable? Was it too much? It was out of our hands,"

-Jay Lethal
Following an impassioned promo after the match, Flair hugged Lethal at the top of the ramp. The former Ring of Honor World Champion had the chance to reflect on the moment, and noted that he told Flair that he's "the man", and the legend thanked him.
"I said, 'I f—ing love you, you're the f—ing man, I'm trying to be like you when I grow up, because you're f—ing great. You're the greatest wrestler in the f—ing world'. He starts crying and says, 'Thank you. Thank you so much,'"

-Jay Lethal
Ric Flair and Andrade ultimately came out victorious from the Nature Boy's final bout, with Jeff Jarrett falling victim to the Figure Four leg lock after Flair punched him with brass knuckles.