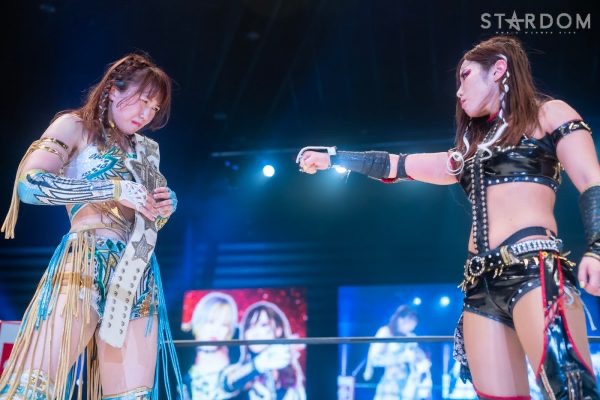 STARDOM:
The annual 5STAR GP Tournament started this weekend with Day 1 & Day 2. In the opening two nights, the biggest winner was MIRAI who first upset the Icon Of Stardom, Mayu Iwatani and on Day 2 defeated the tournament favorite Giulia. Giulia was the loser of the weekend, suffering two big defeats against rival Hazuki and MIRAI
Also, after months of teasing, KAIRI finally laid out the challenge to Saya Kamitani for her Wonder Of Stardom Title. This will be KAIRI's first title challenge since returning to STARDOM earlier this year.
On the same show, the first ever Champ, Nanae Takahashi challenged Syuri for her World Of Stardom Championship. Both Matches will happen on the STARDOMxSTARDOM Show on August 21st.
Next Week's 5STAR Grand Prix Matches:

Day 3 on August 6th in Niigata:
Koguma vs Saya Kamitani
Hanan vs Mayu Iwatani
Hazuki vs Starlight Kid
MIRAI vs Natsupoi
Momo Watanabe vs Saya Kamitani

Day 4 on August 7th in Nagano
Utami Hayashishita vs Unagi Sayaka
Koguma vs Himeka
AZM vs Mai Sakurai
Hanan vs Saya Kamitani
Ami Sourei vs Natsupoi
Saya Iida vs Mina Shirakawa
Official 5STAR Grand Prix Standings following Day 2:
RED STARS BLOCK –
4 – Risa Sera
2 – Syuri
2 – Himeka
2 – SAKI
2 – Mai Sakurai
2 – Koguma
2 – Tam Nakano
2 – Utami Hayashishita
0 – Maika
0 – AZM
0 – Unagi Sayaka
0 – Momo Kohgo
0 – Saki Kashima
BLUE STARS BLOCK –
4 – MIRAI
2 – Hazuki
2 – Ami Sourei
2 – Mina Shirakawa
2 – Starlight Kid
0 – Giulia
0 – Mayu Iwatani
0 – Saya Iida
0 – Suzu Suzuki
0 – Momo Watanabe
0 – Hanan
0 – Natsupoi
0 – Saya Kamitani
Match Recommendation
AZM vs Syuri (30/07/2022)
Giulia vs Hazuki (30/07/2022)
Syuri vs Utami Hayashishita (31/07/2022)
---
TJPW
The Tokyo Princess Cup rolled on with the Quarter Finals and it was all about who of the younger generation could beat the "Four Pillars of TJPW": Miyu Yamashita, Rika Tatsumi, Yuka Sakazaki and POP Champion Shoko Nakajima. While Miyu & Yuka dominated their respective opponents, Rika Tatsumi & Shoko Nakajima wasn't able to withstand the pressure and lost their respective matches. The "Vivid Honey Mustard" Suzume managed to withstand Rika's offense and managed to win with a flash pinfall. The biggest Winner of the night was Miu Watanabe who pinned Shoko Nakajima clean with the Tear Drop.
The semis & finals are happening on August 13th and August 14th with the semis being Yuka Sakazaki vs. Suzume & Miyu Yamashita vs. Miu Watanabe.
Match Recommendation
Rika Tatsumi vs Suzume (31/07/2022)
Miu Watanabe vs Shoko Nakajima (31/07/2022)
---
Ice Ribbon
Hikaru Shida wrestled at this weekend's Korakuen Hall Show of Ice Ribbon against the 19 year old Ibuki Hoshi, who is known for having deadly chops. They had a great match that Shida won and after the match gave Ibuki much respect.
In the Main Event, Hamuko Hoshi & Makoto won the International Ribbon Tag Titles from Totoro Satsuki & Yuna Manase in a really good match. After the match, Ibuki Hoshi challenged her Mother, Hamuko & Makoto to a Tag Title Match. She chose Hikaru Shida as her partner. The Match is scheduled to happen on September 24th.
Match Recommendation
Ibuki Hoshi vs Hikaru Shida (31/07/2022)
Totoro Satsuki & Yuna Manase vs Hamuko Hoshi & Makoto (31/07/2022)