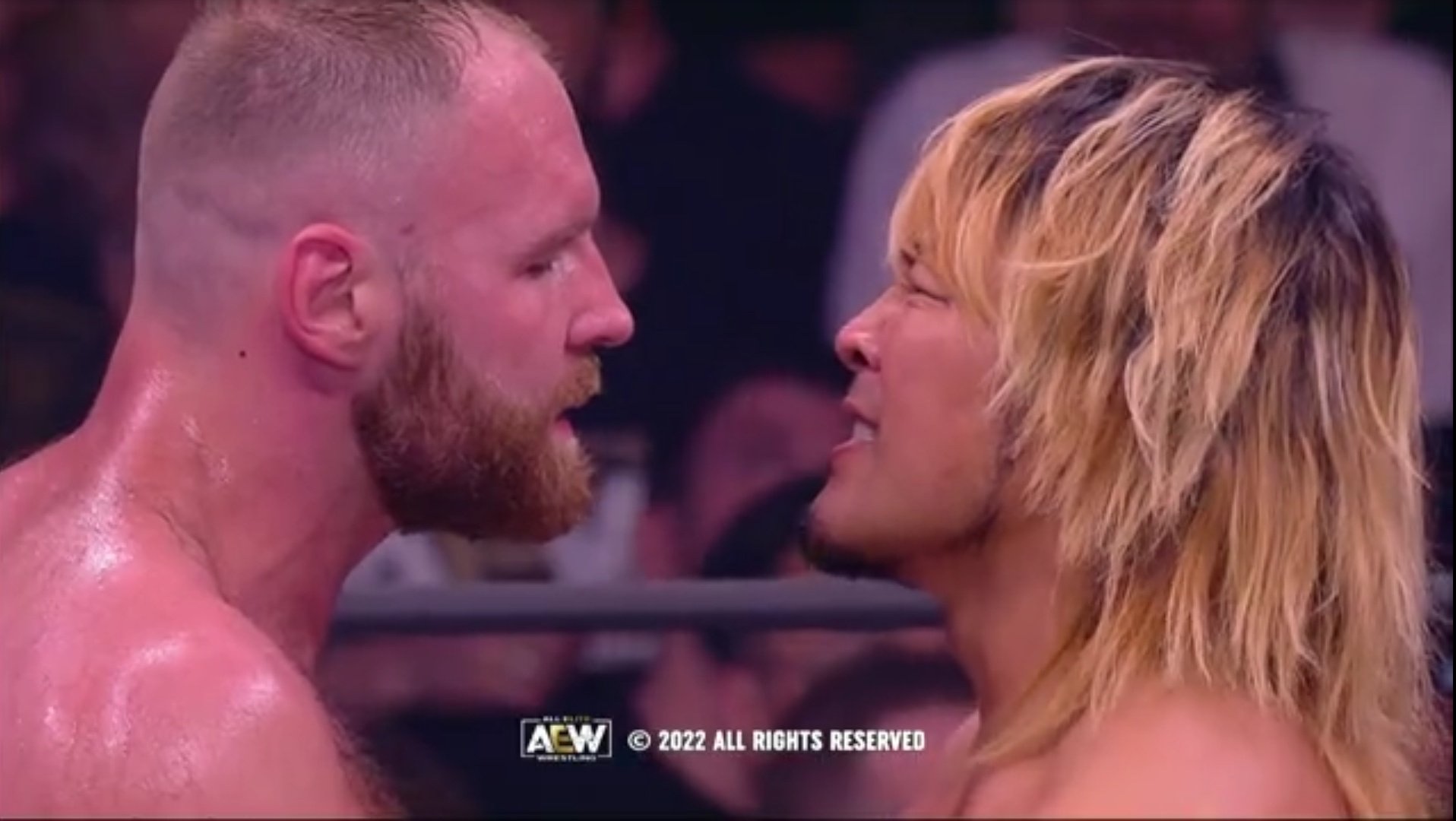 Before the first bell rang at least, Forbidden Door sure felt like a cursed show. Dream matches were taken from us almost weekly, with an injury preventing CM Punk vs. Hiroshi Tanahashi before removing Bryan Danielson as well as others from the show also. Wrestling's many political elements seemed present too, combining with an almost comical injury bug to make the event's title feel alarmingly apt. In the end though, such bizarre circumstances allowed for a treat: a match that in a different timeline, perhaps those aforementioned politics may have prevented. Hiroshi Tanahashi vs. Jon Moxley was a natural main event for this show and once finally confirmed, it immediately felt like the only logical choice. On one side, NJPW's iconic ace, the man who coined the 'Forbidden Door' term itself. On the other, an AEW cornerstone who led the charge for this working relationship, never giving up on its potential when peers told him otherwise. Simpler than that, this was the match that we'd already been waiting years for.
Forbidden Door was a fantastic show with a once in a lifetime crowd, an audience there to ensure that this event lived forever, assisting its ascent to becoming one of the greatest pay per views in wrestling history. After a night of exciting in-ring action and a Claudio Castagnoli debut, this crowd could've quite reasonably been tired for the main event, which has admittedly happened on previous AEW shows. That wasn't the case though, far from it, as this crowd was just as hungry and loud for one of the year's most anticipated matches. Part of that anticipation is the wait, as every time this match appeared to be approaching, something would get in the way. Regardless of when or where, the consensus was clear: make the match now, before it's too late.
Tanahashi is in the back half of his career, but still very much able to rise to the occasion when those bright lights are on. On the other hand, while Moxley's now at the absolute peak of his powers, it's easy to forget how far away these heights seemed at the start of 2022. It would've been wrong to assume or expect Moxley's in-ring return, as fans simply supported his fight with a foe far more serious than anything in pro wrestling. This epic encounter is the combination of two very different people with very different stories, the current leading candidate for wrestler of the year opposite the titan whose greatness he strives to match. It was impossible to be anything but happy that we were gettting the match, even if there was some slightly hesitant skepticism.
Was it too late? How would these two unique styles mesh? The elegant, classical babyface against the grimy, gritty brawler, a bruising force of nature. What does that look like? Well, we'd now finally find out.
The match starts with Moxley slowly walking in a tunnel with William Regal, his beloved coach and mentor. Mox is sporting their Blackpool Combat Club hoodie, proudly representing the faction's identity: forged in combat. For AEW fans at least, an unfamiliar theme is playing in the background, the haunting sounds of Moxley's NJPW entrance track. The loud and intense guitar riff plays while Moxley walks to the concourse calmly until Wild Thing takes over the whole arena. The crowd erupts at the sound of Wild Thing and the sight of Jon Moxley, his calm demeanor quickly goes away and the wild man tears through the crowd, pumping not only himself up but the AEW crowd itself. The man that represents the AEW fanbase is here for a fight and ready to win what he should have never lost in the first place.
Then you hear intense sounds of "GO ACE" play over the arena sound system, taking that crowd to another level. Tanahashi comes out with this electrifying energy that most pro wrestlers spend their whole careers searching for. The fans can't help but give high fives to Tanahashi as he quickly walks to the ring. At this moment, I'm pumped. I can't stay seated in my chair. This is probably only the thitf time that I've ever felt this way since getting back into wrestling. The energy for this match just screams big match feel. I'm getting more and more nervous as Justin Roberts makes the introductions. Jim Ross, Kevin Kelly, Excalibur and Taz are adding importance along the way, it feels like we're truly witnessing history. I might be crazy but this was giving me huge UFC and World Championship Boxing vibes, a feeling you rarely feel in pro wrestling today.
They finally lock up with dueling chants in the background. Kevin Kelly (NJPW's lead English voice) only adds to the gravity to the match, stating that "in Japan, they're saying this fight is to show who is the best in pro wrestling." Fittingly, no man can get the advantage at first. The true veteran that he is though, Tanahashi soon gains an advantage, swiftly getting under Moxley's skin. Moxley instantly regrets his emotional response, as Tanahashi uses to opportunity to attack his leg. With the crowd momentarily distracted by a couple foolish fans, the polished pros slow things down, holding tight until the audience is ready to fully re-engage. Once they're ready, the momentum begins to swing, with Moxley eventually taking the fight to the floor, taking Tanahashi to his world and slammng him through a table.
Those "GO ACE" chants then re-emerge, giving Tanahashi he energy he needs to get back in the ring. Moments later, Moxley is reeling, bleeding profusely as the match takes a very different kind of tone. This takes Moxley to another level of intensity, but Tanahashi seizes on his increasingly weakened state. After trading pin attempts, Moxley his signature King Kong Lariat, leading to the Bulldog Choke. What follows is one of the craziest that I've ever seen as a fan of wrestling. The man, the ultimate babyface, the ace of New Japan Hiroshi Tanahashi turns this crowd in what feels like an instant. Suddenly, those "GO ACE" chants are all you can hear and now, they're louder than ever. The whole building is rooting Tanahashi to his feet and in response, he keeps fighting.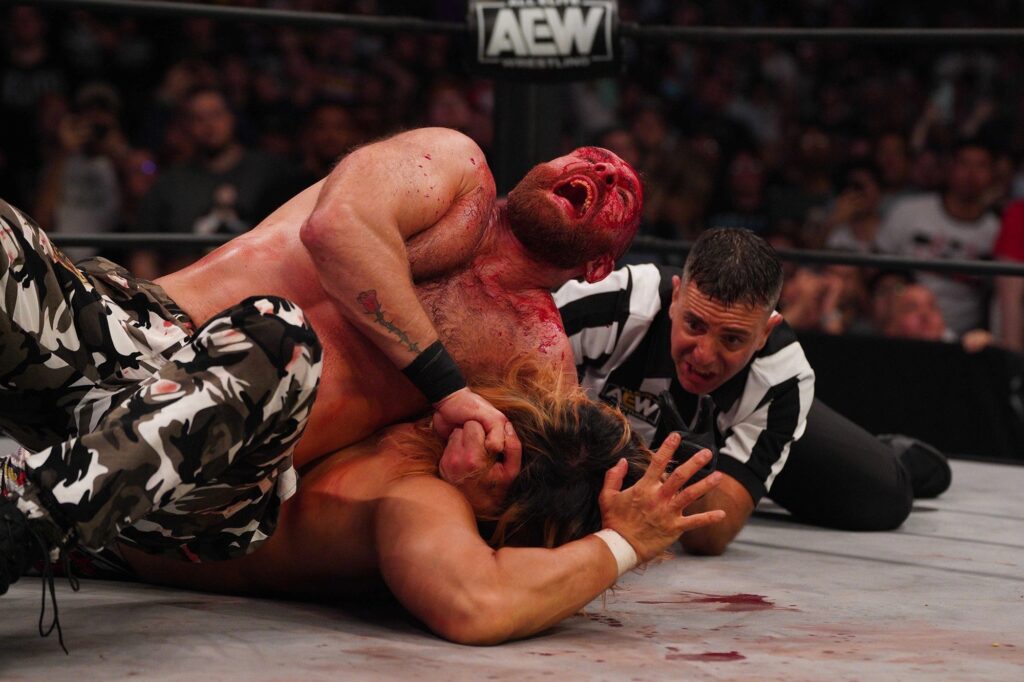 The defiant Tanahashi is inspired by the audience's encouragement, showing almost superhuman toughness as the place continues to explode. Even still, this remains Jon Moxley's home and this is his title to win, capitalising on the tired Tanahashi and closing the show with his Death Rider finish. With that, the AEW Title is back in the hands of the man that carried it through the most turbulent time in the promotion's history. While most have understandably picked Orange Cassidy vs. Will Ospreay as their match of the night, but no other match moved me quite this much, leaving me almost emotional. It's up there for me with matches like Kenny Omega vs Okada 4, Young Bucks vs Omega & Hangman and FTR vs The Briscoes. I was just so invested in these two, virtually unable to pick who I wanted to win. Either way, the winner is eventually facing CM Punk, the looming unification clash that'll truly shape AEW's form moving forward.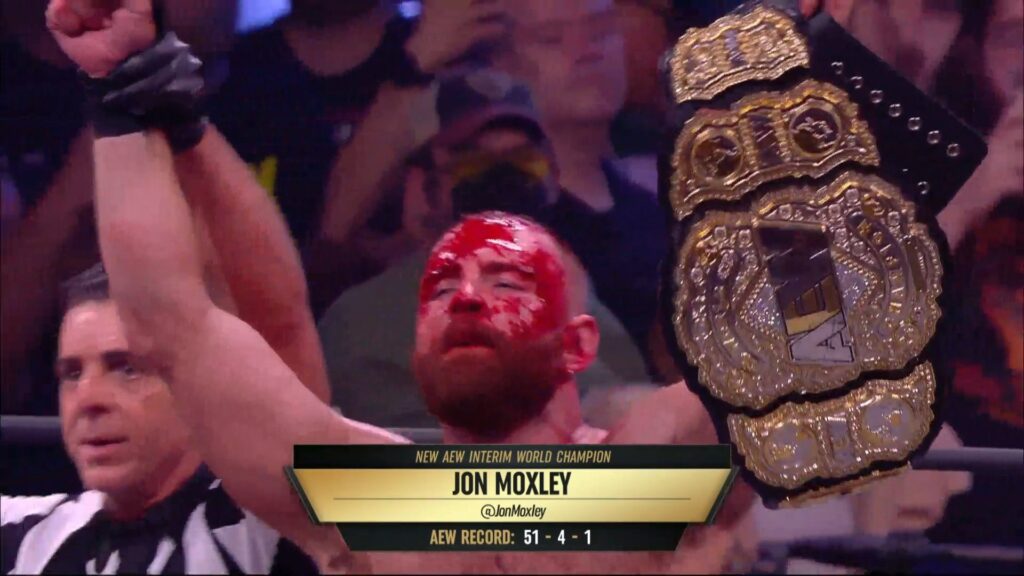 Hiroshi Tanahashi isn't in that picture anymore, but I just wanted to talk about how special he is. A generational wrestler in an era filled with elite talent, Tanahashi has seperated himself from the pack and created his own category. In a promotion that loves Moxley, Tanahashi was able to turn them on him, even if for only a second. It was a special moment, something especially memorable in a night filled with moments and matches that comfortably fit that description. In classic Tanahashi fashion, he simply captured the hearts of those in attendance, encapsulating his unique greatness on another one of the industry's grandest stages. The ace of New Japan did what he does best: he made people love him.