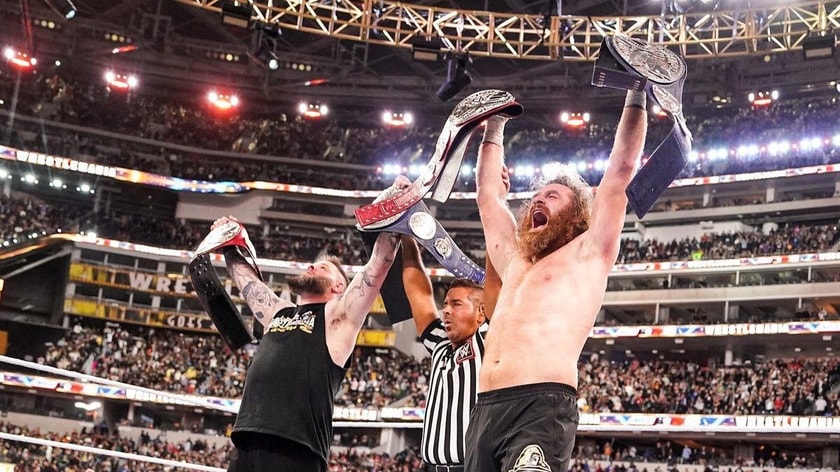 family
/ˈfam(ɪ)li/
noun
1. a group of one or more parents and their children living together as a unit.
2. all the descendants of a common ancestor.
What is family to you? Without getting into the nitty gritty of your personal situation (because family is different for everyone), what does the word itself make you think of? It might be unconditional love, acceptance, and a place to go to feel calm. Ultimately, family should make you feel respected and at peace.
In the professional wrestling business, family has always been important. Some wrestlers are second and even third-generation stars, and even though it doesn't always guarantee success, more often that not we see those who have connections to the top make their way there too.
Still, there are so many paths to the superstardom for a next generation superstar. Some aren't able to escape the initial hype and have to build themselves up away from the institution they were destined to lead while others fill the slots that were left behind for them. At the end of the day, the amount of opportunity a wrestler gets to achieve what they can is defined by how much belief and pride the company has for them. For Roman Reigns and The Usos, those chances just kept coming.
In a way, you can't blame WWE for seeing so much in the three now awesome stars. After all, they were heralded as the next in line from the legendary Samoan Dynasty. The obvious name that jumps out at you is The Rock but the contribution of names like Yokozuna and Umaga can't be ignored as well as The Wild Samoans and Rikishi whose children have become the lynchpins of current day WWE.
However, the company's presentation of the trio didn't always work out as planned. The Usos were able to fit into WWE's tag team division well on the surface, but in actuality, they were just two indistinguishable brothers who wore face paint and filled a spot. They won the tag titles, but that's not the greatest achievement in the 2013 and 2014 tag scene.
The pair plodded along in the WWE system until the changes that took place in 2016, the company ushered in the draft (and with it one of the best periods in their recent history) but also a new version of The Usos. The twins had turned heel, ditched the face paint, and adopted a catchy theme song to cement them as one of WWE's best acts. They knew they were among the company's best teams, and they were about to take what's theirs.
As for Roman, well, that didn't work well at first either. Though, it became very clear that the lack of momentum certainly was due to a lack of trying. Following The Shield's 2014 split, there was only really one guy from the group that WWE had their eye on for future success. Of course, Rollins had the heat coming out of the betrayal which the company capitalised on, but they always wanted Roman to be the centrepiece of the company over the following few decades.
Unfortunately for them, each hit they tried for Reigns missed by a mile. The infamous sufferin' succotash promo stuck in fans' minds for years, and even when WWE took The Big Dog away from the main event and into the midcard in 2018, it felt disingenuous. I mean, The Rock's bewildered face as his raises his cousin's arm at the 2015 Royal Rumble says it all, and it's gone down as one of the worst rumbles in memory.
So, when Roman made his return to the WWE following an absence during the pandemic, we all expected the same blue-eyed, naive babyface that we had seen previously. Yet, straight away, something seemed off. I can't lie, at first, it was the shiny new teeth which grabbed my attention but there was a new vicious side to the man that had just come down to interrupt Bray Wyatt's victory at SummerSlam 2020.
It did feel weird that there was another pay-per-view a week after the biggest party of the summer, but it wasn't until Payback rolled around that we realised what was going on. They'd embraced it. The company had finally realised that the fans were never going to accept the WWE making up their minds for them, and they had Roman finally turn against them for that. The company took in the fans' collective apathy and used it to fuel the ultimate heel.
Don't get me wrong, this feature isn't about Roman Reigns, but in a way, it HAS to be. He decided that it was his God-given right to be at the top of the company no matter who stood in his way, including those emanating from his own family tree. Reigns had captured the Universal Championship in his first match, and his first challenger was Jey Uso, who couldn't accept that his cousin was the leader of their family.
Reigns felt obligated to put his cousin in his place but did so in a masterfully evil way. During an I Quit match taking placing incidents Hell In A Cell, we saw the first hints of Roman's ability to emotionally manipulate the bonds between different family members to create a world in which he remained on top. He had bludgeoned Jey throughout the match, which prompted his brother Jimmy, who had previously not been seen due to injury, to come in and beg for mercy. For a split second, Roman showed signs of weakness. It was almost as if he was regretful of his actions, and a tear dropped from his eye… until he snatched Jimmy into the guillotine, making Jey quit for the sake of his brother. We'll get back to that.
The thing is, it didn't stop there. After the heart-wrenching drama, Jey had fallen in line, and it wouldn't take long for Jimmy to either once he was healthy again. Any scent of dissension was immediately shut down by Roman with talk of letting the family down, with the Tribal Chief having previously been endorsed by the elders of the Samoan Dynasty. Given how poorly his previous attempts at achieving greatness had gone, Roman was insecure and, in response, had built a fortress around him by brainwashing his cousins into being his best protection. The twins had been mentally broken into obeying every word of their dominant cousin.
As I said earlier, family provides security, which The Usos believed they had found in Roman. They were a unit, and they couldn't fathom letting anyone in or out. That was, of course, until Sami Zayn arrived at The Bloodline's door. Having previously been known as The Ultimate Underdog, Sami had lost his way a little over the years. He made the best out of his comedy match with Johnny Knoxville of Jackass but is that where wrestlers really want to be come WrestleMania? Still, in 2022, that's where the character of Sami Zayn was and, following a loss to Knoxville via a giant mousetrap of all things, he came to Roman as a last ditch to try and restore his credibility.
All Zayn did was offer his services to the group for a couple of nights. To the surprise of many, Reigns allowed Zayn to mingle with his family, and it soon started to pay dividends. The Usos themselves had polar opposite reactions to the Canadian's involvement with Jimmy being accepting and Jey taking offence to the idea of Sami anywhere near their tribe, but not even he could argue with the results he was helping to bring in.
Zayn was vital in The Usos' victory over RK-Bro, where they claimed the Raw Tag Team Championships and doubled their accolades. He was often there to stop opponents from breaking up pins and soon enough started to take hits such as finishers and chair shots so that members of the group didn't have to. He became invaluable to The Bloodline because he was happy to do their bidding at his own expense all to receive crumbs of validation from Roman. All the Tribal Chief had to do was convince Sami that he was on the right path and offer him the occasional piece of warmth that family brings to keep Zayn under his spell.
Quickly, it became apparent that Sami had become a cog in the machine as if he were part of the dynasty himself. He had internalised all of Roman's false love and became dependent on his admiration, which made him blind to the way he was being used only for Reigns' personal gain. His new status as an 'Honorary Uce' made him push aside everyone who tried to wake him from Bloodline's control, including longtime frenemy Kevin Owens who, in spite of all the times they've gone against each other, couldn't bare to see Sami Zayn this way.
Yet, it all fell on deaf ears as Sami obsessed over validation from each member of The Bloodline. Each member had shown their appreciation for Sami, that is, all except Jey Uso. Jey, who had been Roman's right hand man since the Autumn of 2020 and made tk feel crucial to Reigns' career, immediately hated the idea that someone from the outside could be of any use to their family's born leader. He was made to tolerate Zayn's presence as that's what his cousin wanted but was always giving the man he perceived to be an infiltrator a look of disgust whenever they shared segments. Roman made it abruptly clear whose side he was on, too, noticing Jey being uncomfortable with Sami and choosing to back Zayn by labelling the Uso brother a hot head. All because he knew Jey was firmly under his control, and it was more important to affirm Sami's belief in the family unit.
Importantly, in defiance of Jey's obvious objections to his inclusion, Sami never lost patience with the twin. Instead, he chose to stand up for and support the right-hand man whenever his hot-headed nature landed him in trouble. This includes one key example where Jey blurted out a retort against Roman during a rant initially directed at Zayn where The Honorary Uce resolved any potential tension by reassuring the leader that Jey didn't mean what he said.
All in all, this was a complete masterpiece. It played on emotion and blurred the lines between fiction and reality by putting the characters in genuinely tough positions, which fans may have even been able to relate to themselves. It created layers of storytelling which hadn't been seen in the WWE for many years. Each character had clear motivations and a journey to go on. While every piece of the puzzle was important with Roman, Jimmy, Kevin, and especially Jey having compelling roles, let me round off by saying one thing.
Thankfully for Sami, Survivor Series: War Games was a pivotal night in which he finally earned Jey Uso's respect. He was in a cage, stuck between his adopted family and his past. Years of his life on and off with Kevin Owens had finally been replaced by something he believed to be so much more secure. He had to prove himself up until that point, but in that moment, he saw War Games as THE opportunity to cement his place and earn everyone's trust. Sure enough, after preventing the referee from counting a pin in Owens' favour, low blowing The Prizefighter and setting him up for a splash, Jey welcomed Sami into the family with a hearty embrace.
Despite many people attempting to free Sami, including Kevin Owens delivering the line "you're not their real blood and you never will be", Zayn had developed his own handshake with Jimmy and received regular hugs from Roman. He felt as if he belonged, and getting the recognition and acceptance from Jey just confirmed that all the more in his mind. However, behind the scenes, the audience learned about Roman's personal insecurities surrounding Zayn and how he wasn't sure whether KO had managed to turn the screw in terms of prying him away from the group.
Countless meetings were had just between Reigns and Paul Heyman discussing the future all while being pally with Zayn on the surface. The insecurities grew as Sami became popular with the fans, Roman couldn't have that. With the leader now questioning the internal workings of the group, Sami noticed that each contribution he made was coming under intense scrutiny and he had to 'prove himself' once again which all led to the now infamous Tribal Court segment.
Reigns, alongside a straggling Paul Heyman who was desperate to end up on the right side of history, sat Zayn down and began playing petty video evidence in an attempt to spin the narrative against him. Reigns wanted to manipulate his family into believing that Sami was actually holding everyone back, and they tried to find any way possible to put him down. Bemused by this, The Honorary Uce simply sighed, explained how hurt he was by this entire process, and offered no defence.
This only enraged Reigns further who began to work himself up by running it through in his head, taking extreme offence to the idea that Sami Zayn wouldn't even put up a fight to keep his place in line. Was it true? Was Sami just bored of putting up with constant tests? Or had he given up because he'd realised what's really going on here? Does he know that the power dynamic is changing?
"…SOLO!"
Reigns seemingly reached his boiling point inside his own mind and, amidst tons of thoughts of insecurity, screamed The Enforcer's name, revealing his get out plan in case his fears of defiance came true. He bellowed Solo Sikoa's name as the youngest Uso brother got himself ready to deliver a Samoan Spike to the throat of Sami Zayn, who sat there accepting his fate with sheer numbness. Fans couldn't bear to witness what they assumed was the end of his time in The Bloodline before Zayn's inevitable pain was stopped by the arm of Jey Uso.
In sheer disbelief, fans watched on as Jey quite literally leapt to the aid of the man he had hated for months. Continuing on, Jey openly defied orders in front of an angry Tribal Chief by providing a defence for Sami. He showed genuine evidence to point to where The Honorary Uce had earned that title by being a true asset to the family no matter the cost. Jey even led the crowd in throwing the ones to the sky in acknowledgement of his enemy turned brother.
Though, it's important to note that the events of the tribal court came just five days before the 2023 Royal Rumble where Reigns would be defending his honours against Kevin Owens, the man who has constantly been trying to remove Sami from his control. This match served as the complete destruction of Kevin Owens as a concerned Zayn looked on from ringside. Roman enjoyed dealing damage to the biggest problem to his family at that time while a feeling grew inside Sami telling him it wasn't right.
As Kevin climbed the turnbuckle once more, his foot was grasped by Jey, though Sami prevented the interference by delivering a wicked apron brain buster. Once they had regained the momentum, Zayn took it upon himself to throw The Bloodline's signature ones to the sky and hit an Uso splash of his own.
Following the match, Owens was mauled by The Bloodline in an attack which included superkicks and chair shots. Defiantly, Sami got in the way when Roman was about to deliver a chair shot of his own. He tried to convince his leader that the beat down was beneath him and that he didn't have to do it, to which Reigns agreed and handed Sami the chair to do it himself.
Though, he couldn't bring himself to administer any more punishment to the man who had played a huge part in Zayn's life that now laid drowsy in the ropes. As Roman's back was turned, Sami finally snapped out of his group mentality and took the chair to his leader in a moment that was built up to perfectly and delivered an insane pop. In a flash, Sami apologised to Jey before being pounced on by Solo and Jimmy, who left him laid out. Jey, however, couldn't bring himself to attack the man he had finally accepted, leaving the ring and creating a divide in The Bloodline.
For weeks, Jey Uso was missing from SmackDown. He'd miss each episode with Jimmy confirming that he couldn't get hold of him, until it was confirmed that The Usos would defend their gold against Braun Strowman and Ricochet on the February 10 edition of the show. Throughout the night, it was unclear whether Jimmy would have to take the match alone, but before the bell, a determined Jey came through the crowd to stand side by side with his brother. He knew he couldn't let his brother down but, even still, didn't know whether his future was with The Bloodline.
While a rift remained between the Uso brothers, Zayn was attempting to heal his own wounds with Kevin Owens. It had forever been the case that Sami would be the one to make amends with Kevin in the past, only for Owens to betray their trust and move on. But, in a genius move, this time, it was KO who held off on the reunion because he didn't want to get hurt. He had seen Sami blindly double down on his commitment to Roman without even thinking twice about anyone else, so Owens felt as if Zayn didn't deserve help with the problem he created.
This is where I'll bring up Sami's unsuccessful attempt to win the Undisputed WWE Universal Championship in his hometown of Montreal. It was lightning in a bottle. Everything lined up. I was gutted when he didn't win (following the typical Bloodline formula of interference), but Kevin only came down to save him from a post-match beating and didn't arrive a second before that. He was repaying the favour from the Rumble PPV, and if Owens didn't get support to win the titles, then he's not going to give it out either.
Sami began approaching Kevin, claiming that they had to work together to take down the dominant faction. He tried to remove all emotion from the situation, thinking that the only way they could work together was strictly as business partners. Though, Kevin batted away every single suggestion that the two work together, eventually letting slip that he didn't want to fight for someone who didn't even want to be his friend.
At that point, Sami understood that there was never a way of doing this without leaning on their past. The thing that this story did so well was play on real-life interactions between characters. The reason Jey chose to withstand abuse over having freedom was due to his love for Jimmy and innate need to keep his brother away from harm. Then, the thing that finally got Owens to side with Zayn was the latter calling his previous friend his brother. The words 'brother' and 'uce' were a staple throughout this feud and all its iterations. The love between brothers is indescribable, and it's powerful beyond belief. It's something that has been exploited at one end and used as a force for good at another.
So, finally, we reach the spectacle that was their 'Mania match. Two sets of 'brothers' who feel wronged by the other. For Sami, the story is obvious, it's one of betrayal and abuse which led him to his longtime rival and now friend again while Jimmy is furious that he nearly lost connection to his brother and Jey feels wronged to have been put in a position to choose between Sami and Jimmy in the first place.
As soon as entrances are made, the differences are clear. The Usos wear white because in their minds they are the heroes fighting for family honour while Sami and Kevin sport black but personally branded WrestleMania clothing to symbolise how they've made it to the main event on the grandest stage and they've done it together.
As the bell rings, Jimmy tags out to let Jey begin the contest, standing face to face with Sami Zayn as the final act of their story gets underway. Even the ways in which each side moved in the ring is different, Jey used slow and methodical attacks to slow the momentum of his opponent at every turn while Jimmy took time to berate Zayn whenever he got close to their corner. We saw the plucky underdog version of Sami as he took every piece of offence waiting for his opportunity to surprise everyone with explosive moves of his own.
Owens was deliberately kept out of the match until his partner had been worn down, then we moved into the first awesome hot tag of this match. Zayn threw The Usos to the outside and made a desperate leap to the corner to tag in his teammate. Immediately, Owens raced to the bottom left turnbuckle to deliver an impressive swanton onto both opponents, throwing one into the turnbuckle and the other in the ring. After nailing a frog splash to the outside on Jimmy and then one in the ring to Jey, he went for a cover. The younger Uso kicked out, but it was only when Owens attempted to follow up with a stunner that Jey would reverse and reestablish control.
What struck me, though, is the ease at which one manoeuvre gave the momentum right back to The Usos. These guys are tag team specialists, and they always have been. Owens had the chance to go for a swanton from the top rope, to which Jey got the knees up, and within an instant, Jimmy was in position to deliver the Uso Splash. It might not have gotten the job done, but it shows that their twin connection means they always know what's going on and how to help the other.
This was the Zayn of old, and even Michael Cole knew it. As the crowd began to Ole at Zayn, who was gathering momentum, WWE's lead commentator of several decades said that 'El Generico would be proud' to hear such chants in favour of Sami. Isn't that crazy? Someone synonymous with the WWE machine making open reference to who somebody was before they made it to the company. With a PWG logo on their tights, Steenerico were about to achieve the unthinkable and claim tag gold together in the main event of WrestleMania.
They worked a masterful story of the twins cutting Sami down whenever they could with a myriad of superkicks, much like how any act of defiance against The Bloodline had been counteracted over the last three years. The Usos knew that wearing down opponents over time was usually the key to victory, but Sami wasn't having that, not this time.
Following a sustained period of damage, Zayn hit a quick exploder suplex into the corner and made a hot tag, allowing Kevin to restore balance and hit a stunner for a gripping near fall. The pairs of each man pulled his brother up, and they stood face to face as this match entered its final hour. The crowd EXPLODED as Sami became the legal man again. Everyone rose to see Zayn hit not one, not two, but three Helluva kicks on Jey Uso to finally put an end to the emotional turmoil and claim tag gold.
Sami Zayn, the ultimate underdog, forever.