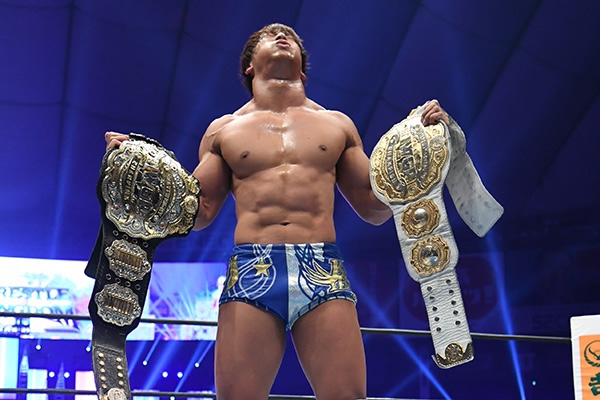 Kota Ibushi caught the eyes of many wrestling fans worldwide when he recently took to Twitter and posted a series of tweets expressing his displeasure with some things NJPW related, also posting screenshots of conversations he had with Kikuchi, who is said to be involved with the NJPW office.
Of course, all tweets and messages in said screenshots were in Japanese, but luckily @golden_kuma on twitter who has been known to translate stuff from the Japanese wrestling world for his followers, tried his best to keep fans up to date with the situation:
In an update from Voices Of Wrestling on their patreon, they provided a lot more information that they have heard surrounding the story/situation:
According to multiple sources, the tweets are not a work. There is massive heat between Ibushi and Kikuchi going back several years, beginning around 2018, when Ibushi alleged Kikuchi, who at the time was running New Japan's merchandise, was shorting him on merch money.

– Voices Of Wrestling
In 2019, Kikuchi actually left NJPW after his contract expired and was not renewed by former CEO Harold Meij's led office, which VOW say is due to what was believed to be a combination of mishandling Ibushi's merchandise issue plus multiple extra marital affairs that were brought to the companies attention by Kikuchi's wife. But Kikuchi returned to NJPW to work with Dick Togo in Talent Relation is late 2020 after Meij stepped down from the CEO position, and as Togo gained more influence with booking, Kikuchi then took over the Talent Relations position and it appear Kota Ibushi is far from a fan of Kikuchi in the position.
According to a source close to Ibushi, while in the talent relations position, Kikuchi has gained a rep for being exploitative, unfair, and very "old school". Kikuchi is very strict about maintaining kayfabe, including not wanting wrestlers to being seen with wrestlers from opposing units in public, once chastising Ibushi for being spotted as a bench press spotter for a heel wrestler in a public gym. Kikuchi is also very strict about the younger, good looking wrestlers keeping their romantic relationships private, fearing a loss in marketability to the female audience. The source noted that the strict policies would be one thing, but that Kikuchi enforces them selectively and unfairly.

– Voices Of Wrestling
The huge report from VOW also goes on to talk about how Kikuchi has allegedly enforced policies unfairly, with examples given about how Kikuchi has handled Ibushi through some recent injuries.
A few weeks prior to Wrestle Grand Slam in the Tokyo Dome this past July, Ibushi fell ill with aspiration pneumonia, but told the office he wanted to move forward and wrestle his main event match against Shingo Takagi. Kikuchi made the call to not allow him to wrestle, based on not being medically cleared. Ibushi felt this was another example of Kikuchi being unfair towards him, especially when six months later Kikuchi allowed Katsuyori Shibata to return at Wrestle Kingdom, despite Shibata also never being fully cleared by doctors.

After Ibushi injured his shoulder in the G1 Final in October, Kikuchi told Ibushi that he needed to get back in time for Wrestle Kingdom, using what what Ibushi considered a disrespectful tone. Ibushi didn't want to wrestle until the shoulder fully healed.

– Voices Of Wrestling
Two months later, Ibushi told the office he was feeling good and ready for New Japan Cup. Gedo not only booked him for the tour, but Ibushi was also the planned winner. Kikuchi, on the advice of a doctor who raised what was described to me as a minor concern, pulled Ibushi from the tour, infuriating Ibushi

– Voices Of Wrestling
Its worth noting that Kota Ibushi did tweet in March that he wouldnt be ready for the New Japan Cup, so this report would be surprising with that in mind, but apparently the tweet from Ibushi was just kayfabe
Ibushi's tweet on March 16, saying that his shoulder was at "65%" (along with bantering Great O-Khan), is believed to be a kayfabe response to an O-Khan promo, as Ibushi had been set to face O-Khan in the tournament and then feud with him throughout the year.

– Voices Of Wrestling
Kikuchi is said to have allies within NJPW outside of Togo and other office vets, them being the old NOAH crew of KENTA, Taiji Ishimori, and Yoshinobu Kanemaru, additionally TAKA Michinoku & Taichi. Ibushi and Taichi reportedly have longstanding on and off heat, which is currently on.
Ibushi has reportedly even warned younger wrestlers to stay away from the group, describing them as cheaters in various way :
Ibushi has at times warned younger wrestlers to stay away from Kikuchi, TAKA, and Taichi, referring to them as "the cheaters gang", describing them as people who will not only cheat you out of money but also cheat on their wives. After Kikuchi threatened to fire him, Ibushi threatened to expose Kikuchi's extramarital affairs publicly. Even though a good portion of the crew dislikes Kikuchi, there is some heat on Ibushi for taking the dirty laundry public, with the feeling that he should've taken it up with the Bushiroad office instead.

– Voices Of Wrestling
According to the report, it seems that the biggest problem for Ibushi in this web of issues is just simply the unfair treatment which he believes he is on the receiving end of
The crux of Ibushi's gripes with Kikuchi do not appear to be his strict, old school ways (one wrestler noted that he thought Kikuchi was actually an ex-wrestler because he's always advising guys to sell more before making tags), but rather the inconsistent enforcement of what he perceives as double standards and unfair treatment due to their history of not getting along.

– Voices Of Wrestling