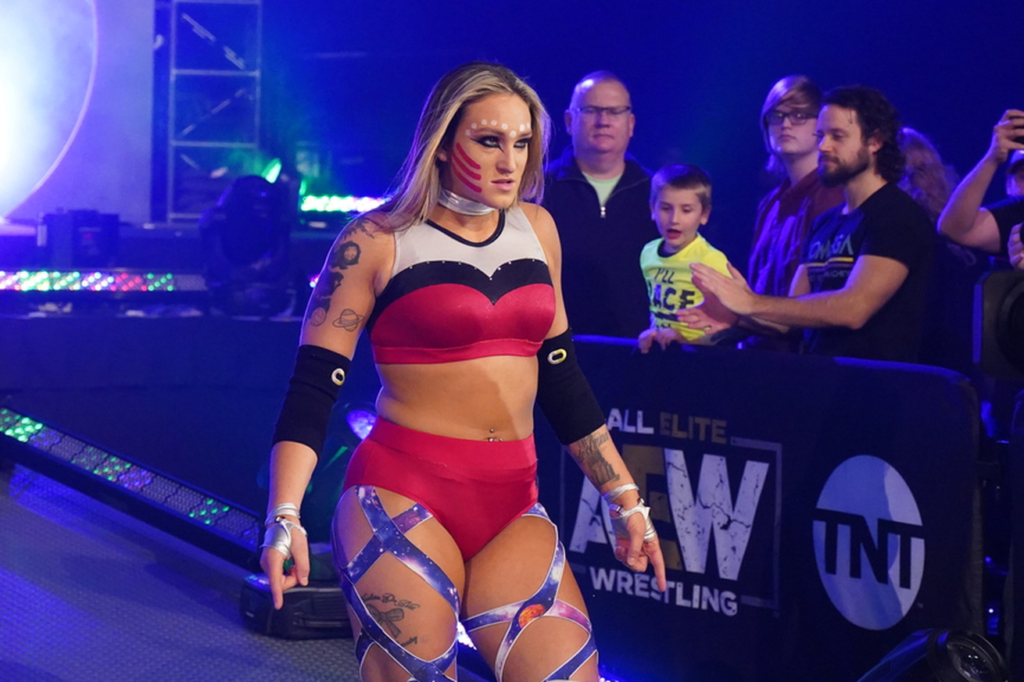 Since joining AEW in November of 2019, Kris Statlander has established herself as one of the promotion's top female stars, and now finds herself well suited to challenge for Jade Cargill's TBS Championship in the near future.
Statlander recently spoke to Jaychele Nicole regarding a number of topics, including potential dream matches for a possible Forbidden Door 2 event, intergender wrestling, and her recent gimmick change.
Regarding her "More Than a Woman" branding, Statlander noted that the title leaves her perception for the audience to decide, with the gimmick being far more open to interpretation than her previous Alien persona.
"Not the Aliyah one, the Bee Gees one. Yeah, I had the Bee Gees version of the more than a woman song as my entrance on the Indies for a while because it was just so different. And it was just so fun. And it was one of those like, everyone knew it. Just got a crowd in a good mood before a match and stuff. Like it's like just one of those, like, feel good songs. And then, when I was doing the alien thing, still, I would be like, 'Oh, she's more than a woman because she's an alien.' And now it's more than a woman leaves what I am up to interpretation by the audience now. So, it's kind of like I can be whatever you want to be. Or whatever, however you want to perceive me is whatever you want, because being more than a woman as being more than what meets the eye and stuff like that. So I took it from the song, but then I made it more deep than it is."

-Kris Statlander
AEW recently presented Forbidden Door, the first ever joint pay-per view event held between the promotion and New Japan Pro Wrestling. Whilst Statlander was absent from the card, her Best Friends and CHAOS stablemate Orange Cassidy did have the chance to compete, losing out to Will Ospreay over the IWGP US Championship.
Both sides have indicated that a potential second outing for the event may be on the cards in the future however, and Statlander revealed during the interview who her ideal opponent would be should Forbidden Door 2 come to fruition, with a surprising intergender match being put forward by the Best Friends member.
"Honestly, I would want to face Aussie Open because I was supposed to wrestle them actually. It was before AEW was a thing. I was booked on a show to wrestle Mark Davis. But, then he blew out his knee. So, then I was gonna wrestle Kyle Fletcher. And then the day of the flight, I was booked on Thomas Cook Airlines. And if anyone remembers this day, it was the day the airlines just shut down. Like no one worked that day. I was booked on Thomas Cook Airlines. I was at the airport ready to go, and the whole airline shut down like, not a note, not a word. Notice that like a hay few days things like literally just like randomly, they just didn't exist anymore. So I was not able to go because I was on a flight on that airline and then they were like, we gotta get the people that live in the UK back to the UK. We got to get Americans back to America. So there's no way I was gonna get booked up on another flight in time. So I was unable to do that. And so I want my redemption against those two because I never got it."

-Kris Statlander
Staying on the topic of intergender wrestling, Statlander reiterated her desire to mix it up with some of AEW's male stars, highlighting her experience in intergender bouts prior to joining the promotion in 2019. Statlander notes that whilst one-on-one intergender wrestling on AEW may be unlikely to present itself as an opportunity, mixed-tag matches may be a likely compromise.
"Yeah, absolutely. I would love to. If anyone has been following my career since before AEW, they knew that at one point, the majority of my matches were intergender matches. So, I know that I can hang with the guys and be better than them. And I'm bigger than some not going to be humble about it. I'm bigger than some of the guys. Not necessarily on the roster. But you know, just in general. And, like, it's a lot of what made me so different. And it's like, if I didn't have all those intergender matches, it wouldn't have got me to the level that I'm at today. So, as much as some people like don't like it because of the 'domestic violence' it kind of 'insinuates'. It's like we're wrestlers. If I take a suplex from Nyla versus I take a suplex from Orange Cassidy, it's still a suplex, like it's still wrestling. That's kind of like people have to remember, like, we're trained professional wrestlers. Most of the time when we're in training we're training with more guys than we are girls, unless you find an all girls wrestling school, which you most likely won't. This just got very intergender preachy and I apologize, but yes, I would love to participate and do more mixed tag and intergender maybe, but that's probably not gonna happen. Yeah, intergender probably not."

-Kris Statlander
Having been a part of AEW's roster since later 2019, Statlander has performed both throughout the pandemic and during the return of crowds, and additionally has seen a surge in popularity his developing her new gimmick and aligning with the Best Friends.
Statlander commented on this increase in crowd reaction, revealing that whilst she's uncertain as to what the specific reason for her surge in popularity actually is, she's more than grateful for the support she recieves from the AEW faithful.
"I don't know. I don't know why it's happening because I feel like a lot of what I've done in the ring isn't very different from what I've done before. With any other way of presenting myself. I think if there's one thing I can take away from just being there in the moment in front of the crowd with alien Kris, I feel like people were like, 'Oh, yeah, she's fun. She's cool. We like her. Then, I have to get like halfway into my match for people to be like, 'Oh, damn, we actually want her to win.' But now that oh damn, we really want this person to win is happening just from my entrance and maybe it is the different presentation. Maybe it's me taking myself more seriously. Maybe. I don't know, maybe people are just finally giving me a chance. I don't really know why it's happening. I'm very grateful for it though. Believe me, it means the world to me. Like I said, like, I feel like, I'm not really doing anything so much different. At least like in the ring, but as far as my wrestling goes. I have the same moves, have the same finish. The only thing major is that I'm not booping people, which, you know, it's always some harmless fun, that's all. Yeah, I don't know why it's happening. But keep it up everyone. Keep the noise coming."

-Kris Statlander
Statlander's recent gimmick change coincided with her return to in-ring action, with the CHAOS member having been sidelined throughout a portion of 2021 with a torn ACL.
Since making her return, Statlander has competed whilst wearing a knee brace. Statlander revealed that whilst she feels more than able to compete to the best of her abilities, the knee brace is a necessary precautionary measure to ensure that she doesn't re-tear her ACL.
"Yeah, I don't want to wear it anymore, but I'm forced to. I hate it. I hate wearing it. It is just a precautionary thing. You're more likely to re-tear your ACL if you don't take the proper precautions. So I do have KT tape on under the brace, and then I have the brace on but that is just strictly just to make sure that it doesn't explode in there again. It's fine, I'm healed. It's just it's more to make sure it doesn't happen again. When I'm like trying things out, a little bit. Like when I'm thinking about it, yes. It feels like my legs might have outgrown the brace. Also, I might have to get resized for a new one. But, in the match, in the moment, I don't really think about it. And it never really seems to be a problem. The only time it's a problem is if I'm not wearing tall boots because the tall boots help it from sliding down. I was wearing boots for a little bit and the brace would just slide down my leg every single time. So, I have to wear tall boots. But besides that, it's that I just try not to think about it too much because then I don't like to get in my head. I'd like to just focus on the wrestling."

-Kris Statlander
Statlander now finds herself aligned with Athena, as the pair both look to put an end to Jade Cargill's reign as TBS Champion. Whilst Statlander is adamant that a bout against Cargill would prove to be the Champion's toughest challenge to date, she highlights that a match between the pair is yet to be officially announced, and thus she is making sure not to get ahead of herself.
"I'm gonna say you're gonna see Jade's toughest challenge ever. Yet. Ever, maybe, we'll see. But um, I appreciate everyone that's supporting the idea of me being the first one to beat her. That would be really cool, but we gotta get the match booked first. So don't don't get your hopes up until we see that graphic. Okay. That's all I'm gonna say is, if it happens, it happens if it doesn't. Don't get your panties in a twist over it. Life goes on. I'll get something one day, maybe one day will be my time to shine, but if not."

-Kris Statlander
We look forward to what the future holds for Statlander, and hope that she soon recieves her opportunity to compete for the TBS Championship, having more than earned a chance to shine on the biggest stage given her recent performances.