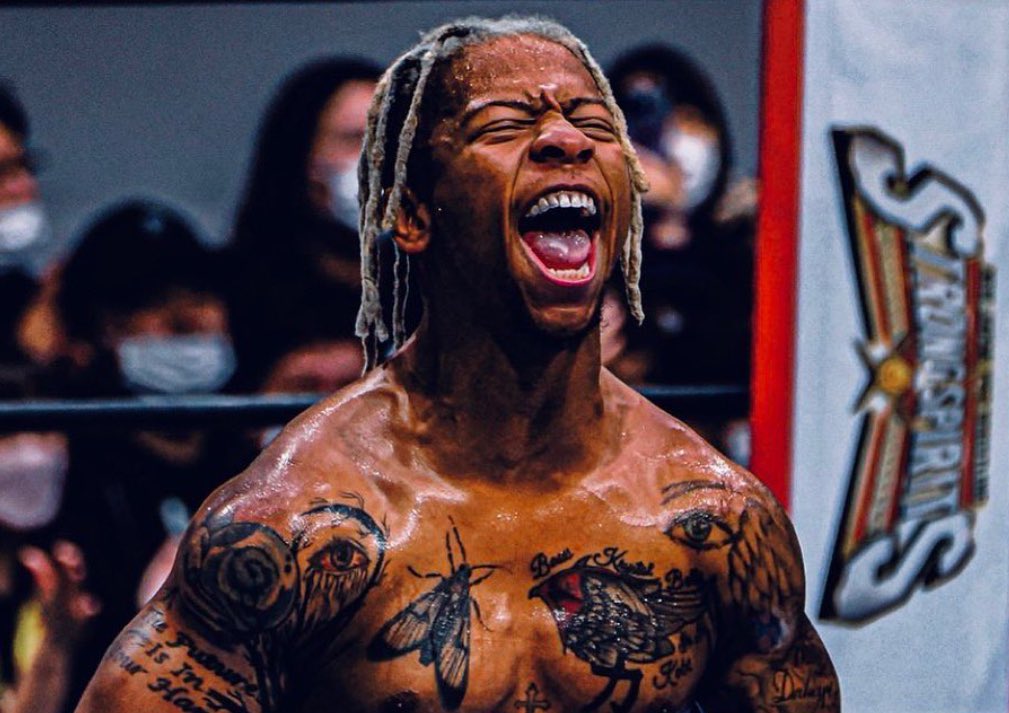 We all need a reset sometimes. A place to start again, a new season to learn from, a new home to move to.
For Lio Rush, also referred to as the "Bad Child", it may have taken a few times, but I personally feel he's found it in New Japan Pro Wrestling.
My first exposure to Rush came from his time in WWE. Not from 205 Live, mind you – though I suggest you check out his matches on the now-defunct brand. No, I first noticed Lio Rush during his time as Bobby Lashley's manager.
The cruiserweight had charisma and promo skills aplenty. A natural talker and orator, Rush's inspirations from the likes of Kevin Hart were evident, yet smooth enough to be his own. His chants of "Lashley! Lashley! Lashley!" had made him an annoying heel manager in the best way possible, and I wanted to see him humbled at his client's defeat. And when Lashley turned against The Man of the Hour, I felt strong sympathy for him. Yet, even during this time, I saw something special.
In the many scuffles and brawls, he'd display this incredible agility that was mesmerizing to watch. I'm still jealous his body can do the flips, jumps, and the other acrobatic what-have-yous.
Imagine my delight in seeing Lio return from a WWE hiatus to NXT and being thrown into the black-and-yellow brand's cruiserweight division, where he'd even hold the gold. With matches against Drew Gulak, Akira Tozawa, Kalisto, and more, Rush was on a roll. Among the memorable invasion of main roster WWE by NXT wrestlers, Rush as that time's current Cruiserweight Champion was one of the many great flags to wave.
Then, a month into the 2020 pandemic, he was let go. With music as his side hustle, he almost retired as expanded upon in a 2020 Sportskeeda article by Gary Cassidy, with the business having "traumatized him", and eventually did after debuting for AEW's Double or Nothing in 2021. Thankfully, this didn't last, and he soldiered on. I'm certainly glad he did. Also, on the topic of his music career, check out his current NJPW theme, "The Bad Child" – it's pretty freakin' neat.
Rush would go on to perform in indie promotions Game Changer Wrestling and Major League Wrestling while going south to the lucha promotion AAA, but would eventually set his sights back on New Japan Pro Wrestling and All Elite Wrestling.
In AEW, he'd become a fixture tag team member with Dante Martin (as his brother Darius was out), with a rivalry against Matt Sydal and Lee Moriarty blooming soon after.
The duo would then feud with Team Taz (featuring a memorable swerve by Dante with a faux-betrayal) before a controversial exit from the company that I won't get into.
The reason I am writing about Lio, however, is his excellent run in NJPW in recent years. In 2023 alone, he's really shone.
Having aligned with and having won the Super Junior Tag League in 2022 with Yoh, Rush would wind up in the picture for the IWGP Junior Heavyweight Tag Team Championship at Wrestle Kingdom 17.
In the Tokyo Dome, Lio Rush and Yoh would put on a classic against United Empire's Catch 2/2 (Francesco Akira and TJP). Though they were unsuccessful, they had maintained the chemistry that had gained them headlines in the first place and continued that into the New Japan Cup shows.
Lio's momentum going through the Best of the Super Juniors didn't stop, either. In the A Block, Rush's BOSJ debut saw him defeating the likes of SHO, Ryusuke Taguchi, Hiromu Takahashi, and Taiji Ishimori in a winning streak before losing to DOUKI on the fifth day.
Lio Rush feels so at-home with NJPW. It's like he's wrestled there for longer than he's been there. In fact, he feels like a spry and agile veteran when he's actually twenty-eight years old.
What Lio Rush has done in his career is outstanding, but the love and attention he's been garnering cements the incredible aura, talent, and connection he has.
The unoriginal and worn-out jokes about retirement can fly all they want, but when you love what you do more than you love money and are willing to pursue happiness within that dream, none of the rain outside matters when you're in a sturdy home you've built on your own terms.
None of the detractors can say a damn thing; none of them pay his bills. The man has a chorus of fans cheering for him, from Full Sail University to The Tokyo Dome. He puts his soul into his music, and he can still pop a crowd no matter where he is or what the circumstances are. The man was even given a baby to hold at the BOSJ mid-match before returning to dizzying speeds and unreal manoeuvres.
Having followed Rush for years, seeing him perform at these levels with so much experience, it's hard not to feel proud. While coping with mental health; an industry that is cumbersome and fickle; and life in general, it feels like every time he rolls and flies, all of it goes away as the wind soars past his ears and he hears the almighty bell.
The Man of the Hour. The Bad Child. Lio Rush.
Whatever he goes by, he's the now and the future, home or across the sea from it.