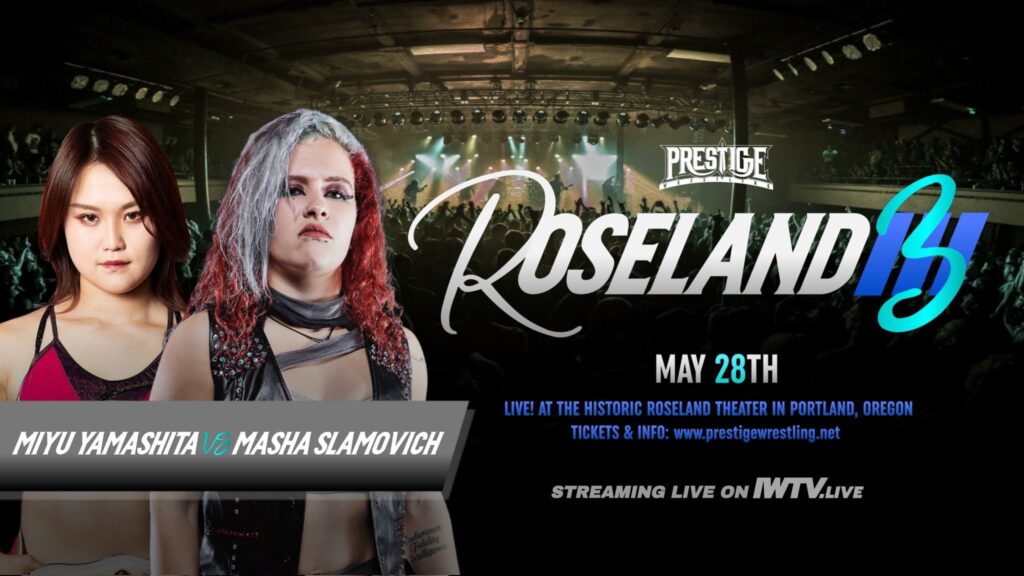 Prestige Wrestling has delivered one of the best independent wrestling matches of the year without it even happening. They revealed at the start of the year that Princess of Princess Champion and Tokyo Joshi Pro Wrestling (TJPW) ace Miyu Yamashita would be coming to the United States to do two shows with them in May along with her tag team partner Maki Itoh. Joshi fans began to get excited about the prospects of what Yamashita could do outside of the TJPW-verse for the first time in a long time. After all, she is one of the best wrestlers in the world who warrants all the attention she gets. But the question once announcing her is who would she take on in action. Well, the opponent that was most fitting of facing Yamashita on the independent scene right now has officially been announced. Masha Slamovich is now set to go to war with Yamashita, setting up a match that should be titled "Best of Joshi vs. Best of Indies." This is one match wrestling fans all over the world should be looking forward to.
Yamashita may not be one of the many recognizable Stardom wrestlers that the world has learned about over the last year but if you were to look outside of Stardom, Yamashita surely could be considered the best. Her neck-snapping Skull Kick has gone viral a few times and there's a reason for that. No one embraces the "ace" moniker more than Yamashita, which makes her trip here to the US so exciting. We've seen the likes of Itoh, Yuka Sakazaki, and Shoko Nakajima make their presence felt in All Elite Wrestling (AEW) but not the face of TJPW. Really, Yamashita is on an entirely different level from the rest of TJPW. She "gets it."
That's the easiest way of describing Yamashita. The more complicated way is that she has a bone-chilling presence about her. When Yamashita arrives to the ring, no one feels as though they are on her level. The signature pose and glare that she has to complete her entrance is reminiscent of only the best pro wrestling has to offer. You instantly think "star" when Yamashita is present, furthering just how big it is that she's headed to Prestige. Once that bell rings, no matter who is across the ring from her, it is go time. She doesn't let up. Yamashita turns up the intensity and makes her opponent work for it. Whether it's her blistering strikes, crunching kicks, or devastating Crash Rabbit Heat knee, there's little reason to be shocked that she wins so much.
For anyone interested in getting a complete understanding of who Yamashita is in and out of the ring, you don't have to look too far back to get a grasp of it. On Jan. 4, Yamashita faced Mizuki with the Princess of Princess Championship on the line. That match, as of this writing, is one of the best in all of wrestling this year. There's a better match to check out in October, as Yamashita defended her championship against Maki Itoh in the main event of Wrestle Princess II, TJPW's biggest show of the year. The bout between them is not only one of the year's best but might be the finest storytelling-based match in all of pro wrestling from 2021. It was as magical as you could ask for, as Itoh showed she had grown from her past singles matches with Yamashita, but not quite to the point that she could take her down. Like all TJPW matches, they can be checked out on Wrestle Universe right now. They're musts to help understand how great the TJPW ace truly is.
After all this, there's a reason that her opponent needed to be someone who can give back that intensity and not only hang with her, but make her earn the match. Masha Slamovich is the definition of all that and more. Despite having a contract with IMPACT Wrestling, Slamovich has only strengthened her consideration as the best independent wrestler in the United States. It helps that she works across the country no matter the promotion, but she has become the main attraction of the shows she takes part in. Slamovich's style is much like that of a Joshi wrestler and it shouldn't surprise anyone as to why. Slamovich trained under Chigusa Nagayo and Takumi Iroha in Marvelous. Tons of the offense and reason for her crispness in the ring comes from the training she did there. As Slamovich returned to the scene last year, she instantly displayed all she learned and more with an aggressive nature that makes her one of the coolest in the game.
"Russian Dynamite" isn't someone who will crumble under the pressure when facing Yamashita. Instead, she'll embrace it. At Beyond Wrestling's Day 91, Slamovich faced off with independent wrestling legend LuFisto. It was LuFisto's first singles match back in the United States since 2019, so that only raised the pressure higher for Slamovich to deliver. Well, not only did she go head-to-head and stay up to LuFisto's level, but Slamovich walked out with the victory as well. It was one of the biggest wins to date for her but really was a credit to how fantastic Slamovich has been over the last 365 days. There hasn't been a match where Slamovich saw herself as an underdog, she always brought the fight and earned the respect of whoever she faced. After all, there's a reason she is the one facing Miyu Yamashita on May 28 at Roseland 3. Slamovich has earned the opportunity to show how great she is against one of the best in the world. It will be a special fight for the fans but just another day for Slamovich, that's why it is truly worth the hype.
Prestige Wrestling's Roseland 3 is still a ways away from happening but it is never too early to have a feverish feeling in professional wrestling. When it's all said and done, Miyu Yamashita vs. Masha Slamovich is going to be in consideration for one of the best independent wrestling matches of the year. Yamashita is going to be ready to kick some heads off in her journey to the United States and Slamovich will be ready to shock the world by taking down one of its best. The "Best of Joshi vs. Best of Indies" will be tremendous.