NJPW are notorious for putting together the most thrilling tournaments in all of professional wrestling, and they'll aim to continue this trend when the 'Best of the Super Juniors' tournament gets underway this Sunday. The field was announced some time ago and we're finally starting to see overseas talent make the journey to Japan. On paper we're in for a real treat, but just in case you're slightly out of the loop, here's a rundown of some of the notable participants, most anticipated match-ups and predictions!
Let's kick this off with a rundown of the competitors in the tournament field. We won't mention everyone as there is some filler, but we will go through the majority.
Clark Connors
New Japan Strong fans will be more than familiar with this LA Dojo prospect. Connors has been heavily featuring on Strong, the weekly American show produced by NJPW, where he's been slowly but surely improving his craft. Perhaps his most impressive display to date came very recently when he went toe to toe with the current Strong Openweight Champion, Tom Lawlor. Connors showed some good progression here and was seemingly very comfortable in that position. If you're still doubtful about his ability, just remember he has has trained for multiple years under the legendary Katsuyori Shibata. Keep an eye on this man…
Ace Austin
The X Division Champion himself has strided into the most prestigious Junior Heavyweight tournament in the world. Ace has been ripping it up in the infamous Impact X Division for a while now as he has continuously showed off his unfathomable athleticism. He's so slick and elegant with his movements that he leaves you bamboozled every time he steps foot in the ring. Although he's just 25 years old, he's without doubt one of the most gifted Junior Heavyweights you'll find today. Don't be shocked if this man is the MVP of the entire event. He is the real deal!
El Lindaman
Lindaman has been making waves throughout his career as he's teamed with his group STRONGHEARTS all over the world, they even competed in the opening match of Double or Nothing 2019 against SCU. More recently though they've been having the occasional trios match on NJPW shows, with some teases for potential future bouts such as El Desperado vs Lindaman. Thankfully, that match in question is now going to happen due to the two being in the same block. Lindaman is currently the G-REX title holder in his home promotion GLEAT, which is an up an coming company in the Japanese Wrestling scene. NJPW and GLEAT seem to have struck a working relationship of sorts as wrestlers from NJPW have made appearances in GLEAT and vice versa. Lindaman has gained this new sort of confidence and swagger recently, and it makes him such a captivating competitor. With how STRONGHEARTS have been booked in New Japan to to this point, I wouldn't be surprised if Lindaman had a pretty good run in this tournament. His fellow stablemate CIMA made it to the quarter finals of the New Japan Cup so it's clear that the sky is the limit for Lindaman and STRONGHEARTS as a whole.
TJP
Being one of the two representatives of United Empire in this tournament, it'll be interesting to see how TJP fairs in this environment. He's been a regular on Strong throughout the pandemic and has been teasing appearances in Japan in the past. Although he may get overshadowed by his fellow United Empire brethren Francesco Akira, he could still be a neat addition to the event.
Alex Zayne
Ever since his WWE departure, Zayne has been doing his thing on the indies as he continues to amaze fans across the country with his incredible acrobatic abilities. He's got a good look and an innovative move-set, and is capable of of putting together some fun matches during his time in the BOSJ.
Wheeler Yuta
Perhaps the most recognisable name in the line-up, Yuta has had a mesmerising few months. He's the current ROH Pure Champion, had one of the greatest matches of the year thus far against Jon Moxley, and is now a member of the Blackpool Combat Club. Yuta has been an absolute brilliant worker for a while, but he's really grown into a star as of late. AEW have moulded him into a real long-term valuable asset for the company. As for his tenure in BOSJ, he could genuinely win the entire thing. A non NJPW performer winning may seem unlikely but with how strong the partnership between AEW and New Japan is, it wouldn't surprise me honestly. A Blackpool Combat Club invasion of sorts would be an interesting storyline to go with if they choose to do so.
Taiji Ishimori
If you asked me a few weeks ago if Ishimori had any sort of chance at making an impact in this competition, I would have laughed in your face with a blunt "No". But contrary to my belief, Ishimori has only gone ahead and won the damn IWGP Junior Heavyweight Title just before BOSJ! In shocking fashion, Ishimori defeated the former holder El Desperado to regain the championship. In hindsight, this shouldn't of come as such a surprise due to it being Bullet Clubs Anniversary but regardless, it's an interesting decision to say the least. Ishimori probably won't win the entire thing but he'll pick up big wins as he is the champion.
Robbie Eagles
A personal favourite of mine, the 'Sniper of the Skies' returns to New Japan with his eyes set on winning the BOSJ trophy. Eagles is such a magnificent wrestler, he can fly but also can go head to head with technicians. Really looking forward to seeing him face off against the familiar, and unfamiliar opponents in his block.
El Desperado
As mentioned previously, Desperado dropped his title to Ishimori at Wrestling Dontaku. Whether or not he has a belt around his waist, Desperado is one of the top stars in the Junior division. His series of matches with Hiromu Takahashi are a thrill to look back on, and he has many more classics on his match catalogue too. Definitely could see him reaching the final, although I doubt he'll achieve anything beyond that.
Francesco Akira
Now this is someone I can see winning the whole thing. Despite being signed, Akira has yet to have an official match in NJPW yet, but I just get the feeling that he's going to receive a major push. The Junior division isn't particularly stacked and Akira is a HUGE addition as he is genuinely one of the most immense athletes in that weight class. He's one of the newest United Empire recruits and he is destined for greatness.
Hiromu Takahashi
You can't talk about BOSJ without mentioning the three time winner and one of the most popular figures in the company as a whole, Hiromu Takahashi. The ticking time bomb himself is always going to be one of the favourites heading into this yearly competition and considering he won the entire thing last year, momentum is on his side. He's on track to become one of the most successful Juniors of all time and you can't help but adore the man. Ultimately though, chances are he won't win here. There's obviously no absolutes when it comes to Hiromu and the BOSJ considering his success, but there seems to be other competitors better suited to victory at the moment.
Titan
And last but certainly not least, Titan makes his return to BOSJ after his most recent appearance came in the BOSJ 27 event where his most notable bout came against Dragon Lee. The CMLL performer offers what you'd expect and then some. He won't get many wins but he'll still be a worthwhile addition to the lineup.
---
Now that we've ran through the most exciting competitors in the field, let's delve into the upcoming match-ups. This campaign is bound to produce a healthy amount of top class matches, but what ones will be considered potential Match of the Year contenders? Here's the three encounters I think will be looked back upon as the best the tournament had to offer.
Wheeler Yuta vs El Desperado
The fastest rising star in all of professional wrestling against one of the best Junior Heavyweights in the world today. This should ideally be the perfect platform for Desperado to get more exposure, as you'd assume many AEW fans would be keeping track of Yuta and his progress in the tournament. I fully expect a war here, both men would be willing to bleed if necessary and I can definitely see them taking that approach. AEW fans, if you're planning on keeping tabs on Yuta specifically throughout his BOSJ journey, THIS is the encounter you need to watch out for. Violence is on the menu for this one.
Hiromu Takahashi vs Francesco Akira
This feels gargantuan. You better be prepared for this, because it'll have you on the edge of your seat. What's brilliant about these two is that whilst they can wrestle at an incomprehensible pace, they're also capable of chopping the living the hell out of their opponents. For reference, seek out Hiromu's New Japan Cup battle with Minoru Suzuki and Akira's fierce fight with Gabriel Kidd from RevPro High Stakes, both are devastatingly brutal in their own right. It's a former winner against a potential future winner. Genuinely so excited for this, and you should be too!
El Desperado vs El Lindaman
A match that has been teased by both individuals will finally be coming to fruition. It'll be fascinating to see this one play out as you get the feeling an upset may be on the cards with Lindaman picking up the win. We've talked about how well treated STRONGHEARTS have been in New Japan, so it's not too unrealistic honestly. Regardless, this will be sensational and I'm intrigued to see what these two can cook up together.
Before we wrap things up, let me lay out my always reliable predictions…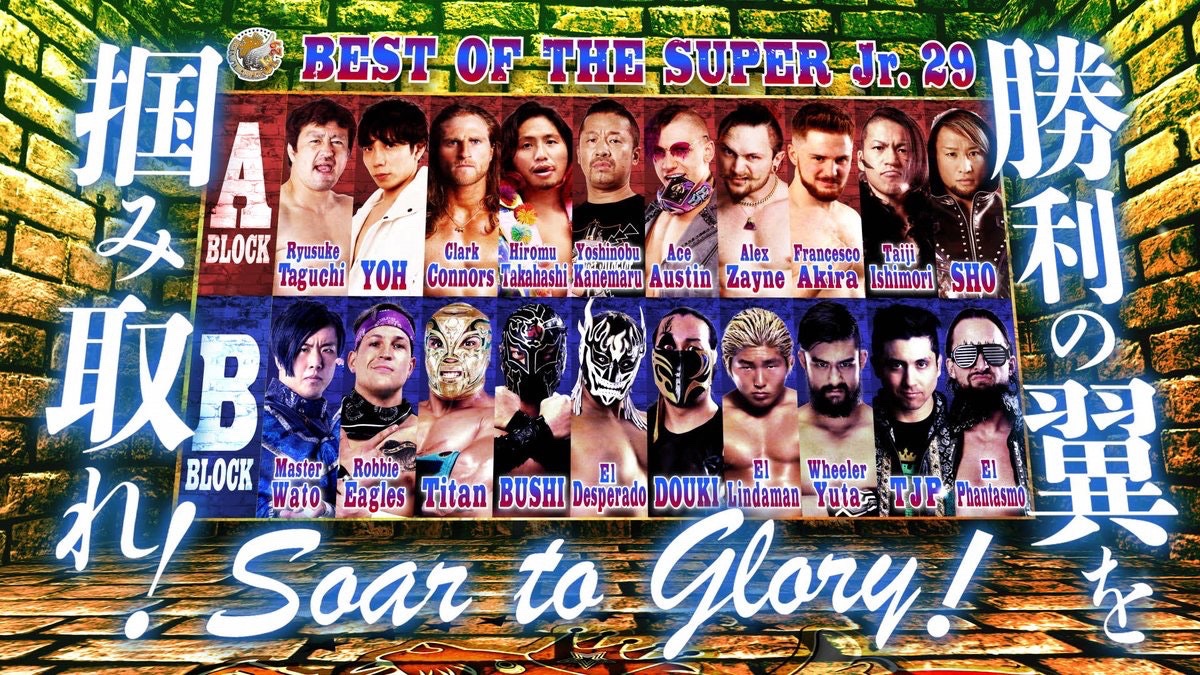 Block A
1. Francesco Akira
2. Hiromu Takahashi
3. Taiji Ishimori
4. Ace Austin
5. SHO
6. YOH
7. Clark Connors
8. Ryuske Taguchi
9. Alex Zayne
10. Yoshinobu Kanemaru
Block B
1. El Desperado
2. Wheeler Yuta
3. El Lindaman
4. TJP
5. Robbie Eagles
6. Master Wato
7. El Phantasmo
8. Titan
9. DOUKI
10. BUSHI
My predicted BOSJ 29 Final: Francesco Akira vs El Desperado
Winner – Francesco Akira
Yep that's right, I'm going out on a limb here and saying that Francesco Akira will win this year's BOSJ tournament despite him having no prior in-ring experience in New Japan. This could age like milk but I'm very confident about this, he's paired with Ospreay and United Empire who are usually presented very well. Not just that, but in the Italians first EVER appearance on NJPW programming he confronted the (at the time) champion El Desperado. Himself and Desperado have already had that significant moment, now it's time for that big bout. Akira is bound to be the face of that division anyway, so why not strap the rocket to his back and have him win the whole damn thing. I'd personally even go one step further and let him dethrone Ishimori. Nevertheless, I firmly believe that United Empires newest recruit will make the perfect start to his New Japan career.
Hopefully after reading all of this you have some sort of motivation to check out this tournament. If you do, you can watch it all unfold as the action gets underway this Sunday on NJPW World, the official streaming service for New Japan.