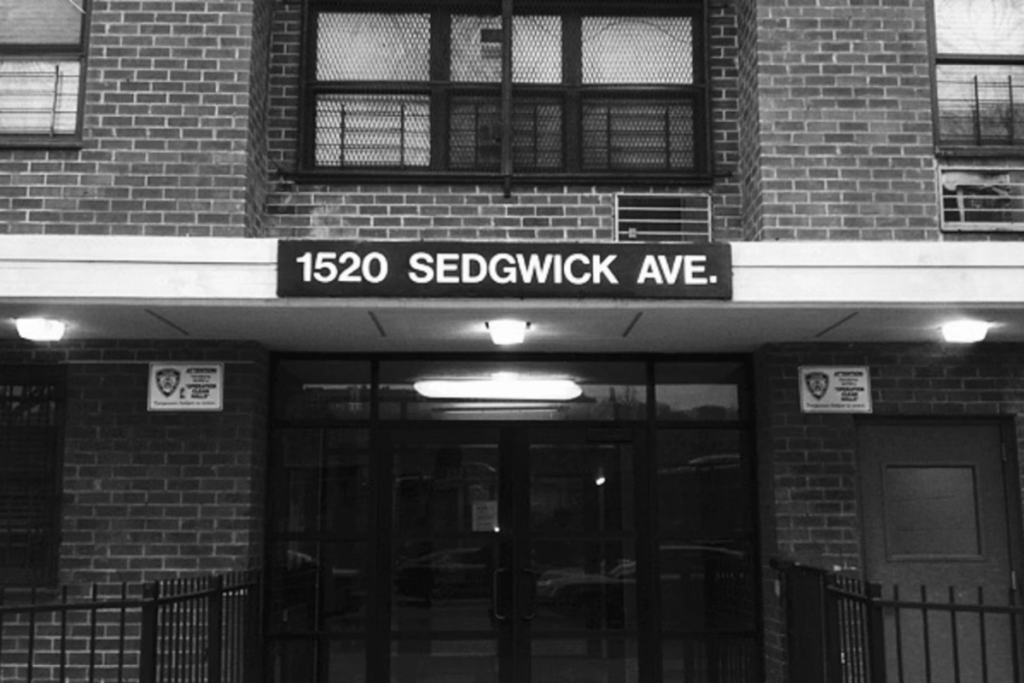 August 11, 1973. DJ Kool Herc, a young Jamaican man who moved to the United States when he was 12, hosted a back to school party in the recreation room in his apartment building in the Morris Heights section of The Bronx, New York. There, Kool Herc laid the foundation of hip-hop.
With disco being the soundscape at most popular clubs and rock being the dominant genre on American radio, his parties were noticeably different from what one might get if they went somewhere else. Kool Herc had one of the best sound systems in the neighborhood, and used a master of ceremonies (otherwise known as the MC) to hype up crowds and keep that energy up. He also had two turntables and a mixer, which he used to develop what we would later know as the Merry-Go-Round technique. Instead of playing full records, he would extend a record's instrumental break for as long as he wanted. Those breakbeats allowed breakdancers to show off their moves. The MC also rapped over those breaks. Some of the greatest rappers of a generation claim that they were at this party, and soon, hip-hop was born.
Over time, DJs and rappers began popping up all over The Bronx. By 1979, the Sugarhill Gang showed there was commercial viability for this new form of self-expression, with "Rapper's Delight" becoming the first rap song to reach the top 40 on the Billboard Hot 100. And now, 50 years removed from that fabled party at 1520 Sedgwick Avenue, hip-hop is the dominant genre. But somewhere in those 50 years, it became intertwined with a different medium entirely. Professional wrestling.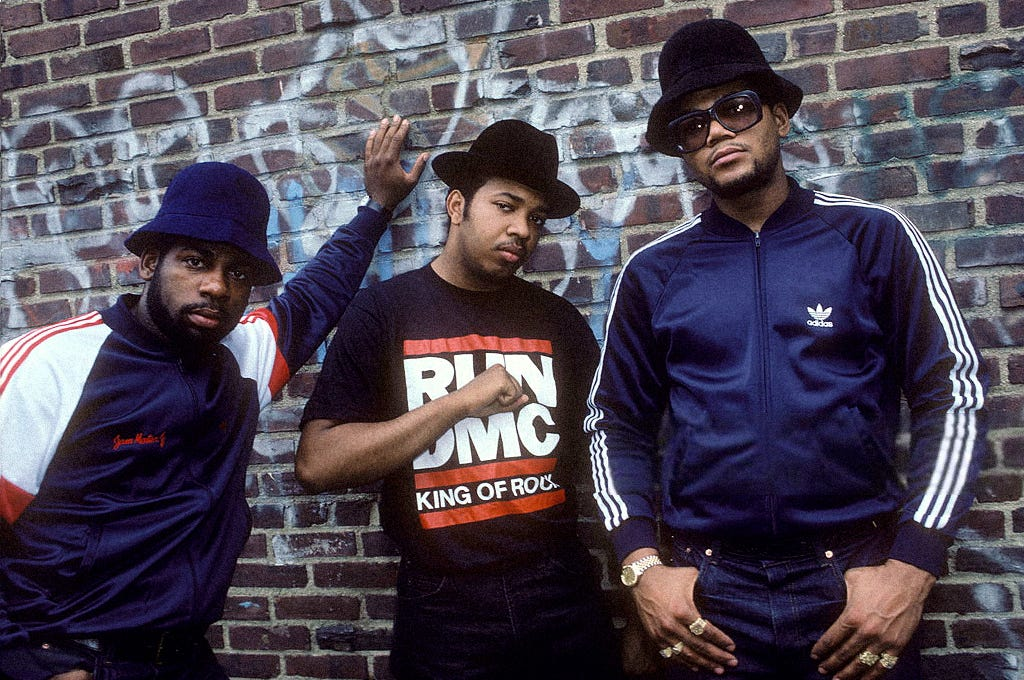 Let's first go back to 1989. Run-DMC, one of the genre's first truly popular acts and one of the most influential groups of all time, was at the forefront of this crossover. Darryl "DMC" McDaniels was, by his own admission, a huge Hulk Hogan fan. So it was a surprise to him when just a few days after his birthday, the trio's road manager came to his house and drove him to Atlantic City, the site of WrestleMania 5. There, they performed a "WrestleMania Rap."
Through no fault of Run-DMC, the crowd struggled mightily to get into the song. Part of it is something that WWE has seemingly never learned when it comes time for a "Big Four" show. The audience is not there for live music. They are there for wrestling. Another part of it is that WrestleMania 5 was a long show. Their performance was only an hour into the show, but by that point, the crowd had already seen five undercard matches. Four of them were bad, and the fifth featured two incredibly talented wrestlers (Owen Hart and Mr. Perfect) wrestling for only five and a half minutes. When Run-DMC leaves the ring, the crowd will sit there for another two and a half hours (and nine more matches), where they will only find energy for the Mega Powers imploding in the main event.
DMC is still a wrestling fan to this day. At 59, he's old enough to remember the tail end of Bruno Sammartino's prime years, but he grew as wrestling did. He's a Steve Austin and Randy Orton fan these days. Their three minutes at WrestleMania 5 are far from the greatest performance the trio ever had, but for a lifelong wrestling fan, it's a huge one. A decade later, the trio remixed D-Generation X's theme song. They used it on TV for much of 2000. Part of that was to promote WWF Aggression, an album of rap and rap rock re-imaginings of some of the most popular themes of the Attitude Era. Run-DMC hasn't been in wrestling since (save for an occasional performance, they've been disbanded since Jam Master Jay's death in 2002), but it's an interesting piece of their career that often goes unmentioned.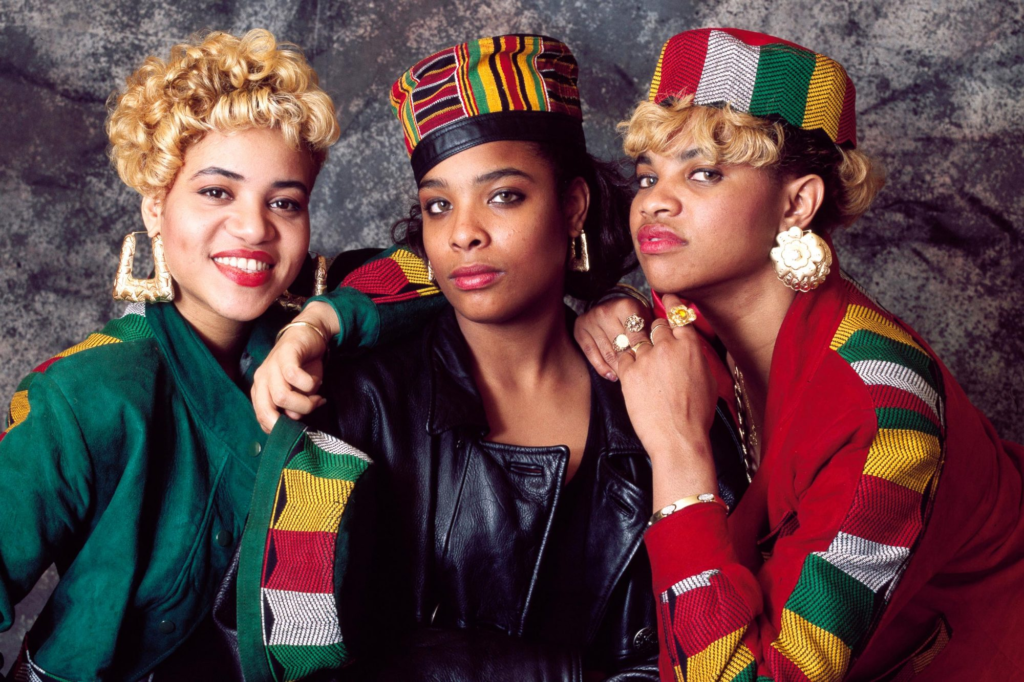 The importance of women in hip-hop goes back to the very beginning. Behind the scenes, Sylvia Robinson co-founded Sugar Hill Records, the home of The Sugarhill Gang, Grandmaster Flash & The Furious Five (whose song "The Message" is one of the most important recordings to come from rap's formative years), the Treacherous Three, and others. MC Sha-Rock, considered the first female MC, debuted with the Funky 4+1 in 1979, and stole the show on their first records. Roxanne Shante, MC Lyte, and Queen Latifah were among the most influential rappers of the 1980s and early 1990s.
Salt-N-Pepa was THE rap group in 1995. Run-DMC were not the force they were at their 80s peak, though they had a dedicated fanbase. Wu-Tang Clan were two years away from their second group album, though many of the core members took the four-year gap to put out some of the greatest solo recordings in the genre's history. But Salt-N-Pepa was everywhere. They won Grammys, sold millions of records, and… performed at WrestleMania XI. It's a typically high energy performance from them, and they never lost that energy, even as they've gotten older. Their dominance of the music industry and continuously being requested to perform in front of thousands of people showed a generation that women have a spot, and a so-so crowd on that night doesn't change that fact.
The hip-hop industry in 1999 was not the one in years past. Tupac Shakur and The Notorious B.I.G. were gone, and record labels on both the East and West Coast were floundering. Please welcome No Limit Records to the stage.
Percy "Master P" Miller founded No Limit Records in 1991, but the label didn't become the culture-shifting beast it grew into until the latter half of the decade, thanks in part to the signing of Snoop Dogg. Master P is a lot of things. A good enough basketball player to almost make the NBA. A callous executive whose financial strategies left a lot of his artists broke while he raked in millions every year. Most important to this story is the fact that he was a wrestling fan. Such a fan that in 1999, he signed with World Championship Wrestling.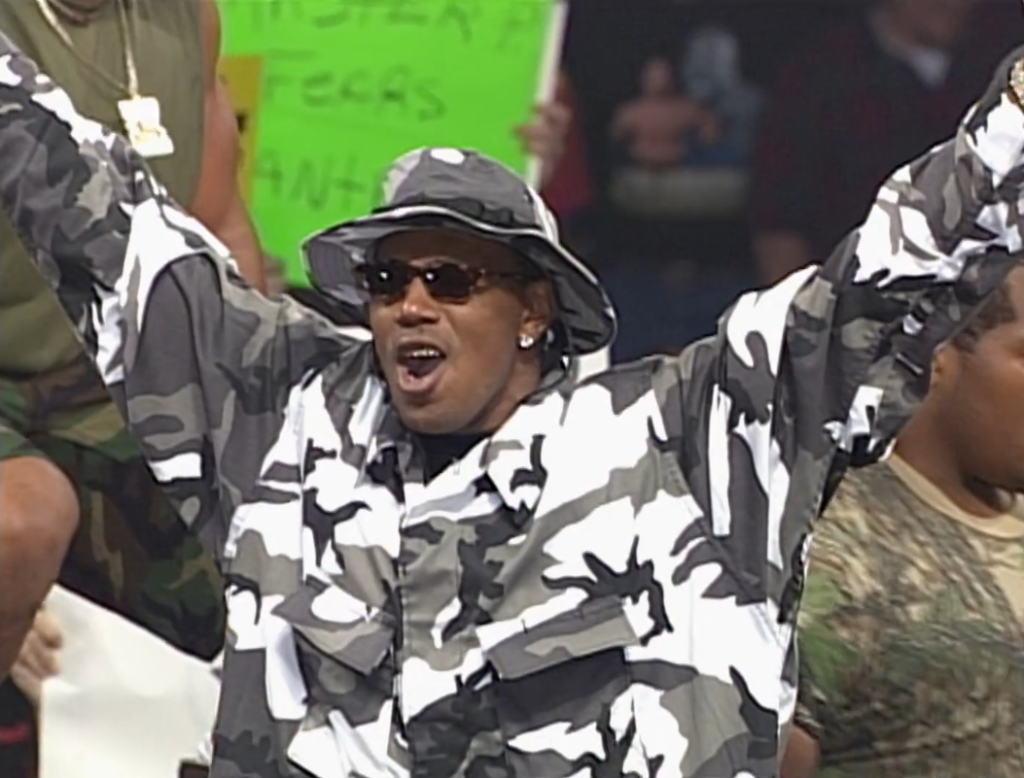 WCW in 1999 and 2000 deserves its own writeup, but today is not that day. The No Limit Soldiers were not a bad idea. Master P was hip-hop royalty, and the stable featured some exceptional talents, most notably an unmasked Rey Mysterio. The issue, of course, is that WCW's core fanbase were not people who could resonate with the stable. I'll leave you to interpret that one.
It should not come as a surprise that when the group feuded with Curt Hennig's West Texas Rednecks, a heel stable that released two songs, one called "Rap Is Crap," and another called "Good Ol' Boys," the crowd put their support behind the Floridian-led quintet. The only way a group of Texans who recorded a song called "Good Ol' Boys" could be more obviously heelish is if they came out on an episode of Nitro and said "we are the bad guys." At least the Soldiers won the feud. Master P was done with wrestling for 20 years, Rey Mysterio made the lone heel turn of his career, and the well-intentioned, poorly executed stable was no more.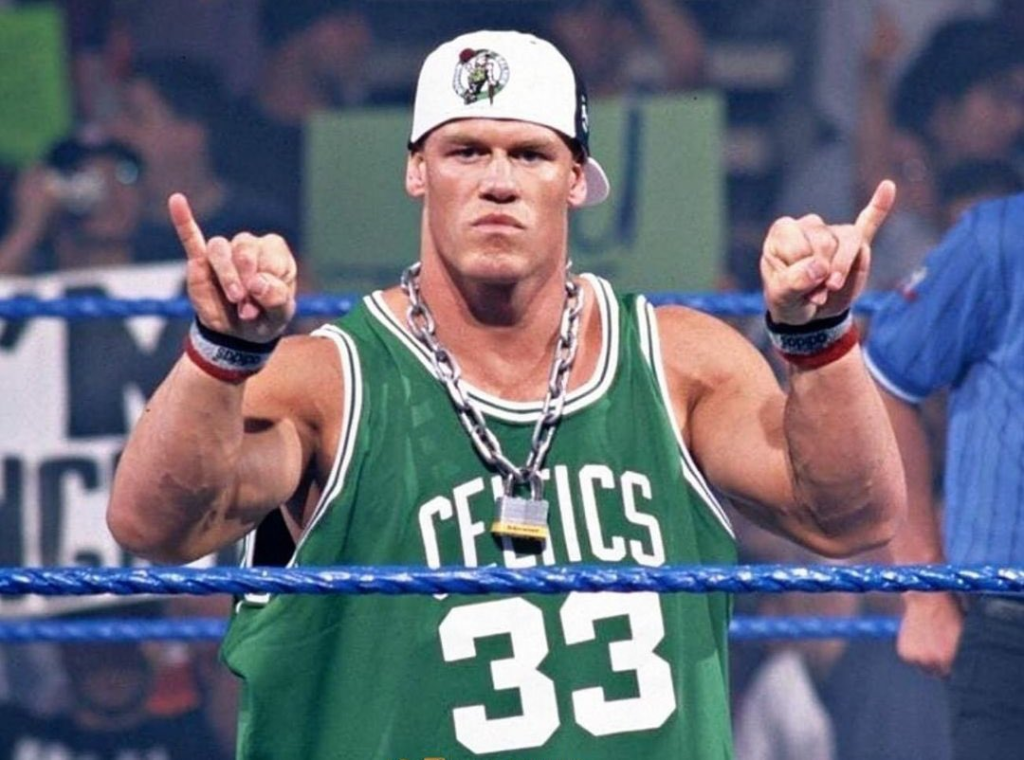 Shortly after his 2002 debut, a young John Cena was on the outs with WWE. The company had high hopes for him (his first match was against Kurt Angle and Angle only won by rollup), but he wasn't getting over with crowds. In one of the rare times where it feels like WWE's retelling of their history is probably completely true, John Cena started freestyling on the bus with a few of his peers. Stephanie McMahon, who was on the bus, suggested he bring it to television. With that, the Doctor of Thuganomics was born.
A lot more of the Doctor of Thuganomics schtick has aged poorly than I would like to admit, but for its time, it was a clever gimmick. A brash heel going into cities around the United States, wearing the jersey of a local sports team's most bitter rival, trashing the crowd and the opponent in front of him in a four-bar verse. It didn't hide that Cena was an unpolished product in the ring, but it got him a lot of heat and pushed him into world title contention less than a year into his WWE debut. He also started rapping outside of WWE, appearing on the remix to Murs & 9th Wonder's "H-U-S-T-L-E," where in the video, he's shown performing different wrestling moves on civilians as he walks down the street with Murs behind him. It ends with him giving Murs an FU (or Attitude Adjustment) into a dumpster. The verse itself is a lot better than one would think, but this is not a music review.
In 2005, Cena released his debut album You Can't See Me, with his older cousin Tha Trademarc. It has since gone platinum, and "The Time Is Now" has been his entrance music for nearly two decades. Cena's since shed the white rapper gimmick and become one of the greatest of all time, but it was a necessary relaunch of his wrestling career and one of the few fully defined personalities in an era of WWE programming that lacked defined personalities.
Three 6 Mafia are another one of the most influential rap groups of all time, and their importance would probably need its own book or Netflix docuseries. The Memphis outfit was also behind one of the most instantly recognizable theme songs for any wrestling fan who grew up in the late 2000s and early 2010s.
During the spring of 2006, WWE positioned Mark Henry as a dominant heel who flirted with Smackdown's main event scene for much of that year. Before that, he was part of the somewhat entertaining Thuggin' & Buggin' Enterprises, led by Theodore Long and featuring other unused Black talent who felt that their lack of opportunity was racist. They were probably right. Christopher Nowinski was also part of the group, which was strange. To solidify Mark Henry's newfound main event status, he had a brand new song, done by Three 6 Mafia, who were in the middle of the most successful run of their career as a group. "Some Bodies Gonna Get It" was an immediate success for Henry, and just two weeks after debuting the song, Three 6 performed it on the May 26 episode of Smackdown. The match that followed ended in a no contest, but the new theme seemed to bring him good luck, as he didn't take another televised pinfall loss until the following September. It remained his WWE theme until he retired.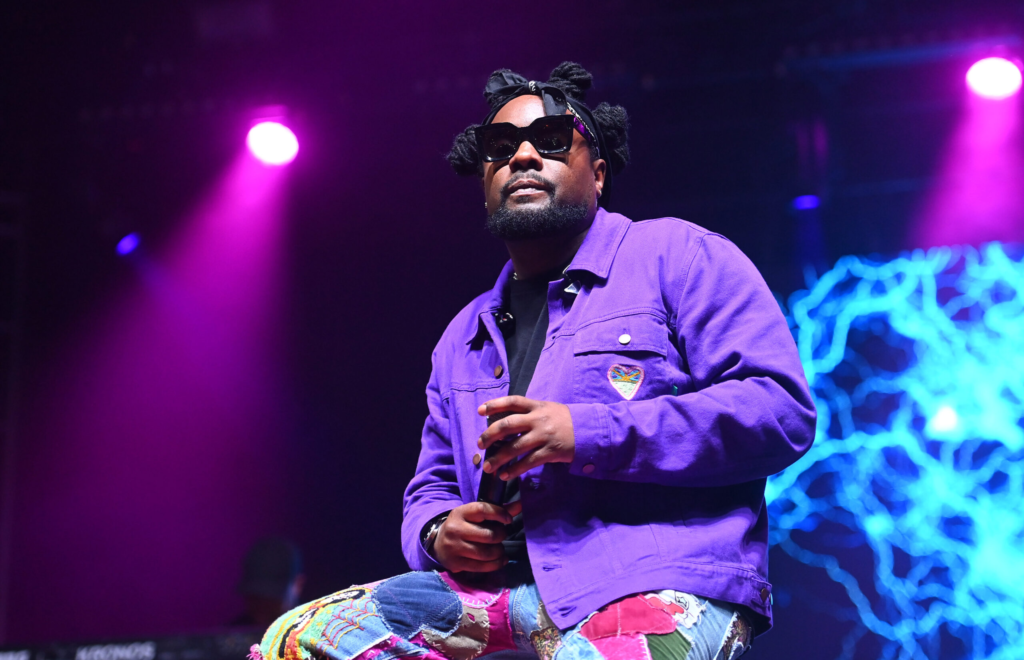 When the kids who grew up with the Attitude Era came of age, they turned into rappers who reference professional wrestling in their music. Some of them began making occasional appearances on wrestling TV. One such rapper is Wale. Wale is both a legend in Maryland and Washington, DC and a Blog Era legend. He was on the XXL Freshman cover in 2009 and since then, he has enjoyed a very fruitful career. In 2017, WWE announced a rap battle between The Usos and The New Day, who were at the peak of their "forever" feud. Wale was the host, and on paper, this segment should not have worked. But it did. It was one of the most entertaining segments on WWE television that year. Actual battle rappers gave love to both teams for showing respect to the culture, and Kofi Kingston later said that it was a career highlight. It's easy to see why, as everyone involved committed to making the segment work. Considering how hard it is for wrestling crowds to get into anything that isn't wrestling, the increasingly loud reactions for every back and forth had to be a great feeling.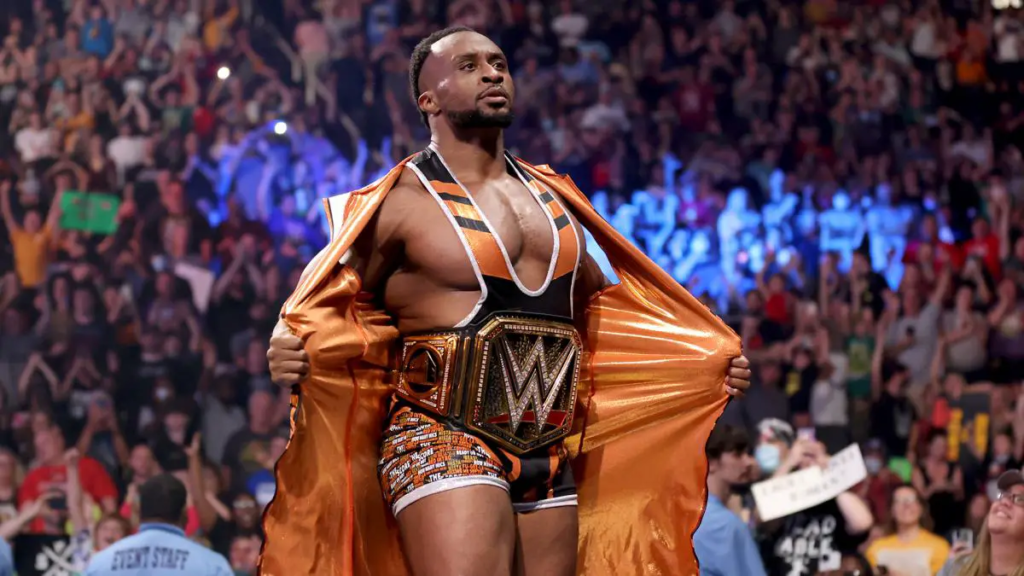 A few years later, Big E of The New Day embarked on his solo journey, and he needed new music. So again, Wale was the man for the job. He wrote and performed the song himself, even playing it live during E's WrestleMania 37 entrance. It became synonymous with a man who won his first WWE Championship in 2021. Big E has been out with a career-threatening injury since March 2022, and unfortunately, it seems it may be a career-ending one. But if it's not, and this song plays somewhere soon, fans will feel plenty of emotions.
This past WrestleMania weekend, Wale also hosted the seventh WaleMania, a prelude of sorts to the big show. Wrestlers from different companies, along with fans and whoever else, came together for a celebration of talent and, of course, live music. The Usos & Solo Sikoa were interviewed, with everyone attempting to get Sikoa to break character. Big E's peers gave him his flowers and moved him to tears. Samoa Joe rapped along to Jay-Z "Public Service Announcement." Hit Row reunited. Wale performed (it is his event, after all). Those descriptions don't do the event justice. WaleMania is a celebration of both hip-hop and wrestling in a way that few things are. The love is clearly mutual. When the people curating an event care about what it is they're curating, it reflects in the event's quality. Thus, WaleMania has developed into a highlight of WrestleMania weekend.
Wale's former boss, Rick Ross, also made a handful of appearances with All Elite Wrestling in late 2022 and early 2023. He and Swerve Strickland were on-screen allies. If you don't know who Ross is by name but watch Dynamite or use social media every week, you've likely seen the "accusations, false accusations" clip by now. Ross has long been one of the funniest social media users, seemingly always finding himself in situations that only he can end up in. With a new album likely on the way (he releases new music every couple of years), some bars about Swerve or Keith Lee could come with it.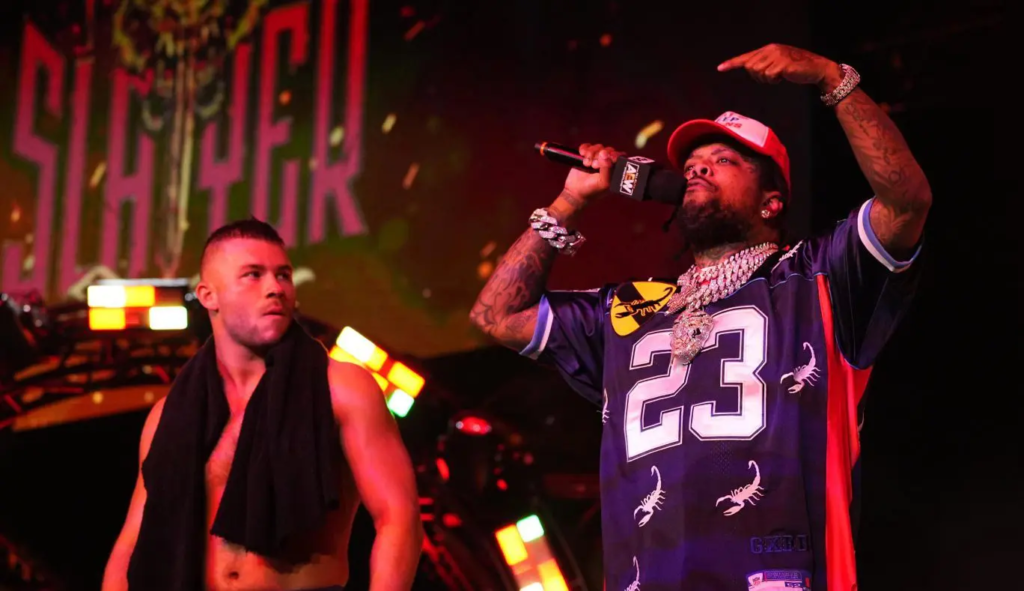 When WWE or AEW comes to New York, one man that will always appear somewhere in the front row is Westside Gunn. The Buffalo MC has been in the game for years, but along with Benny The Butcher and Conway The Machine, Griselda has become one of the most in-demand groups in underground hip-hop. Is it possible to still be underground if you've performed on Jimmy Fallon's show?
Gunn has made so many direct references to wrestling that I've lost count, with songs like "Finn Balor," "The Hurt Business," and "WrestleMania 20" being among the best. He's sampled wrestling promos, most recently Chris Jericho talking about him on an episode of Rampage, which he used on "Peppas" from his most recent release. He finally got the chance to perform on AEW Dynamite when he played Daniel Garcia to the ring in the duo's hometown of Buffalo, New York. It was a big moment for both of them, as Garcia always wanted Westside Gunn to do his entrance if he had the chance to wrestle in his hometown. Westside Gunn has been a wrestling fan since he was a kid, and he called his performance on Dynamite "just the beginning." It was another big moment for Gunn's career, and another example of the mutual love that hip-hop and wrestling share.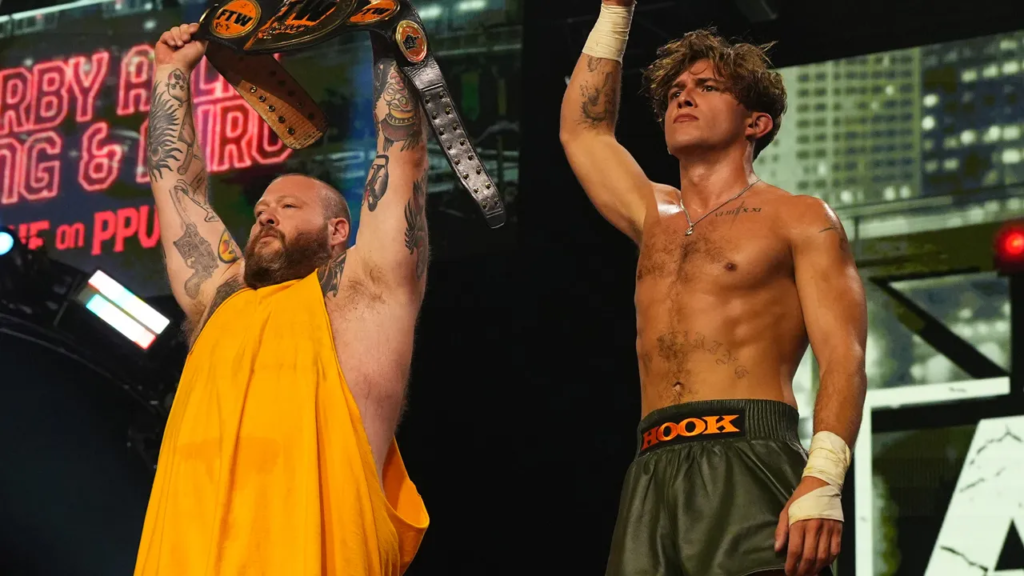 Queens' own Action Bronson wrestled a match at last September's AEW Grand Slam event. Bronson was a 2013 XXL Freshman and has had both a successful music career (Rare Chandeliers and the Blue Chips series are among the most acclaimed mixtapes of the 2010s) and a successful television show (Viceland's F*ck, That's Delicious). For those unfamiliar with New York City, I'll explain the significance of this moment. Bronson was born and raised in Flushing, Queens. Flushing is the third busiest area in the city, and one of the largest business districts in the city as well. Arthur Ashe Stadium is also in Flushing, and it's been the home of the US Open tournament for decades. It is also the largest tennis stadium in the world, with a capacity of nearly 24,000, though Grand Slam's attendance was around 13,800. Bronson's first (and possibly only) wrestling match was in front of his home crowd, with another New York native in Hook teaming with him to defeat 2point0. At a touch over five minutes, the match achieves a lot. The home duo won the match, Bronson got one of the loudest reactions of the night, and he even hit a powerslam! I doubt Bronson will ever wrestle again, but he has a performance he should be very proud of. Did I mention that Hook's theme music is a Bronson song?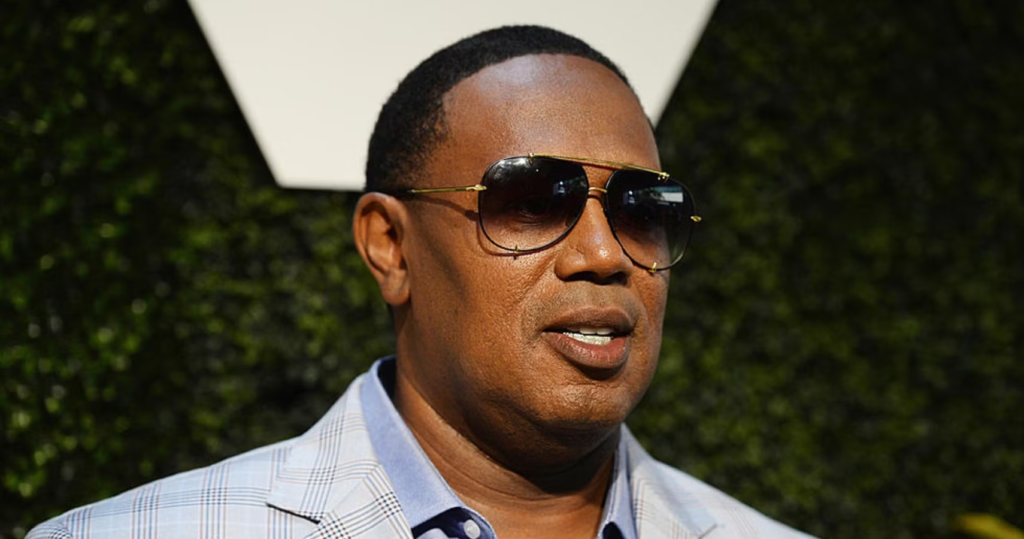 Earlier, I said that after 1999, Master P was done with wrestling for 20 years. That's because in 2019, he purchased House of Glory. House of Glory opened in 2012 and was co-owned by Amazing Red and Brian XL. Since then, it's become a staple of New York State's independent wrestling scene and one of the most esteemed professional wrestling schools in the country.
House of Glory has played host to some of the greatest wrestlers of the last two decades, including Naomichi Marufuji, Eddie Kingston, Malakai Black, KENTA, and Hiroshi Tanahashi. The Briscoes' last match as a tag team before Jay's untimely death was at a House of Glory show. The Young Bucks' final independent date, just two months before the first ever Dynamite episode, was in a match against Private Party, who trained at the school. That was also the first House of Glory show I ever attended. At the end of the match, the Bucks confirmed that Private Party signed with AEW. New York-based wrestlers use unlicensed hip-hop from all over, ranging from Uncle Murda to Kendrick Lamar. While fans have levied criticism towards the promotion for occasional questionable booking choices, they cannot deny that Master P loves wrestling, and his wrestlers' love for hip-hop (both in fashion and in entrance music choices) help create an atmosphere that's unique for an independent wrestling show.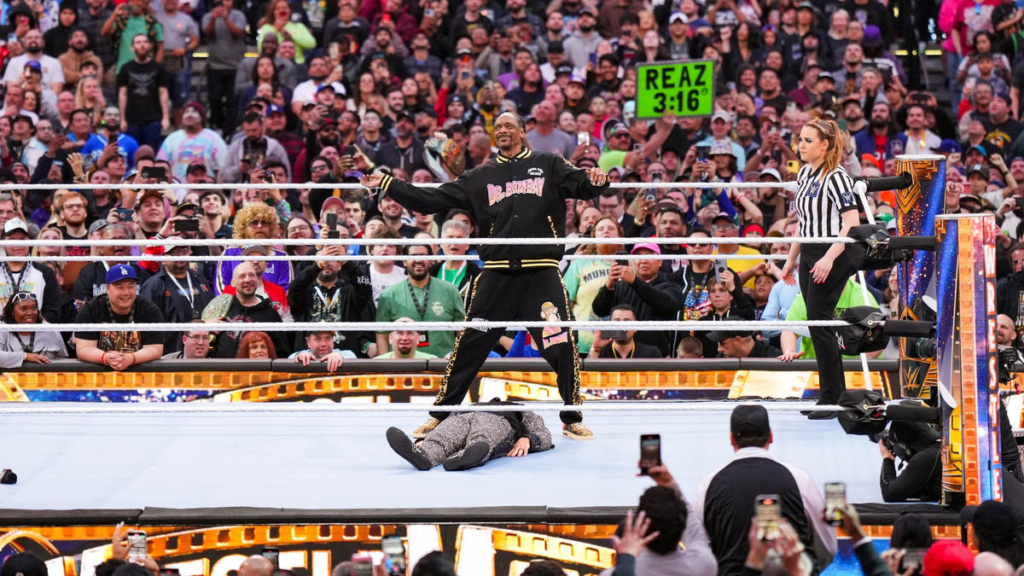 Some people may only recognize Snoop Dogg for his work with Martha Stewart or as a man with maybe the most public love of marijuana in the world, but he began his entertainment career with two of the finest performances in hip-hop history. Dr. Dre's debut solo album, The Chronic, was the launching point for Snoop's own solo career. "Nuthin' But A G Thang" is now regarded as one of the greatest songs of all time. By the time 1993 rolled around, he was the hottest rapper around. He released Doggystyle, which had the highest-selling debut week for a rap album of all time (until 2000), selling over 800 thousand copies in its first week.
Snoop Dogg was not the rapper he was in 1993 by 2008, but he was still very popular. His first WWE appearance was as the MC for Ashley Massaro & Maria vs. Melina & Beth Phoenix at WrestleMania 24 that year. A few years later, he appeared in a segment with Hulk Hogan and Curtis Axel on a Raw episode. He threw Axel out of the ring and posed with Hogan while donning a Hulkamania shirt. At WrestleMania 32 in 2016, he accompanied Sasha Banks (his cousin) to the ring for her match against Charlotte and Becky Lynch, which she should have won. He went into the WWE Hall of Fame that year as well. When Banks turned heel in 2019, Snoop added a short verse to a remixed version of her theme song, and she used that song until she left WWE in mid-2022.
Snoop even showed up in AEW to give Serpentico a frog splash on Cody Rhodes' behalf. He and The Miz co-hosted WrestleMania 39 this year, setting up a match between The Miz and Pat McAfee on Night 1. Also on Night 1, he drove Rey Mysterio to the ring in his signature lowrider as "Nuthin' But A G Thang" blasted through Inglewood, California's SoFi Stadium, just a few minutes from Compton, where Snoop grew up. On Night 2, Shane McMahon returned to WWE for The Miz's second impromptu match of the weekend, but he blew out his quadriceps. Snoop stepped in, delivered the worst People's Elbow of all time, and beat The Miz. Yes, Snoop Dogg has a WrestleMania win. Though he doesn't have many wrestling appearances overall, it's always a good time when Snoop Dogg makes a cameo, and hopefully, there are more in the future.
Why does hip-hop's relationship with wrestling run as deep as it does?
Wrestling, like a lot of hip-hop, is grandiose. Rappers are larger-than-life figures. We've seen the shiny suits, the flashy SUVs, the big chains, the even bigger mansions. Think of some of the greatest wrestlers of all time. They have similarly "big" presentations. There's a reason there are so many bars and full songs about living like Ric Flair. Flair, the jet-setting playboy that could make Bruce Wayne jealous. There is no world where Ric Flair's lifestyle should be a goal for someone. But the idea of excess seems fun. And if there's one thing a rapper is, it's excessive. Just look at The Notorious B.I.G's house in the "Juicy" video.
It works because, as I mentioned before, there is a mutual respect between rappers and wrestling, largely due to so many wrestlers in the modern era having genuine love and appreciation for hip-hop as an art form. That respect wasn't always there, and for some fans, it may never be. But so many rappers saw these figures grow to near-mythical status, while so many wrestlers saw rappers do the same. The kids that saw Steve Austin give Vince McMahon a Stunner every week are now adults who get to play their favorite wrestlers to the ring in their hometown. Both the rap game and the wrestling industry have changed drastically, but the relationship between the two will only deepen. Happy 50th birthday to hip-hop. Here's to 50 more.