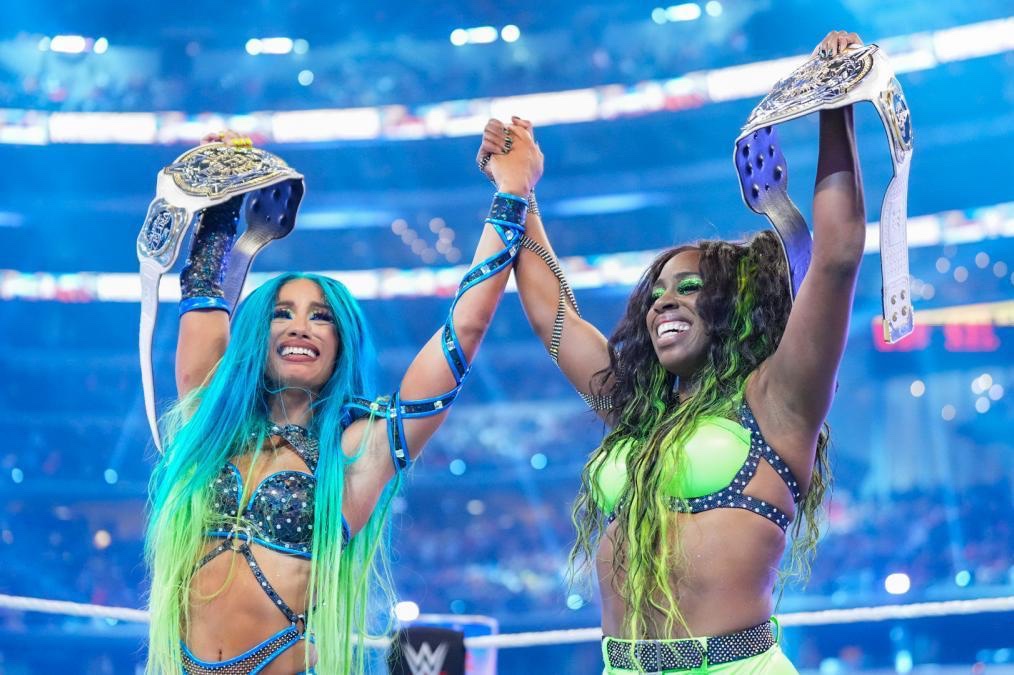 A few weeks ago, I passionately wrote about the tremendous rise of Black women dominating professional wrestling and holding major titles across all promotions. I was beaming because it felt for once that Black women were finally getting the proper showcase and respect they deserved.
But after recent actions from WWE regarding their treatment of two of their biggest stars, who are also Black women, I'm writing with gloom, frustration, and anger.
During the recent episode of Monday Night Raw, the television portion was overshadowed by a report by PWInsider (and later confirmed by Fightful) that current WWE Women's Tag Team Champions Sasha Banks and Naomi had left the building after creative differences over the planned story and match that evening. They were to be involved in a six-pack challenge to crown a new number one contender for the Raw Women's Championship that also would've seen a storyline build during the show that resulted in conflict between Banks and Naomi having to compete against one another during the contest. After conversing with owner Vince McMahon, the rumored consensus (as mentioned by a Twitter user detailing his understanding of the situation) was an unnamed producer informing them to "fix their attitudes." As the show went on air, they both went into Head of Talent Relations John Laurinaitis' office with their suitcases, left their championship titles on the desk, and proceeded to leave the building. After changing the main event, two instances on the broadcast made mentioned that Sasha and Naomi had unprofessionally left the arena. Then WWE released a public statement on the matter on the website and social media for the world to see.
WWE's statement of trying to paint Sasha and Naomi as unprofessional faced heavy criticism as they have only smeared one talent in the last twenty years on a public forum. That was Stone Cold Steve Austin when he walked out on the company back in 2002. Since then, several wrestlers have walked out, publicly requested their releases, and cited frustration with the booking of their character. Still, they were never met with the identical drawback as the Women's Tag Team Champions. WWE's immaturity showcased a comprehensive understanding of how they do business when someone stands up for their beliefs. To publicly call two of your talents "unprofessional" in a written statement AND on national television instead of addressing their concerns is baffling. They continue to set a standard that if you speak out, then we will bury you.
But this story goes deeper beyond what was happening backstage.
In December of 2021, Big Swole left AEW and cited creative differences and ongoing frustrations with how the company was operating regarding the women's division and diversity within the locker room. Instead of meeting with a simple acceptance of fair criticism, CEO and Head of Creative Tony Khan went to Twitter. They lauded Swole's wrestling as "not good enough" while promoting an episode of AEW Rampage within the same tweet. What followed was a disgusting backlash to Swole from arrogant "fans" who went beyond attacking the character and started derogatory comments about the real-life person and her family. The attacks went on for weeks as it became a quick understanding that had Khan had not put out that tweet, then maybe not of this would have happened.
But it did.
Fast forward to Sasha and Naomi, they were met with the same derogatory and racial ignorance because whenever Black women speak out about anything, it is always met with drawbacks. The usual line refers back to their "attitude." A week of people hiding behind computer screens furthered their agenda and used this rhetoric to attack Black women all across the board. Wrestling has been rooted in racism and sexism because specific demographics are stuck in the seventies mindset of wrestling being a "good ole boys" club. Black women continue to set a standard every week with the audience they bring in, and we constantly see their opinions get attacked while their counterparts get praised.
WWE's laziness with decision-making has been a significant talking point as there never seems to be a clear path to long, engaging storytelling. Sasha and Naomi both addressed these issues by trying to make sense of them being tag team champions, respectively facing the current singles champions (Sasha was rumored to be facing Smackdown Women's Champion Ronda Rousey, while Naomi would have confronted Raw's Women Champion Bianca Belair) and lose while not defending the titles for over a month. Them attempting to apply logic to the matter was reciprocated by the company in an issue of "shut up and do what you are told." Quite frankly, WWE is lucky there aren't more contracted talent that has the courage and voice to express their concerns, but unfortunately, Sasha and Naomi were thrown into the fire with slander for speaking their mind.
Their public suspension on a recent episode of Smackdown, along with removing their merchandise from WWEShop, was unnecessary and fueled more by the notion that WWE was deliberately making themselves the victim by using language that Sasha and Naomi let everyone down. The portrait that WWE is currently painting is an uneasy one because, typically, business practices of this nature should be met behind closed doors. Instead, immaturity from the upper management has continuously allowed them to control the narrative in a manner they see fit. Please make no mistake about though; they further push away an audience that has grown tired of WWE's inability to handle business civilly. The undertone of devaluing Black women for speaking up is rather loud than usual. The need to make an example is a reminder that WWE will not let anyone voice their opinion if it doesn't line with their ideology.
The potential for Sasha Banks and Naomi to leave WWE is more remarkable as they both have a solid mainstream appeal that WWE has failed terribly in promoting. Naomi is a trending topic on Twitter often, and her return at the 2020 Royal Rumble was met with universal acclaim from sites that don't cover wrestling at all. Sasha Banks is quickly becoming Hollywood bound at any moment with casting roles in The Mandalorian and several high-profile YouTube series. Both women have the market and fanbase that WWE needs them more than they need WWE. Unfortunately, WWE operates with the narrative that no one is bigger than the brand and would likely attempt to sabotage their careers from rising any further. In a perfect world, Vince McMahon personally would offer a public apology to two stars who have introduced new fans to the product and attempt to salvage a damaging business relationship but sadly, this isn't a perfect world.
Whatever takes place in the next few weeks, the support of Sasha Banks and Naomi is essential. Black women's voices are lifelong to understanding, and when people attempt to get rid of that, they will be met with a ferocious backlash because you will never silence the voice of the most divine essence on this Earth. We may never understand what happened or everything that led up to the events that led them to walk but regardless of it, Sasha Banks and Naomi should be proud that they stood up for what they believed.
And I'll be standing with them all the way through.