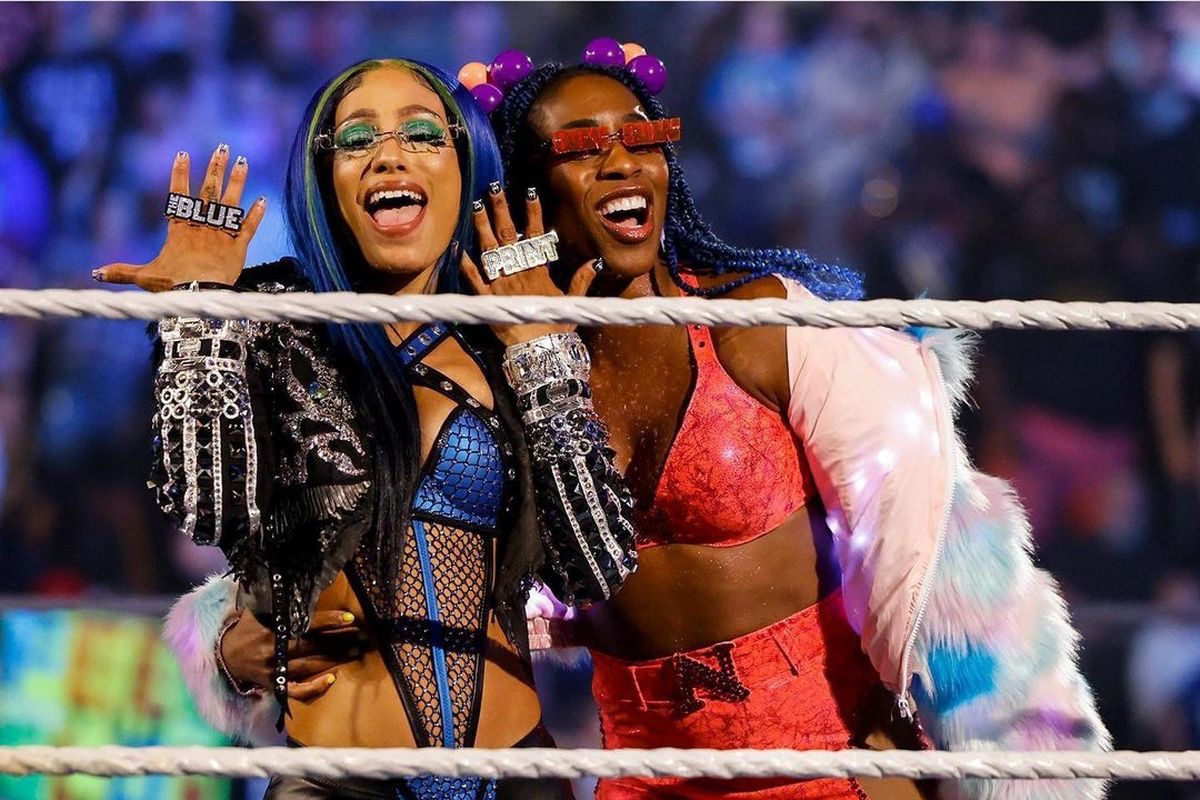 WWE Womens Tag Team Champions, Sasha Banks & Naomi have walked out of Tonight's WWE RAW tapings.
PWInsider first reported the news, stating in a report that Tonight's main event was changed to Becky Lynch vs Asuka after Sasha Banks & Naomi had walked out late in the day before RAW went on the air. The reports goes on to add that the word making the rounds backstage is that Sasha Banks took issue with some of the planned creative for the original main event, which was a Six Pack Challenge to determine Bianca Belair's next challenger at Hell in A Cell.
Banks reportedly had a meeting with Vince McMahon and the belief is that when McMahon didn't choose to change direction on the plans, Banks wouldn't back down on her issues and made the decision to leave the taping.
---
Fightful Select then confirmed that Sasha Banks & Naomi had indeed walked out of the RAW tapings.
Fightful Select, on top of confirming a lot of what was reported by PWInsider, would also add some extra information regarding the situation, reporting that they learned that Naomi was actually the scheduled winner of the Main Event Six Pack Challenges.
In an update from Fightful's Sean Ross Sapp on Twitter, WWE made this statement on the situation:
---
WrestleVotes tweeted:
---
Fightful Select would continue to update their report throughout the evening and went on to add that the working plan with the match was for Naomi to pin Nikki ASH, not Naomi pinning Sasha Banks as speculated. Those that they spoke with indicated the match was to be constructed to not have Naomi interact with Sasha Banks or Doudrop coming in contact with Nikki ASH in the match itself. The update also states that people close to the situation said Naomi and Sasha Banks didn't claim that they didn't want to work with Becky Lynch or Asuka, like what was implied in WWE's statement, and those were the two women referenced. Instead, Sasha Banks and Naomi were angling to work with Nikki ASH and Doudrop at the upcoming Hell In A Cell PPV, also adding that hadn't heard Sasha & Naomi considered anybody "unsafe".
The pitch for Sasha & Naomi to face Nikki & Doudrop was turned down & another pitch to have them interfere with Naomi's previously planned world title challenge was also turned down. Lastly in the update, Fightful Select report that they were told Sasha Banks and Naomi's issues largely were concerns about the direction of their tag team and the division as a whole.
---
Dave Meltzer on the latest Wrestling Observer Radio has also given an update, stating that the issue may have been a contract issue, amongst other things too:
"Some issue with the contract, and I think that more will probably be coming out as to the why, what they were unhappy about. It wasn't something that just happened tonight, some of it was building up and things like that"

– Dave Meltzer
Meltzer would also go on to talk about what the potential fallout could be, mentioning Roman Reigns as a factor too:
"Another key to this is that Naomi is obviously the wife of Jimmy Uso, and Jimmy Uso is the cousin of Roman Reigns and Roman Reigns wields an incredible amount of power. So if Roman Reigns is going to back them, and we don't know that he will, or think that they were somehow mistreated, it becomes a bigger issue. If he doesn't then its not a bigger issue and at that point they probably could suspend them, but I don't know if they really would want to do that because the of depth issue right now when they're focusing on so few people.

I don't think they wanna suspend people right now but you know, sometimes you may have to. So this is kinda an ongoing story and we're going to have to wait and see how.. what the reasons are that this happened, the story of not feeling respect as champions could be that they've got a contract coming up and maybe they were offered less money than they were expecting."

– Dave Meltzer
"There's a lot of heat on Sasha Banks right now, as there would be. I've heard from people not in management. But again, they also didn't know the whole story. So, that's kind of what the situation is. It's an incomplete story."

– Dave Meltzer
As this is a developing story, we will provide updates here as best we can when they are available.