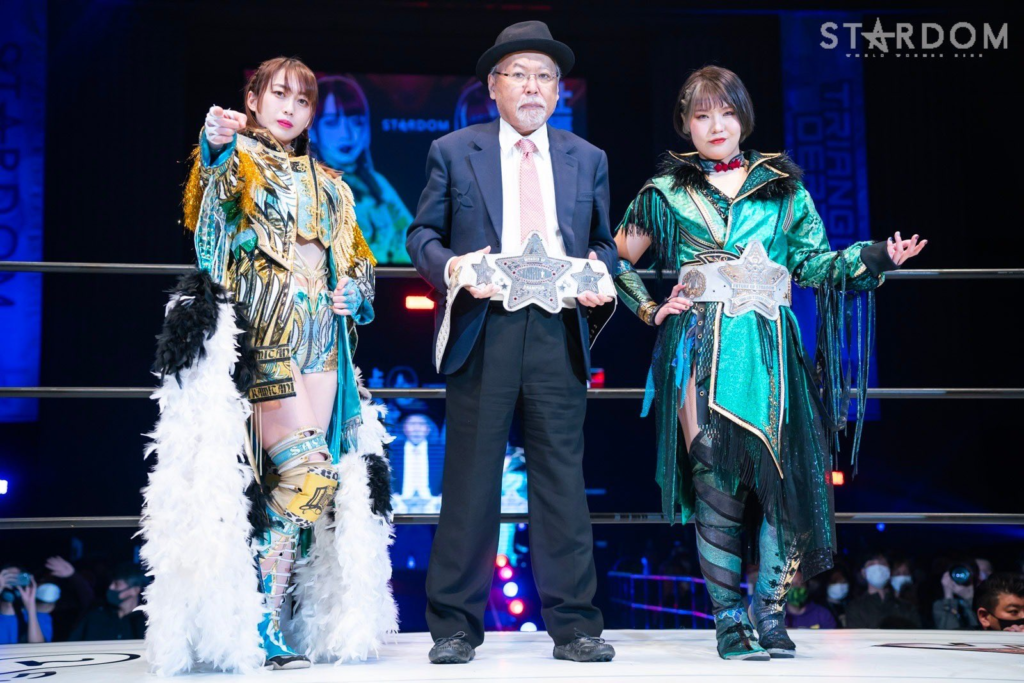 STARDOM
Stardom hosted two shows this past week where the cards were totally changed due to illness from multiple wrestlers including Starlight Kid, which canceled the big AZM vs. SLK rematch on the Nagoya show.

The Korakuen Hall Show had a big angle with Chihiro Hashimoto from Sendai Girls appearing to confront Syuri. This happened after Syuri called out Big Hash after her Queendom loss against Giulia and gave her an ultimatum to appear on that show. Hashimoto was there and confronted God's Eye after their Main Event victory over Club Venus. Before Syuri was able to say something MIRAI stepped up and challenged Hashimoto to a singles match which Hash gladly accepted. The date of the match isn't known yet, but it will be fantastic.
While the Nagoya show suffered from the illness of Starlight Kid, STARDOM instantly replaced the High-Speed Title Match with a big Tag Team Match with rivals teaming together. On the one side, it was Syuri teaming with the Icon Mayu Iwatani while on the other the Empress Maika teamed with her arch-rival Utami Hayashishita. In a fantastic match, both teams weren't able to get the job done in the 30-minute time limit, which lead to a draw. Maika looked like a big Star next to the former World Of Stardom Champions and seems to be one of the next Women to get a big Singles Title in the upcoming year. After the Match, Mayu Iwatani proposed a Tag Team Match where the winner gets a Title Match of their choosing. Syuri agreed and announced her Tag Partner will be the returning Konami who will wrestle again for the first time since her Match in her hometown in November. Mayu's Partner is yet to be known.
In the Main Event of the Nagoya Show, Saya Kamitani retained her Wonder Of Stardom Title against Ami Sourei in a really good match. After their match at the 5STAR, they stepped up the game here and put on a worthy Main Event for this show. The biggest problem was that Ami never looked like to beat Saya at all. With that defense, Saya Kamitani reached V13 and tied the White Belt defense record of Momo Watanabe in her 358-day-long reign. Saya instantly called out Momo Watanabe for a Wonder Of Stardom Title match and besides the Wonder Title also Momo's record is on the line. It reminds me of the Okada vs. Tanahashi Match from 2018 where if Okada beat Tanahashi he will have the defense record for his own and the same is happening here now with Momo vs. Saya Kamitani. The story between these two goes back to the debut Match of Saya in 2019. Since then, Momo and Saya were together in QQ until Watanabe turned on them in late 2021. They are facing each other soon with not only White Belt on the line, but also Momo's defense record.
---
Marvelous
Rin Kadokura announced on Sunday that she is leaving Marvelous to move to Canada with her husband. The 29-year-old made her Marvelous and Pro Wrestling debut in 2016 and has wrestled for the company since. She was a massive part of the company in the last couple of years, especially during the feud against Sendai Girls, she was the one stepping up big time together with Mio Momono. Rin married the son of legendary AJW Wrestler Akira Hokuto and former five-time IWGP Heavyweight Champion Kensuke Sasaki. It's unclear if the former AAAW Tag Team Champion will continue to wrestle in Canada.
Nagayo also announced that a Wrestler who left Marvelous in the past will be returning to wrestling in a different Promotion soon. Fans are speculating heavily on two possible names. Mei Hoshizuki and Hibiki who both were fired from Marvelous in the Summer of 2021. It's yet to be known who that Wrestler is and in which Promotion they will appear.