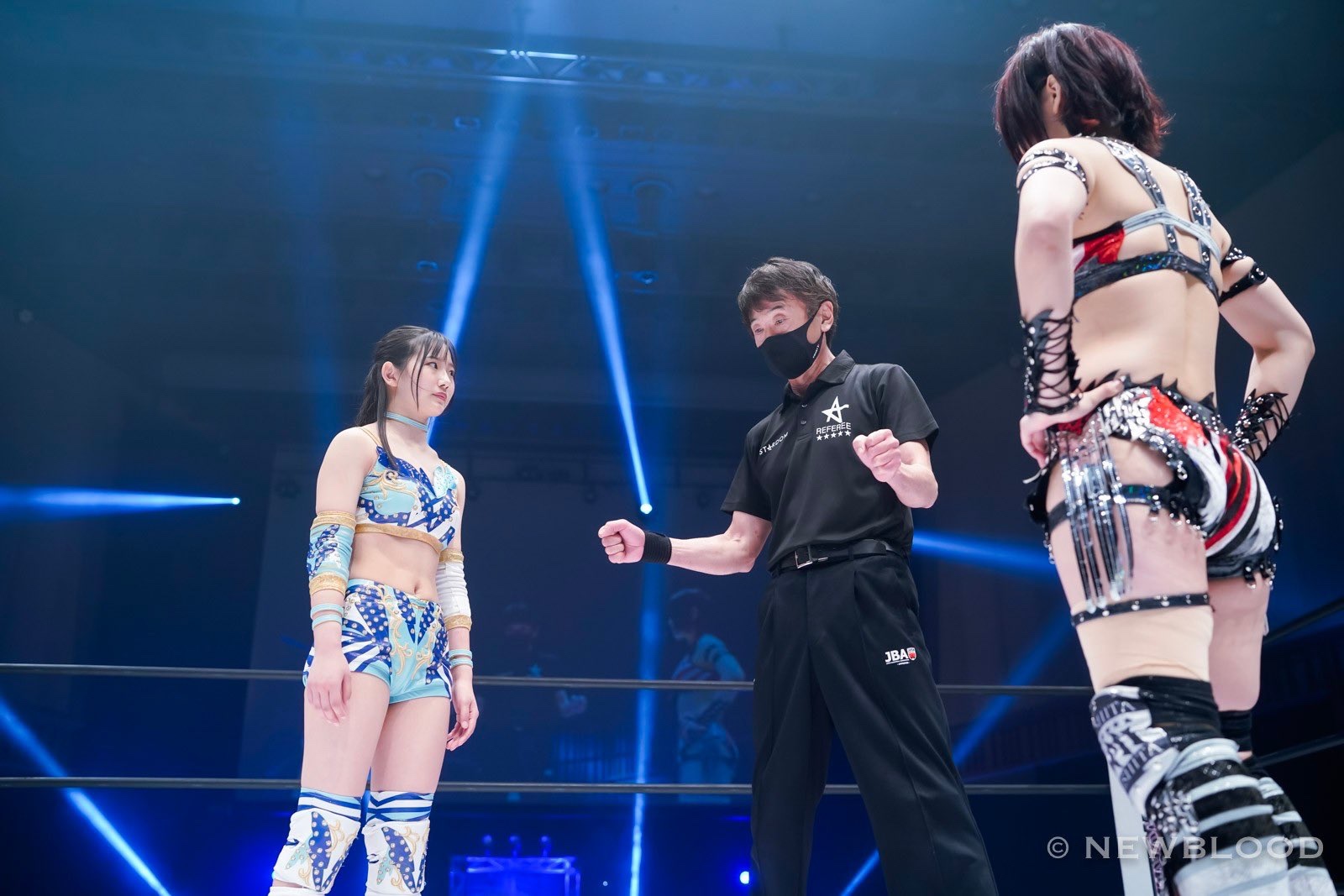 We are entering the first of two major weeks for Joshi wrestling as this weekend, Tokyo Joshi Pro Wrestling (TJPW) holds their Grand Princess event in Ryogoku Sumo Hall, marking the biggest event in the promotion's history. It is an exciting time for them and their fans, with all the makings to be the week's best show, so make sure to check that out.
In other news from the Joshi world, it was a big-time weekend for Stardom yet again as the build to Stardom World Climax continues. This past Friday night was NEW BLOOD 1, the first show of its kind as Stardom tries its best to not only highlight its young stars but those around the entire Joshi scene as well. It might be a tad aggressive to say that this show could go down as an important moment in the history of Stardom but at the very least, its main event should be a topic for years to come.
Utami Hayashishita faced highly-touted rookie Miyu Amasaki in her very first match. Amasaki showed an ambitious side to her with the moves she attempted, including a rising Pedigree variation and a clever yet slick roll-up attempt that got a good near fall on Hayashishita. It was, of course, "The Red Queen's" night when it came to winning the match but it became evident that Amasaki is all that they hoped for her to be. After the match, Hayashishita invited her to Queen's Quest, solidifying an even stronger future for the group moving forward. Amasaki earning the opportunity to learn from Hayashishita, Saya Kamitani, and AZM – all of which are Stardom trained – can help her grow faster than possibly anyone expects.
Throughout the rest of the card (which you can check out for free on YouTube) there was a great showcase for talents in and out of Stardom. JUST TAP OUT's Tomoka Inaba and Aoi were standouts as well as Diana's Haruka Umesaki, as she specifically opposed Starlight Kid in their tag team match. It was really a show with no high stakes but even still, an exciting chance for a lot of talent to simply show their talent. It was worth a look to get a feel of how good Joshi can be, but also a glance at the industry's future as well.
Stardom's weekend continued with a Tug-of-War series between Queen's Quest and Oedo Tai. That'll be able to be viewed on Stardom World in the coming days along with the Korakuen Hall show from Sunday that saw MaiHime Poi defend their Artists of Stardom Championship against Utami Hayashishita, Saya Kamitani, and Lady C. That'll be one you want to check out and without giving too much away about the rest of the card, Prominence makes their presence felt one more ahead of Stardom World Climax.
And really to finish up the first edition of our weekly Joshi Guide here at Wrestle Purists, I feel it's necessary to tell you (and the world) that Sendai Girls is worthy of your time, as the roster and outside wrestlers who are part of these shows continue to work their butts off to deliver quality show after quality show. All of the matches being uploaded to YouTube make it more accessible than nearly any other Joshi product right now because it is free! Please take the time to check them out. Here's a match to get you started: