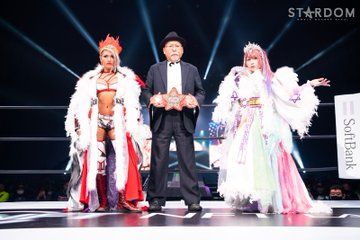 Stardom
The main show opened with the in-ring return of Mei Seria (fka Mei Hoshizuki) after her departure from Marvelous in August 2021 who was teaming up with Starlight Kid to face her "MeiMei" Tag Team Partner Mei Suruga and the current High-Speed Champion AZM. It was the typical High-Speed match with fast-paced action that made everyone stunned. Mei Seira looked better than ever in her return and she didn't miss a beat. She and AZM had fantastic chemistry, while Starlight Kid and Mei Suruga showed out why they are two of the best. In the end, Mei even was able to beat the High-Speed Champion and instantly challenged her to a future title match. The 420+ day reign might be in jeopardy with Mei Seira challenging next.
Fuwa-chan, who is a big YouTube & TV star in Japan, had her second match when she teamed up with her trainer Hazuki against Utami Hayashishita and Miyu Amasaki. Fuwa-chan trained together with Hazuki and Okada for this match and it showed. She feels like a natural in the ring and showed out well. She gave 110% and proved that she isn't just a YouTuber. Furthermore, she and Utami had the most interactions in this match. Fuwa-chan bumped a lot for the former World Of Stardom Champion but also showed that she can wrestle with hitting an amazing-looking German Suplex. Utami's experience and power were too much for Fuwa-chan in the end, and she pinned the Influencer for the win.
Himeka's official Stardom retirement was next, and she faced her Tag Team Partner and Best Friend Maika. The Jumbo Princess made a grand entrance, who looked like a Princess here. Mina Shirakawa, who announced Himeka in her debut match, was the guest ring announcer for this match. The emotions were high from the first moment, especially Maika and Mina were about to cry. The match itself was fantastic. Maika and Himeka delivered an amazing Powerhouse vs Powerhouse bout, with Maika coming out as the victor. The final stretch was fantastic and emotional. Maika hit the Michinoku Driver II and begged Himeka to kick out, so her career isn't ending, and the Jumbo Princess actually kicked out but after the second Michinoku Driver II Maika knew it was over, she grabbed Himeka said "I love you" while busting out in tears and gave her a final shoot headbutt and a third Michinoku Driver II to end the career of her best friends. A fantastic way to end the career of Himeka and a major win for Maika on this show.
The first title switch of the night, and the most controversial, happened in the Goddess Of Stardom Title Match, where MIRAI and Ami Sohrei won the titles from the dominant 7Upp Tag Team via count-out. The New Eras were able to keep Yuu and Nanae Takahashi outside the ring when MIRAI hit the Aces High to the outside to take both down. 7Upp's run as a Tag Team was as dominant as you can imagine. They only once via pinfall in the Tag League in November. MIRAI and Ami finally won the Goddess Belts on their 4th try. Backstage, they were challenged by former Champions FWC for the Fukuoka Show.
The Artist Of Stardom Championship match featured the return of Saori Anou to a Stardom ring, and she was here the MVP of the match. Everybody looked good when they had a chance to shine. It took a while for Saori to finally get tagged in, but it was worth the wait. The last couple of minutes with Saori and Suzu at the end were fantastic, and Anou was able to pin Suzu with a fantastic & creative roll-up. Her, KAIRI and Natsupoi are now the new Champions, and it will be interesting to see how often they will defend the titles considering neither KAIRI nor Anou are full-time in Stardom.
Saya Kamitani's 480-day Championship reign with the Wonder Of Stardom Title is over. She was dethroned by Mina Shirakawa who finished her story after Saya broke her face with a botched Phoenix Splash in November. The story of this match was built around the Phoenix Splash from the very beginning. Mina worked the leg of Kamitani early on to prevent Saya to go to the top rope and hitting the move, while Saya, who hasn't hit the Phoenix Splash since the Mina Match in November, needed to overcome her doubts to regain her confidence. After multiple tries, Saya then hit the Phoenix Splash, but Mina kicked out. The leader of Club Venus hit the modified Glamorous Driver MINA for the three count and the title win. The success of Mina Shirakawa came from her improvement. From her being a solid wrestler in 2020 when everyone just talked about her, looks to be an overall great Wrestler that shows amazing charisma and is able to have fantastic matches. Her run will be great, and it's her time to shine.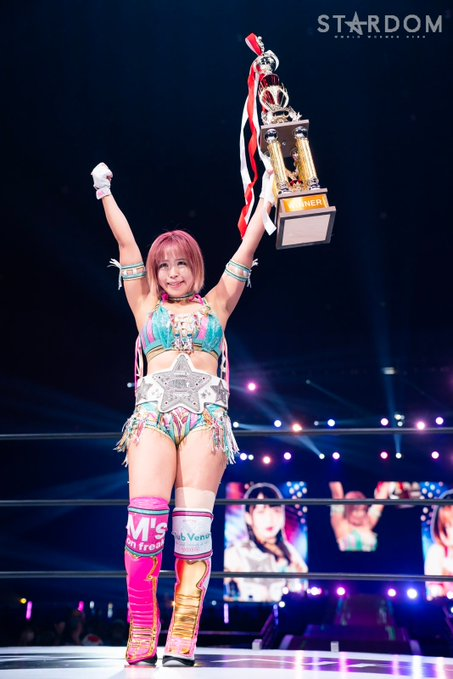 It was Sendai Girls vs Stardom when Chihiro Hashimoto and Syuri faced off on this show. The two have a rivalry that goes back to 2020 before Syuri signed with Stardom. This match expected a hard-hitting affair that absolutely did not disappoint. They had a 16-minute war. This was pretty straightforward, and these two know exactly what they were. Stiff punches, stiff kicks, headbutts, and suplexes, all of which were awesome. Syuri walked out as the winner by KO, but both women looked fantastic here and stole the show on a stacked card.
The Dream Match between Mayu Iwatani and Mercedes Mone was the most talked about match on this entire card and the expectations were higher than anyone could imagine, but the match itself was disappointing. Mayu and Mone got 13 minutes to deliver a great wrestling match that makes fans hope for more between two of the best women wrestlers of this generation in their next match. They were clearly holding back, and the match never got into the second gear. Mayu put away Mone in dominant fashion with the Two-Step Dragon Suplex for the title victory. The Icon Of Stardom crowns herself the new IWGP Women's Champion, and with that finished her story.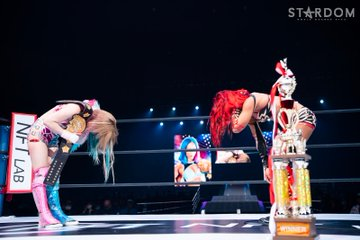 The feud between Tam Nakano and Giulia is the top story of Stardom's rise over the pandemic. Both were the focal point of the promotion for the last three years, and it all brewed up to this very match. From the first moment on, they tried to kill each other, with Giulia hitting a brutal Northern Lights Bomb just 3 minutes into the match. From then on it was a war. Neither was able to get the upper hand, so they kept throwing nasty moves, shoot punches, shoot headbutts at each other until one of them stopped kicking out and the one that didn't kick out was Giulia after the Violent Screwdriver. This title change shocked the entire crowd. Tam Nakano dethrones Giulia after 115 days. Everyone expected Giulia to hold the belt forever, maybe even break the Io Shirai record, but her rival was once again better than her when it mattered the most. Giulia's title run is the 3rd shortest in company history, while the reign of Tam Nakano is starting now. She was never meant to be in this position, but she overcame every obstacle life threw in her way to reach this moment. With that, she is the 5th Stardom Wrestler who won the World and Wonder of Stardom Championship and also is only the second Joshi Wrestler with Manami Toyota who won a Yokohama Arena and Budokan Main Event. She's a history maker already, and the era of Tam Nakano is just starting. Believe in Tam.
Overall, the show was fantastic and the best show Stardom has ever produced in its history. The entire main card was full of fantastic matches and great moments. The company is on a honeymoon right now, and that won't last forever. Continue to support it
---
Prominence
Just a day after losing the Artist Of Stardom Championship, Suzu Suzuki announced on Monday that she would leave Prominence. After the last final match of her ten-death match series against Jun Kasai, Suzu officially announced her departure from Prominence to become the face of Joshi Puroresu. She also mentioned that she won't stop with death matches and will continue doing them. Shortly after, STARDOM announced Suzu Suzuki for the Golden Week tour, where she will team up with Mei Seira.

The future of Suzu Suzuki will be something to watch in 2023. She is billed as one of the most prominent wrestling prodigies in 2023. At the age of 20, she already won the Top Championships from WAVE and Ice Ribbon and main-evented multiple Stardom PPVs. The most obvious move is her signing with Stardom due to her recent appearances there and the upcoming bookings, but also her going on a freelance run in Japan or even GCW isn't impossible. The future is bright for her, and she will prove once again that this year.
---
Sareee-ISM
Sareee (fka Sarray in WWE) will officially return to in-ring competition after her recent WWE departure on May 16. The Sun Goddess hasn't competed since her loss against Mandy Rose on an NXT Episode in August. Her return opponent will be Chihiro Hashimoto. Sareee and Big Hash faced each other a couple of times before Sareee joined WWE, and now they will renew their rivalry in the return match of the Sun Goddess. The show will be available to watch via PPV for international fans (link will follow)
Full card for Sareee-ISM on May 16
– Sareee vs. Chihiro Hashimoto
– Jaguar Yokota & Nanae Takahashi vs. Kaoru Ito & X
– Arisa Nakajima & AKARI vs. Miyuki Takase & Ibuki Hoshi
– Riko Kaiju vs. Yurika Oka