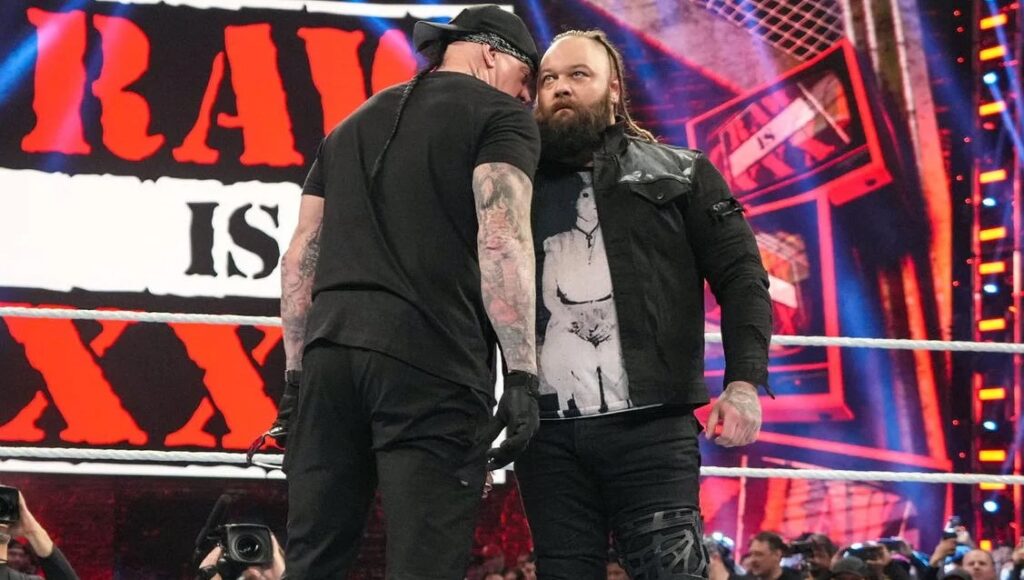 WWE Legend, The Undertaker has provided his insight on the exchange shared between the phenom and Bray Wyatt at Monday Night Raw's XXX special.
The WWE fans were given a chance to welcome waves of nostalgia during Raw's 30th anniversary where we were greeted with several interactions between the stars of the past and present. One specific moment on the evening occurred when L.A. Knight would call out Bray Wyatt in the build to their "Mountain Dew Pitch Black Match", only to be confronted in the ring by The Undertaker who made his way to the ring as "The American Badass" iteration of himself, chopper and all.
Bray Wyatt would later join the two in the ring where instead of delivering a massive chokeslam of his own, The Undertaker would toss L.A. Knight to Bray Wyatt, who would would then deliver a Sister Abigail to Knight.
The spooky duo then shared a brief exchange when The Undertaker would whisper something to the former Fiend, both Wyatt and The Undertaker have already remarked on the moment shared, Mark Calaway would appear on Sportsnet's Tim & Friends to provide further insight on the in ring moment, and comparisons shared between Bray Wyatt and himself.
"There's, obviously, a huge amount of comparisons between his character and mine, He's his own guy. He's his own character. I don't think it's fair to him to compare what he does to what I did. In the big scheme of things, it's in the same supernatural genre, but it's 2023, and he's doing his own thing, but I can appreciate — I can see what he's trying to do. I just let him know, too, that my phone's always on, and if he needs to talk to me about things or run things by me, that's cool. I would be more than glad to share my experiences with him and hopefully shine some light on questions that he has moving forward. So yeah, it was a cool moment, and it did exactly what I thought it would do."

-The Undertaker
Bray Wyatt and The Undertaker have faced off in the squared circle before, the two would meet previously at Wrestlemania 31, the year following The Undertaker's first loss at Wrestlemania at the hands of Brock Lesnar.
H/T to Fightful for the transcript