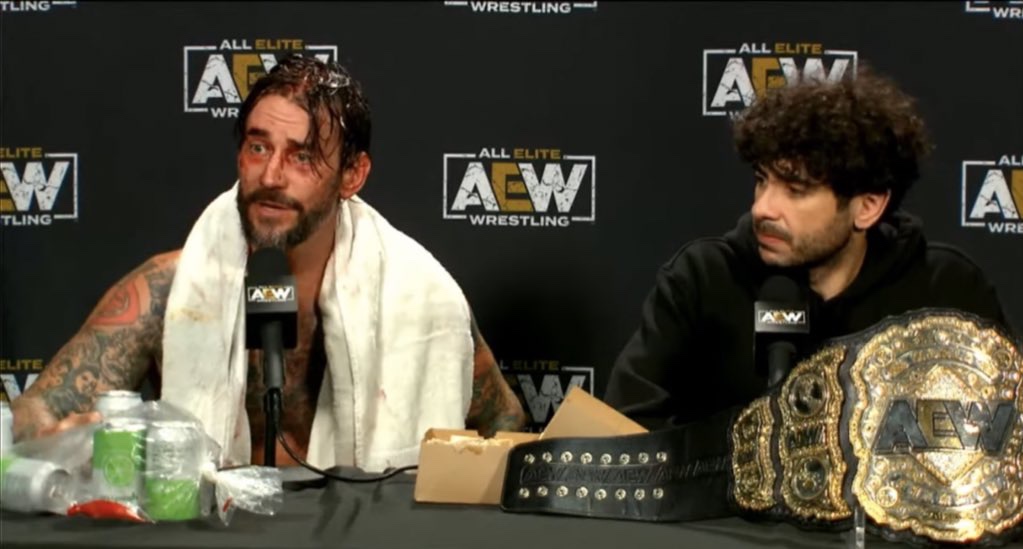 Tony Khan has commented on what he will take away from all the drama that unfolded following AEW's All Out PPV.
It's no secret that AEW has dealt with some tricky situations in recent weeks. The newly crowned AEW World Champion CM Punk rocked the company with damning words directed at EVPs The Elite. This sent a ripple across the roster and ended up causing a physical altercation between the two sides with conflicting stories about the events.
AEW suspended everyone who was involved in the brawl meaning that the company was now without it's World Champion and Trios Champions. Notable top stars were forced to be absent from the company which left a huge hole in AEW's main event but the company changed on-screen plans and is still delivering quality each week on Dynamite.
When appearing on Busted Open Radio, Tony Khan detailed what he learned from dealing with such a messy situation.
"Don't forget that you have great people around you. No matter who you are, there are people around you. Everyone has different situations, family, friends, people at work, people at school, but don't forget there are people who care about you and want to see you succeed. We had a lot of stuff happening, but there are a lot of great people at AEW that want to make the company go and no matter what the problem is, those are people who want to be here and make the company work. Before the Tournament of Champions, a lot of people in the tournament stepped up and said, 'I don't care what's happening, I love this place, I love you and I want to make it great. I'm here for whatever you need.' To hear those words of reassurance from people like Jon Moxley, Chris Jericho, and Bryan Danielson means a lot. Having a lot of people return, no matter what you think of them, having people who were away, their returns mean a lot. Samoa Joe, who is one of the biggest stars of all time and is a great presence in the locker room, it's great to have him back. Even MJF, who has made a big difference on TV, I don't agree with everything he says, but I do think the wrestling fans love to see MJF on shows and it makes a big difference for AEW and Dynamite when he's there. It's really been about the fans rallying around AEW and the wrestlers and staff rallying. We've seen people do it time after time, whether it was the pandemic lockdown, some of the challenges we faced, the absolute low point of this company when Mr. Brodie Lee was sick, on the verge of passing, and when he passed, rallying around him and his family. That is the most serious example we've ever faced and really, compared to that, it's all kind of…I don't know what to compare being as serious as that. That's as big as it gets and puts in perspective everything else that we do. If we all came together and were a family then, we can get through just about anything. For me, I've learned a lot, but the most important thing is, whatever position you're in, if your back is against the wall, just remember that there are people there that you can turn to."

-Tony Khan.
He points to Chris Jericho, Jon Moxley and Bryan Danielson as key names who helped him deal with the situation. These stars have been able to keep up the standard of AEW TV through the chaos and tonight Bryan Danielson battles Jon Moxley for the vacant AEW World Championship.
H/T Fightful for the transcription