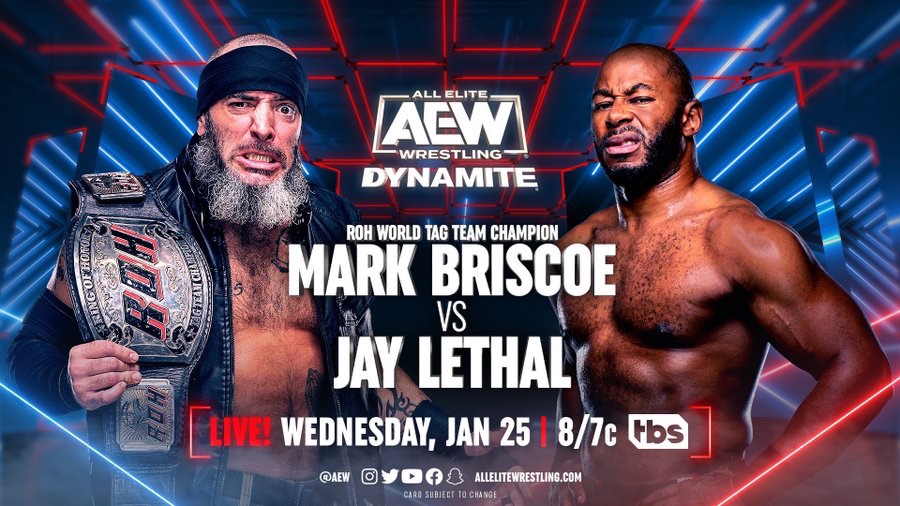 On January 24th, AEW announced that Mark Briscoe will wrestle Jay Lethal on the January 25th Dynamite alongside a tribute to his late brother, Jay.
Jay Briscoe passed away last Tuesday in a tragic car accident and love and support poured out for Jay Briscoe and his family. The next day on Dynamite, many wrestlers were seen wearing "Jay" armbands in tribute to Jay, but AEW were not allowed by Warner Bros. Discovery to do a tribute show to Jay Briscoe as the Briscoes were not allowed on AEW TV due to something Jay had tweeted in 2013.
This understandably upset a lot of fans, causing a lot of backlash on WBD for their Briscoes stance. However that stance has now changed, as yesterday it was announced that Mark Briscoe would face Jay Lethal on Tonight's Dynamite in tribute to Jay Briscoe on what would have been Jay's 39th Birthday.
Speaking on the Battlezone podcast, Tony Khan spoke about the match coming together and also commented on the tragic passing of Jay Briscoe.
"It's going to be a great match to honor a great man. These two men requested this match, Wednesday would be the 39th birthday of the late, great Jay Briscoe. His longtime friend and rival, Jay Lethal, and his brother, Mark Briscoe, wanted to have this match to honor the legacy of Jay Briscoe and I fought hard to make it happen and I'm really excited about the match. I believe it's going to be a great one and it's great that they're going to be able to honor the legacy of somebody that everybody in pro wrestling has so much respect for, the great Jay Briscoe, on his 39th birthday. With everything happening, this is going to be something really great for everybody in the locker room who is rallying around the Briscoe family,"

– Tony Khan
Speaking on the feeling in the locker room last week, Tony Khan said:
"Last week, to be honest, a lot of us were still in shock. We were not 24 hours off finding out that Jamin had passed away. Jay Briscoe is somebody that is beloved in the wrestling business and everybody here really liked him and we've gotten to know him, many of us at AEW, a lot better in the last year since I acquired Ring of Honor with the Briscoes being the top tag team in the history of Ring of Honor and now the Ring of Honor Tag Team Champions. The whole thing was a shock to everybody and I think everybody in the locker room immediately tried to rally around Jay's family, around Mark, and everybody trying to bring good energy together to try and support Jay's two daughters in their recovery from what was a tragic accident. Thankfully, there has been some positive news about the recovery that Jay's two daughters are making from the accident. The whole thing has been a shock. Going into this show, we'll see how everyone has been coping this past week, but I know it's not going to be easy."

– Tony Khan
Khan then finished the discussion of Jay Briscoe by saying:
"I'll never forget where I was and it's one of those things, you'll never forget where you were when you hear some of these terrible things. Absolutely, I think we were all in shock. It's at least beautiful that everybody can come together on Wednesday Night Dynamite and honor the life and legacy of Jay Briscoe this week because it's not only been a week since he was tragically taken away, but it's also his 39th birthday. It's a beautiful thing that his brother Mark and his long time friend and rival Jay Lethal can go out there and go one-on-one to celebrate Jay Briscoe on AEW Dynamite."

– Tony Khan
After a week of uncertainty after the tragic passing of Jay Briscoe on how they would honor him, it's nice to see WBD allowing him to be remembered on what would have been his 39th birthday. While he may not have been able to appear on AEW, Jay Briscoe was an immensely influential figure in pro wrestling and deserves to have his memory celebrated by those who respected him.
H/T Fightful for the transcription