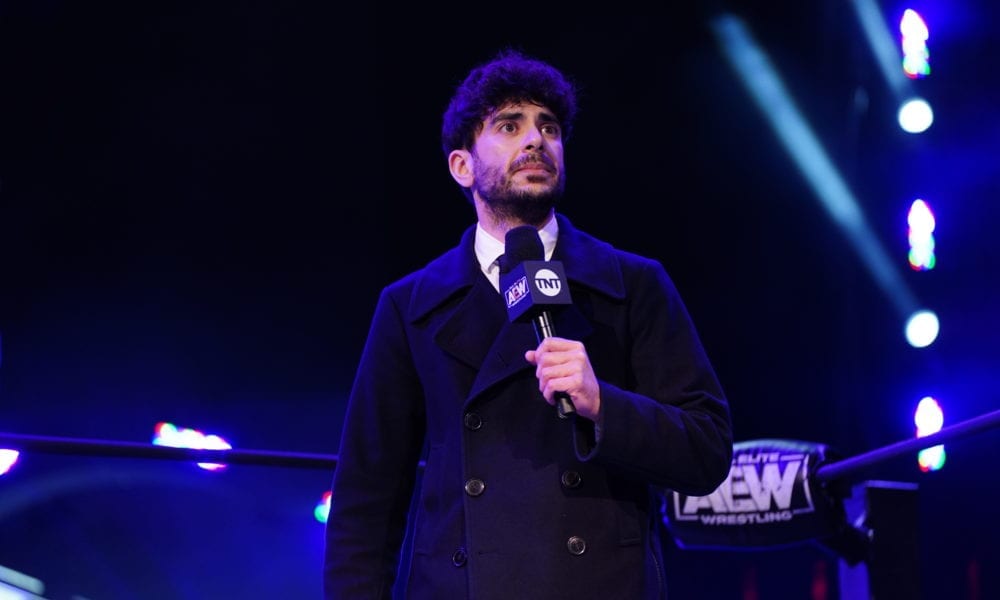 Whilst AEW President Tony Khan has always had little trouble keeping busy, the past few weeks have perhaps been Khan's most intense workload he's ever had to deal with.
Khan's leadership roles span across multiple sports, serving as the president, founder, booker of All Elite Wrestling, the senior vice president of football technology and analytics for the Jacksonville Jaguars, and the director of football operations for Fulham.
The past several weeks has seen Khan close the purchase of Ring of Honor from Sinclair Broadcasting, alongside bringing in new coaching staff to the Jacksonville Jaguars. Fulham FC have also had a monumental few weeks, winning the Championship in stunning fashion, and thus claiming promotion back to the Premier League.
Khan has overseen all of these tasks whilst also running the day-to-day operation of AEW, as the promotion hurtles towards the Double or Nothing pay-per-view on May 29 in Las Vegas, followed by a joint-PPV with New Japan Pro-Wrestling, dubbed Forbidden Door, on June 13.
Khan recently spoke with TSN regarding his ever increasing workload, and noted that he's getting better at dividing his time over his many ventures.
"In some ways, yes, in terms of like having a process for navigating things and a process for compartmentalizing and balancing responsibilities and getting stuff done [it's better], but also things have gotten more challenging. We've added more events and things have come up like the Ring of Honor purchase and new partnerships like AEW and New Japan partnering for Forbidden Door. We're going back to Vegas for our biggest show ever, Double or Nothing, and the whole Owen [Hart Foundation] Cup tournament…so many awesome things are happening and it's challenging with so many things coming up, but I've learned to balance it better and better, I think, with each passing month as we've gone on. And the results have been pretty good with AEW, in particular with our pay-per-view, and live-event business has truly never been bigger."

-Tony Khan
Looking to the immediate future for AEW, last nights episode of Dynamite saw the commencement of the inaugural Owen Hart Foundation Tournament. Throughout the buildup to the tournament, many have speculated that Owen Hart's elder brother, Bret 'The Hitman' Hart, may be coming into the company. These rumours, however, were recently dispelled, with the man himself confirming to Lucha Libre Online that he is "happy at home".
Tony Khan confirmed that Hart would not be making a return to the company, although he acknowledged the tremendous respect many AEW talents have for the WWE Hall of Famer.
"Not right now. I think Bret himself said that. First of all, we have a great respect for Bret Hart as a company and as individuals. A lot of the wrestlers here and myself respect Bret Hart as a great person and a great wrestler. He would always be somebody we would treasure whenever he's around. He was involved in the first Double or Nothing [in 2019, when he unveiled the AEW World Championship for the first time]. He said he's happy at home right now. It's a great thing he's got going and we've just got so much respect for Bret Hart. It's an honour to pay respect to Bret Hart and, of course, and it's something that Dax and Cash and CM Punk in particular have bonded over and had great matches with each other and with other people along the way – Dustin Rhodes had a great match with CM Punk, also, that I think reminded some people of the matches he had himself with Bret in the past. Now there's opportunities ahead for big matches with all of those people."

-Tony Khan
Khan will have little time to rest on his laurels following the culmination of the Owen Hart Foundation Tournament at Double or Nothing, as the first ever joint pay-per view between AEW & NJPW, Forbidden Door, is set to arrive only weeks later.
Many notable New Japan names have appeared across AEW television since the beginning of their partnership, including the likes of KENTA, Tomohiro Ishii, and 'Switchblade' Jay White, although the June PPV is likely to be stacked with multiple AEW versus NJPW dream matches at Chicago's United Center. Khan continued, revealing that the event had been in the planning stages for a while, as well as noting the significance of the venue to AEW's history.
"We've spoken for a while between our offices, and I talked to New Japan about collaborating on a show. We both wanted to do it and I think this was the time when it made sense because we have weekly television commitments and live shows every single week of the year…and New Japan gave us some dates when it made sense for them to be able to send people over. So, we circled it a long time ago and said this is the time, the window, the weekend when New Japan would be able to get the top stars in America for those people to make their debuts in an AEW environment, in a building where we had such an historic debut ourselves for the "First Dance" and CM Punk's arrival in AEW."

-Tony Khan
As for the logistics of the show itself, Khan revealed that he will be collaborating with New Japan's head booker Gedo.
"We're planning it together. We're gonna be two-man keys and turn them together like a submarine. We're going to agree to a great card of matches. For the two of us, I think it will be fun working with him…we're putting stuff together and now we're kinda taking our separate ideas and separate stories and trying to find ways to make everything work with our people getting involved on each other's shows and our own respective shows and stories and staying faithful to the great things we do in AEW and the great things they do in New Japan Pro-Wrestling."

-Tony Khan
A number or AEW's larger-scale events have traditionally been held in one set location, although with Forbidden Door set to take place in Chicago, the home of All Out, Khan admitted that the Labour Day weekend event may potentially take place elsewhere moving forward.
"We're going to talk more about that, but I think one thing for sure is that from the beginning, Chicago has been an awesome market for AEW and I'm very excited about doing lots of shows there. I think All Out is the biggest show we've ever done so far before on pay-per-view and it's another one of our landmark events where we've reached our highest highs so far. We've got a great history there at the NOW Arena, formerly the Sears Center, in Hoffman Estates near Schaumburg, the northwest suburbs of Chicago. I think we can continue that, potentially, but on the other hand, there's a lot of places around the world where All Out would be a great show and we're going to continue exploring options here."

-Tony Khan
Whilst nothing yet is set in stone regarding All Out's future location, Khan revealed that Toronto is high on his list of potential home's for the PPV event, with the easing of travel restrictions now making things more manageable.
Khan also touched on the ever-growing AEW roster, and emphasised the importance of keeping as many of his stars as possible involved in storylines across their various shows on both TV & YouTube.
Khan credited the company's YouTube shows for helping him to continue to develop talent, as well as allowing new stars to be created, with Powerhouse Hobbs, The Acclaimed, and Red Velvet highlighted by Khan as success stories of their YouTube shows.
Khan also commented on the on-screen pairing of real-life couple Sammy Guevara & Tay Conti, noting that whilst the reaction to the pairing was unexpected on his part, he's happy with the pair as a double act moving forward.
Elsewhere in the interview, Khan shared an update on the long-rumoured AEW Trios Championship, with the details available to read here.