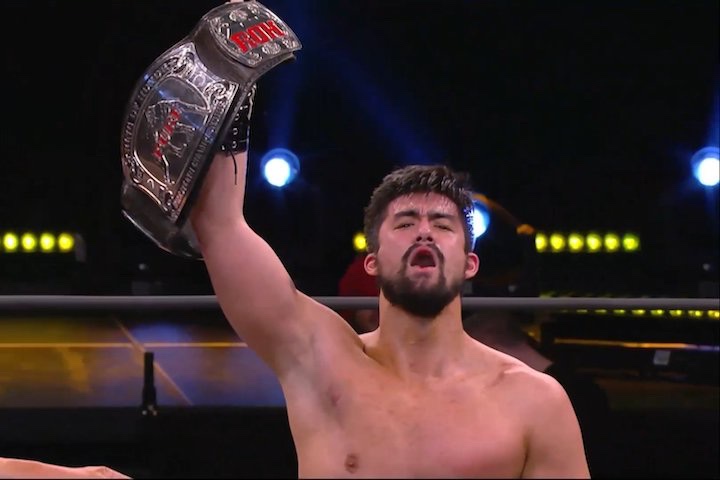 Wheeler Yuta defeated Josh Woods at Ring of Honor's "Super-Card of Honor" PPV to become the ROH Pure Champion. The AEW star holds this achievement in high regard due to his time spent working in ROH during a fan-less pandemic era.
The Blackpool Combat Club's newest member admits that winning the Pure Title has always been a dream of his. Yuta also shared an experience with Nick Hausman of Wrestling Inc. Daily where Bryan Danielson told him that he had earned his place as champion.
"The Pure Championship means a whole lot to me for like a lot of different reasons," he said. "One of them was, remember when I was telling you that I thought wrestling was dead, and I would never be able to wrestle again? Well, the first big, big call that I got coming out of all that was from Ring Of Honor. It was to wrestle Jonathan Gresham in the first round of the Pure tournament. So, I came up short in that one, and my tenure with Ring Of Honor was not super long, they were not touring. I never got to wrestle in front of a Ring Of Honor crowd, it was all just empty arenas. So, I was happy that I got to wrestle in Ring Of Honor. But, something always kind of felt empty about that time. I did it, but I didn't really do it."

"To be able to walk into Supercard, wrestle Josh Woods for the Pure Championship, it felt like it was my chance for redemption. To come out on top, to carry that torch really means a lot," he said. "Before that tournament, the last person who had that championship was Bryan Danielson, he retired that championship the first time.

Wheeler Yuta
Wheeler Yuta put up an amazing contest against Jon Moxley on the April 8th, episode of AEW Rampage and earned the respect of the entire Blackpool Combat Club, joining the group with William Regal, Bryan Danielson & Jon Moxley
"After that Moxley match, he takes the belt, and he goes, 'this used to be mine, but it's yours now,' and then he straps it around me. That was after we went off the air, but that was almost as special to me as winning the title was.

– Wheeler Yuta
Yuta admits that the list of former Pure Champions and the short yet impressive tenure of the belt he now holds, genuinely fills him with pride and hope for the future of his title reign.
"Knowing the legacy behind it, and knowing personally it fulfilled that gap for me. But also knowing in the long-term, the list of champions if you ever look at it is unreal. It's short but illustrious."

– Wheeler Yuta
The Blackpool Combat Club is arguably one of the hottest things in the wrestling world currently. Jon Moxley, Bryan Danielson, and Wheeler Yuta are guided by William Regal and seem to be running through their opponents with synergy and finesse. Even with the tremendous success the group has been having, fans are still clamoring for a match between Yuta and Danielson with the Pure Title on the line.
The current Pure Champion did not dismiss the idea of a clash between the two teammates but admits their minds are mutually set on collaboration.
"I would be more than happy to, I think Blackpool Combat Club are always up for a fight," he said. "I think he'd be more than willing, I'd be more than willing. That would be great someday, so hopefully that's something that happens. But, for right now we are focusing on teaming up, and seeing what we can do in that department, I would say."

Wheeler Yuta
H/t to WrestlingInc for the transcription