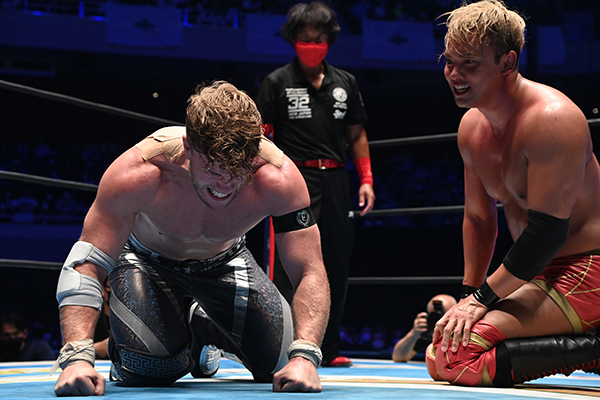 The day is is 3rd October, 2015. The IWGP Heavyweight champion Kazuchika Okada has been booked on RevPro's Global wars against Will Ospreay, a young rising star from Essex. No one knows what the future looks like but as this match ends, the New Japan star just proved to be too much for Will, as he lost the match but what he won was the heart of the IWGP champion. Fast forward 7 years later to 18th August, 2022 both men met again, for the 8th time in fact, on a much grander stage, one that is one of the biggest in the world of Wrestling, the final match of the G1 Climax, the most prestigious tournament in wrestling history. Both men have been having one of the best years of both their already stellar careers and it comes down to this. This is the story of The Rainmaker and The Commonwealth Kingpin.
Okada recruited Will for NJPW and for CHAOS, his faction in 2016. They were brothers for years until Ospreay betrayed him in their meeting in the 2020 G1 because he felt that's what he needed to do to get out of his elder brother's shadow. The moment coincided with Ospreay's only victory over Okada with the help of the debuting Great-O-Khan. He came up short every other time they faced each other, 6 to be exact. He just can't take losing to Okada again. One can only walk the walk of shame so many times so this is his chance. He just has to rise to the occasion. There's no other choice for him.
Ospreay heads into the match with an injured neck from his matches with Juice Robinson and Tetsuya Naito from the two nights before so for someone like Okada whose entire moveset depends on targeting his opponent's neck, this is a golden opportunity and thus he starts the match with as mean of a headlock as you will see from anyone before they try to take each other down early with the Rainmaker and the oscutter but they're so familiar with each other that it's never going to end that easy. The kingpin is the underdog. Okada is the final boss. They lock up again and instead of just tapping on chest and giving him a clean ropebreak, Okada nails him down with an elbow strike. This starts an incredible control segment from Okada on Ospreay's neck with multiple brutal DDTs. He goes for one too many of them and that allows Ospreay to make his first comeback.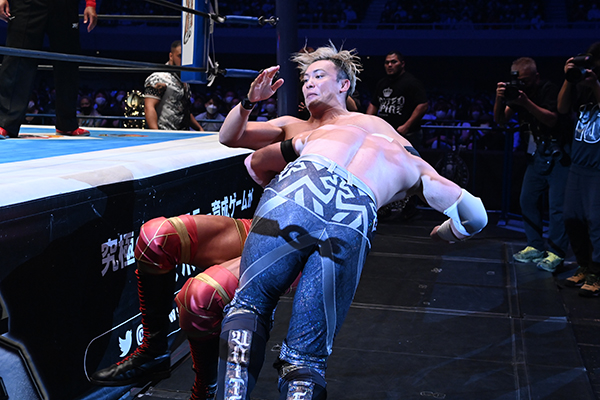 This starts the second act of the match. He even counters Okada's corner dropkick and does one of his own, then follows it with a beautiful corkscrew moonsault to the outside. Ospreay's athleticism is perhaps unmatched in all of wrestling and that's one of the reasons why his comebacks are so engaging. The man wows people with his athletic feats. An oscutter on the outside which allows him to start his own work on Okada's neck, but it's a short lived segment. Okada's got an answer for everything and thus he gets back in control to try to set up ground work for the Rainmaker. Ospreay counters an attempt and that just angers Okada to the point that he absolutely brutalises Ospreay with a series of strikes and just whips him with full force into the turnbuckle. What we know though is that Okada's hubris is often his own biggest enemy and he goads Will too much that fires him up and they get into an incredible sequence that finally sees Ospreay getting the upper hand with a lariat and then he drops Okada on the apron with an oscutter in a callback to their G1 29 match. A coast to coast dropkick, an avalanche elbow to the back of the neck and an oscutter earns him a nearfall and he is firmly in control but he manages to find himself in an Okada wrist control from a stormbreaker counter and that just never ends well for anyone. From here starts one of the most spectacular stretches that I have ever seen in a wrestling match in my lifetime. The counters are absolutely enthralling but what actually makes it so good is the fact that the work they've done in the match actually matters which is what a lot of Wrestling matches fail to do these days in their finishing stretches. They never let off the neck. Will gets a nearfall of the hidden blade, one of the most dangerous maneuvers in his repertoire and then the doubt seeps in again and they start my personal favourite sequence in any match in wrestling this year.
Ospreay loses the confidence in his own strategy and goes to the movesets of the legends who have beaten Okada in the past. The high fly flow of Tanahashi, followed by the styles clash of his hero AJ Styles, followed by the V-trigger that belongs to Kenny Omega, the other man that he is trying to surpass. Of course all he gets are nearfalls because what he hasn't realised is that he hasn't put in the groundwork for the finishes to work and trying to go for Okada's kryptonite in the One winged angel was never going to work just because of this. A tremendous intertwining of stories. A counter into the landslide followed by a Rainmaker and we get the single greatest nearfall of the year. Ospreay manages to stay in the match but because of his doubt in himself he lost the best opportunity that he had in this match. The struggle for the 2nd Rainmaker that immediately follows this sequence is so engaging because of the sheer amount of fear that you can see in Ospreay's eyes. Tanahashi made the same mistake at Invasion attack, Naito made the same mistake at Wrestle Kingdom 12. If you aren't honest to yourself, to who you actually are, you won't be able to take down the final boss that is Kazuchika Okada. That simplest facet of life is the key to beating him. Ospreay's pretty much realised that he lost his chance, the match is already over in his head but even then he just manages to reverse it into a Spanish fly, another insane moment in an already insane match. At this point the feats that we've seen are so mind blowing that you can't help but applaud. We get a rare strike exchange that feels earned in the context of the match. This is followed by the single best finishing stretch of any match this year with some absolutely mind blowing reversals, the craziest emerald flowsion I have ever seen with a rotating twist and then a Rainmaker to end it all.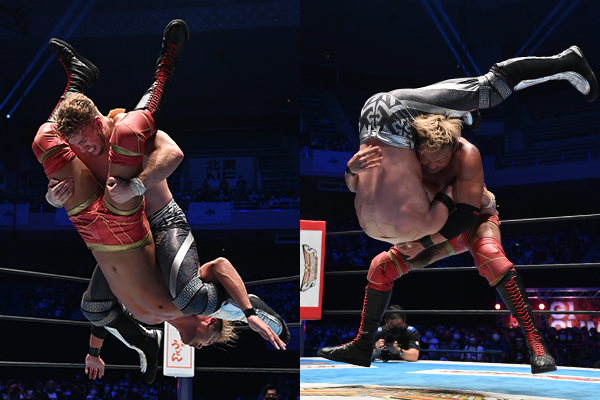 Will Ospreay wrestled the match of his life in the best performance of his career, but I wish I could say he wrestled the perfect match. He did not. He did not believe in himself enough and thus, once again he had to walk the walk of shame. The little brother fails to surpass his elder brother yet again. The Rainmaker stands tall at the historic Nippon Budokan and the Kingpin has been humbled. He said he wasn't going to give his detractors the satisfaction by going out sad and left with a smile because he knew he could do it but this time is different. It's one too many times. Ospreay walks to the back distraught in tears. A fantastic parallel to Wrestle Kingdom 9 when Okada did the same after losing to Tanahashi for the 2nd consecutive time in the main event of the Tokyo Dome. Something really needs to be said about the athletic feats of these two guys in this match. The stuff that they did in this match shouldn't even be possible. It's hard for me to find any other word to describe this match other than simply, magical. It's hard for me to look at these two from an objective point of view because I'm emotionally invested in their arcs, but even then it was just a mind numbing and wow inducing 33 minutes of professional wrestling. Every time I think 'it can't get any better than this', it just does. Stuff that is so good that a clap crowd forgets that they're just supposed to clap. The match of the year.