Welcome to the Wrestle Purists' Coverage of WWE Monday Night RAW on June 5th, 2023.
Seth Rollins In-ring Promo:
We start off hot with the World Heavyweight Champion Seth "Freakin" Rollins. The entire building is singing his song. Every time it happens it makes it harder and harder to argue he was anything other than the right choice to be the inaugural champion. Seth says it's been it's been nearly two years since we've had a World title defense on Raw. Rollins is psyched that Damien Priest answered his challenge. "As good as they are, they just ain't me."
That brings Priest out with Finn Balor. Seth asks where Dom and Mami are, but Priest says the only person Seth should worry about is him. Finn with a really great bit mocking Seth for being the guy with the funny laugh, dance, and clothes. Priest says he doesn't need anyone in the Judgment Day to take the title from Seth. Rollins takes a shot at Finn's history against Seth, and Priest accepts that tonight's main event will be officially one on one with no interference. Interesting tension there at the end between Finn and Priest. I could see them eventually breaking one of them away.
Money in the Bank Qualifier-Becky Lynch Defeats Sonya Deville:
Becky Lynch is ready to qualify for the Money in the Bank ladder match. But to do so she has to defeat Sonya Deville who've we seen lose…an infinite number of title opportunities in the last year. Sonya is a good worker but we can only see someone lose so much before it becomes ridiculous to believe they even have an outside shot. Sonya gets the early advantage but Becky quickly turns the tide. Lynch hits a Bexploder suplex but Trish Startus music hits! Out comes Trish and Zoey while Sonya goes for the quick roll up. Becky avoids falling prey to the distraction finish as we head to commercial break.
I really love that they brought out Trish and Zoey to add to Chelsea Green on the outside. Sonya isn't a perceived threat to Becky but with all this stacked up, it's much more believable. Sonya and Becky exchange strikes until Becky over powers her! Again it's interference from Green, and Sonya gets a two and a half count! Becky goes outside and takes out Green before focusing back on Deville. Becky tries for the Disarm-her but Deville pushes her off and almost gets the three with some help from Green. Sonya looks back in control and jumps off the middle rope but it's right into a Manhandle Slam! One…two…three! The Man is going to Money in the Bank! Really love that they did a lot to make Sonya look competitive there!
Recap of Roman Reigns' 1000 Days Celebration:
Definitely a must watch segment if you haven't seen it. As far as the impact on Raw, the players we will have to keep an eye on are Cody Rhodes, Seth Rollins, and Sami/Kevin. Sami and Kevin will most likely wash their hands of it now that the internal cracks inside of the Bloodline are larger than ever. Cody still has a story to finish. But it will be very interesting to watch Seth throughout his reign, as everything he does as champion can be held up against Roman.
Interview with Sami Zayn and Kevin Owens:
Sami says he won't say I told you so, but it's nice to see Jimmy finally do what Sami said they should do. As far as Jey, we will have to wait and see. He says it's not his problem anymore. That brings in the "Geeentleman" from Kaiser as Imperium say they are their new problem. GUNTHER says he needs to teach Kevin discipline, and Owens has absolutely no time for it. Kevin is heading to the ring!
Video package for Kayden Carter and Katana Chance:
Katana and Kayden say when you bring the party they assume you don't have the talent to back it up. This is a great package where both women highlight their athletic accomplishments in and out of the ring. Really really strong stuff here.
GUNTHER Defeats Kevin Owens:
The match was made official during the commercial break, and this is one I didn't know I needed until now. Should be a blast. The two men trade holds until KO slaps the Intercontinental champion! Owens throw right hands and even chops GUNTHER! The big man stops the momentum with a big boot and a nasty German suplex. They brawl on the outside but GUNTHER slams KO's head against the barricade and then tosses him back onto the apron for a nice toss to commercial. GUNTHER keeps hitting Owens with these big boots to the face. One wakes KO up enough to where he slaps GUNTHER again but he's quickly put down by another boot.
The chops start, and the champion continues to torture Owens with different submissions. This has got to be one of the higher profile wrestlers that GUNTHER has faced and dominated like this. This match reminds me just a little of the Owens/Zayn NXT Takeover title fight where Owens took out Sami. Owens barely gets up from a few lariats. An insane release German from GUNTHER is answered by a German from Owens! The two men again exchange strikes but a chop is enough to send KO crumbling to the mat. Owens with a surge hits three super kicks in a row followed by a cannonball in the corner! That only gets two!
Kevin kicks the gut and goes for the Stunner but GUNTHER reverses into the Sleeper. Owens slips out but it's right into a wild shotgun dropkick. GUNTHER wants the power bomb but KO is able to fight and hit the fisherman buster instead . That is still only enough for a two! Owens goes to the top but GUNTHER meets him with a big suplex to the mat. The Ring General goes up and tries for the splash but Owens puts the knees up! Owens goes up and hits the Swanton! Could this be it? One..two…No! GUNTHER kicks out! Vinci gets on the apron and Zayn rips him down. Kaiser gets into it and Owens goes out to help Zayn. Both Owens and Ludwig end up in the ring, and Kaiser eats a stunner! That gives GUNTHER just enough time to roll Kevin Owens up for the three count! WOW! I don't remember GUNTHER having to go for a roll up for a win before? Owens almost had him and it was a really great Raw match!
Matt Riddle Interview:
Matt is sick of seeing GUNTHER chest. Kaiser and Vinci are upset Matt would speak such nonsense. They taunt each other until Riddle throws Kaiser aside and locks Vinci into an ankle lock.
Ronda Rousey and Shanya Baszler interview:
The new Women's Tag Team Champions say it's been a long time coming. Ronda invites any team to come take them on and here is Kayden and Katana! Not sure if I love them immediately going for the titles but I know they have like, zero teams left right now. Shanya and Ronda argue if they are stupid or brave, and wait are we having the match now? Uh oh…
Ronda Rousey & Shanya Baszler Defeat Katana Chance & Kayden Carter:
So this isn't for the titles, I'm assuming we are getting the upset win? I do like the story of a tag team that knows how to work together versus two single stars. Katana with a great crossbody to the outside. Baszler starts to pick apart the limbs of Chance until she tags in Carter for the hot tag. Carter hits MJF's Heatseaker and almost gets a three. Ronda doesn't see the blind tag and the two hit their finish which is a cool neck breaker and 450 splash combo. Shanya breaks it up or the match would have been over. Ronda locks in the ankle lock on Chance but she counters into a code breaker. Another blind tag almost leads to the upset with Carter rolling up Baszler. Finally Shanya locks in the Clutch and Carter has to tap.
This was really good, much better than a fluke win. Chance and Carter got to show just how good they are in their first match. Next time they get a shot at the champs, they might take the titles
Backstage with Ricochet and Bronson Reed:
Bronson Reed is upset that Ricochet is in Money in the Bank and he is not. Ricochet reminds him that Reed lost, and he won. Reed says he dominated Nakamura which brings out Shinsuke to remind Reed that Shin is going to Money in the Bank, not him. Ricochet and Nakamura exhange some friendly taunts, as they go one on one next!
Video package for Johnny Gargano
A video package for Johnny Wrestling. Good to see a reminder of what made Gargano so great on NXT. Interested to see where him and the rest of the Way fall.
Ricochet vs. Shinsuke Nakamura Ends In A No Contest:
The two men who have qualified for the Men's Money in the Bank match on the Raw side go one on one. A rare face versus face match, should be fun. The two start evenly matched, having a counter for almost everything the other has. Ricochet hits a dive to the outside which allows him to grab the advantage. Ricochet escapes an exploder suplex and counters into a springboard back elbow. Ricochet casually pulling out a running Shooting Star Press. Everyone has their working boots on tonight and it's been great. Nakamura hits his signature strikes and finally nails the exploder. Shin goes for the Kinshasa but Ricochet counters into a code breaker. As the two are fighting on the top rope Bronson Reed enters the ring and starts taking out both men, ending the match. He hits a double splash and a big Tsunami on Ricochet. The crowd chant for one more but Mr. Nice guy does not oblige.
Backstage with the New Alpha Academy:
Chad says that Otis is the reason him and Maxxine came together. Chad tells her if she is gonna be an Alpha, she can't run away. Maxxine asks what the Viking Raiders problem is, but Gable says he gave Otis some reading material. Otis says he read deodorant will defeat them. Gable then agrees to help train Maxxine to fight Valhalla.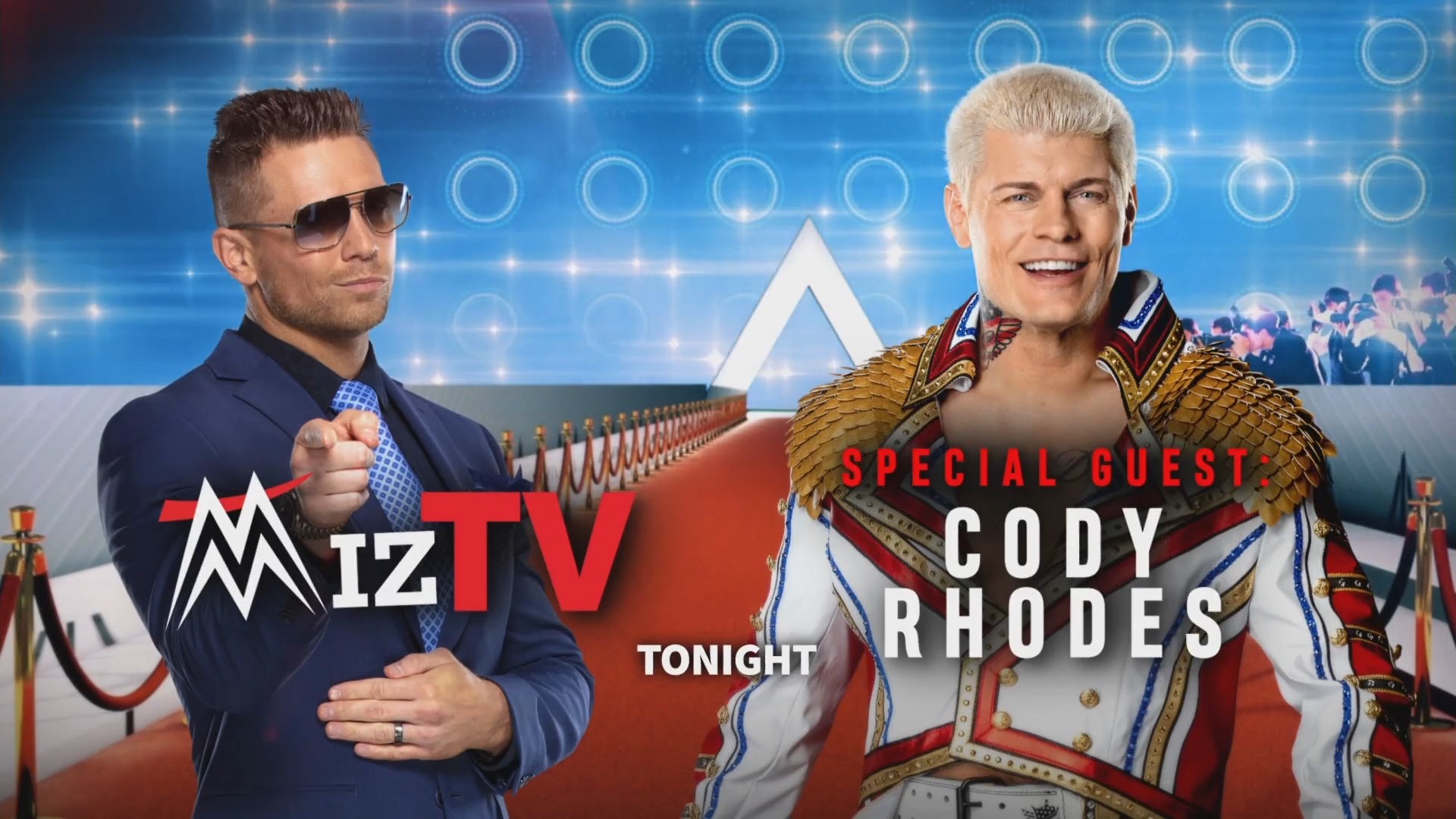 MizTV featuring Cody Rhodes:
Miz says with the World title being defended tonight he knew he needed a big guest. I like the little added explanation to why Cody is on MizTV. Miz tells Cody he looks dashing tonight lol He tells Cody it's pretty stupid to challenge Brock after getting his arm broken. Cody takes a jab at Miz's tiny balls before saying that the Beast has taken his yearly hibernation so that fight will have to wait. Miz has a surprise guest who knows the same pressures as Cody and it's Dominick! I love new pairings so I'm all for this.
Rhea tells Miz to be quiet and gives Dom Dom the floor. The crowd absolutely hates him and you can barely hear his promo. Dominick says after listening to Cody list all the towns last week it hit him, Cody is a bad father! He says he should be at home taking care of his daughter. "You're just like Rey Mysterio, you're a deadbeat dad." Cody says Dom's match at Mania was a public spanking. Cody knows Rey isn't perfect and has made some terrible mistakes. He knows that…because he is looking at one!
Dominick is livid and goes to leave but gets a cheap slap in on Cody before hiding behind Rhea. This is great stuff, the match between these two might not light the world on fire but the crowd is going to be ALL the way in. Cody is pissed and takes his anger out on the Miz with a shot from his "titanium" cast.
Money in the Bank Qualifier-Zoey Stark Defeats Natalya:
Trish is out first to accompany Zoey Stark to the ring. Zoey has been really impressive since her call up, and the role as Trish's heavy is a great one for her. Natalya and Stark exchange holds but Natalya seems to tweak her knee. This is the same knee she hurt at Night of Champions. Zoey immediately goes to work. Natalya gets a second wind and hits a German suplex. She grits through the pain and locks in the Sharpshooter on Zoey but Starks gets to the ropes. Natalya goes outside to throw Zoey back in the ring but with the referee distracted Trish yanks at Nattie's knee. That is enough for Stark to grab Natalya and hit the Z360 for the win. Zoey advances to Money in the Bank!
Backstage with Paul Heyman:
Smackdown draft pick Paul Heyman hyped up Friday night for what is being called Jey Uso's choice. Paul says Jey will stand by his brother Solo. You have to think after the massive number Smackdown drew, they will promote they hell out of this.
Indus Sher Defeat Cedric Alexander & Shelton Benjamin:
Veer and Sanga have been pretty solid in these squashes, will be interesting to see if things are a little less one sided here. Welp, Indus Sher immediately jump Alexander and Benjamin and we don't know even get a match. Probably more impactful but I am definitely curious to see what the big boys have in the ring.
WWE World Heavyweight Championship-Seth Rollins (c.) Defeats Damien Priest:
This episode has felt much more important with this looming World title match. While I have my problems with how they got there, I'm glad there is a champion exclusive to each show. Damien going for the power game early but Seth is trying to stick and move. Rollins always seems comfortable being the faster one in the match. The two head outside but Seth reverses Damien before he can be lawn-darted into the post. Priest cuts off a dive off the barricade with a nasty right hand. Priest has Rollins back in the ring and is slowing down the champ with a headlock. Damien is going between strikes and submissions, deliberately using his size and strength advantage to wear down the champ.
Rollins finally knocks Priest down after a series of strikes. Seth is having to throw his body at the big man to do enough damage. Priest rolls out of the frog splash but Rollins tries for the pedigree. Damien reverses which Seth turns into a slingblade. Priest slides outside and Rollins dives through the middle rope. Priest catches him and drives him face first into the announcers table. We go to commercial with Rollins title reign up in the air. Back from break, the two men battle for positioning on the top rope. Seth gets the superplex and after a failed reversal, Rollins hits the falcon arrow for a close two and a half count.
Seth has tunnel vision and goes for a suicide dive. He hits it! Seth wastes no time and goes for two more sending Priest over the announce table. Back in the ring Seth hits a super kick and then a frog splash for a two count. The two exchange rolling strikes until Priest hits a headlock driver for two. Damien goes for South of Heaven but Seth counters. They go to the top again and PRIEST HITS A TOP ROPE RANA on Seth! Damien is in control and starts to taunt Seth. It's an immediate mistake as Seth is able to reverse into a pedigree. But the damage has been done, and he takes too long to cover him and only gets a two count. On the outside Seth hits the barricade bomb on Priest ala Balor from Summerslam 2016. Balor is here, and Seth takes him right out. But there we go, South of Heaven! However it's only a two count. Priest looks out to Balor and asks him why he is out there. He seems upset at the interference. Rollins hits an elbow to the back of the neck of Priest and then a stomp for the one…two…three!
Balor is in the ring going face to face with Seth as we go off the air. Really solid match, I'm hoping they go somewhere with Priest being upset at the unwanted help from Balor. That's it for this weeks Raw review, join us next week for more!