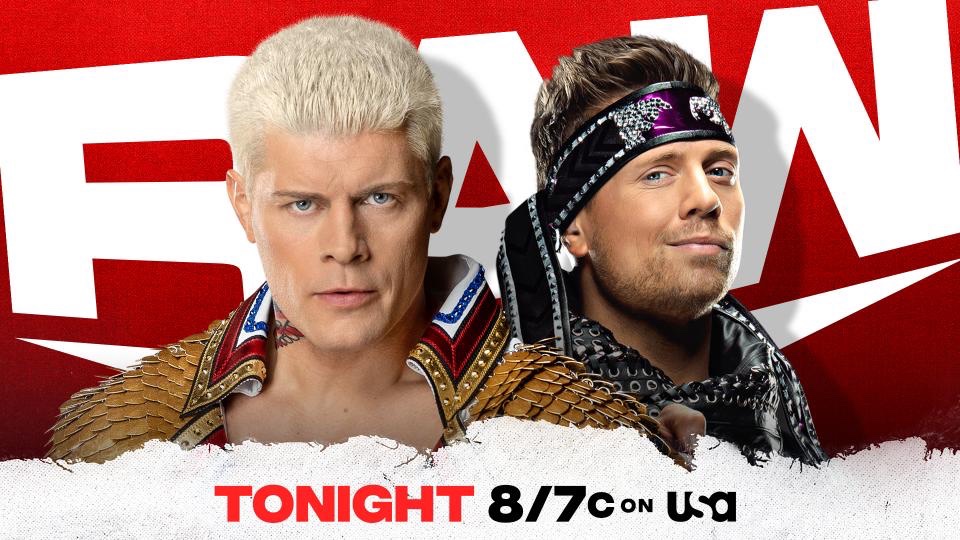 Welcome to Wrestle Purists' coverage of RAW on April 11th 2022.
MizTV With Cody Rhodes:
Miz puts over Cody and their match Tonight, he then introduces him & Cody makes his entrance.
Cody got a full entrance with a bunch of pyro and when he sat down, Miz was mad about it and asked if Cody was trying to upstage him. Miz & Cody both then go back and forth with verbal insults. Cody tells Miz that the 6 years away has given him clarity and that hes coming for the WWE belt. Miz then corrects him and calls it a title and tells Cody that Seth Rollins wants a rematch and Miz doesn't like Cody's chances against Rollins, or against himself later Tonight. Miz tells Cody that this is his show and Cody tells Miz that he respects him but thinks that Miz may feel threatened by him. Cody also says he gladly accepts Seths Rollins challenge for a rematch and he's looking forward to facing all WWE wrestlers, Miz then corrects him and calls them "superstars". Cody says hes looking forward to his first match back on RAW.
Miz tried to attack Cody from behind but Cody saw it coming and threw Miz out of the ring.
Veer defeated Dominik Mysterio:
Squash. After the match Veer attacked Dominik and officials dragged him off momentarily, but Veer attacked again and Dominik was taken away on a stretcher. He's then taken out in an ambulance.
Backstage With Veer:
Veer is asked why he attacked Dominik Mysterio after the match & he said "I strike fear into the heart of any men"
Backstage With AJ Styles "Earlier Today"
AJ Styles says he is afraid of what he is going to do to Damian Priest & Edge. Styles then sees Priest and attacks him, the two men then brawl
Backstage With Damian Priest:
Priest says he has pledged his full loyalty to Edge and hes going to prove why hes worthy of being with Edge tonight against Styles
AJ Styles vs Damian Priest:
Halfway through the match, Styles is setting up for a Phenomenal Forearm, but Priest boots him off the apron to the floor. Priest then kneels in the ring and the lights go off. Then they go blue and Priest pulls stupid faces. Then we go to a break.
Backstage With AJ Styles:
Styles is mad because he wasnt done with Priest and questions what the hell is going on.
Cody Rhodes defeated The Miz:
Seth Rollins was sat at the commentary desk. After the match Rollins gets on the mic and says he heard Cody Rhodes bring up a rematch earlier. He uses the excuse that Rhodes was a surprise when Rollins lost to him at Wrestlemania and challenges Cody to a rematch fact-to-face. Cody accepts.
Backstage With Tommaso Ciampa
Ciampa is introduced as the newest member of the RAW Roster. "Ezekiel" then introduces himself to Ciampa. Owens then stops Ezekiel and tells Ciampa that it's just really Elias, but Ciampa tells Owens that no its Ezekiel, Elias' younger brother. Owens is in disbelief anybody is buying this.
Naomi defeated Liv Morgan:
VIP Lounge With Omos:
Before the "VIP Lounge" starts, Bobby Lashley makes his entrance and the show goes to a break. When we get back from the break, Lashley is mid promo. He is saying how he wasn't invited but he has invited himself. He talks about how he beat Omos at Wrestlemania, but last week he felt Omos' power again because he was stabbed in the back by MVP. He then calls out MVP to explain himself.
MVP comes out with Omos and tells Lashley to stop embarrassing himself. Lashley then tells MVP to explain himself again. MVP says that he would love to send Omos down to the ring now but Omos is waiting for the right price. MVP then tells Lashley that Lashley was floundering before MVP linked up with him and that MVP made all of Lashleys recent success. Lashley says that all MVP did was latch on to him. MVP says that Omos is next to be top of the mountain. Lashley says that once he is finished with Omos, he is coming for MVP. Lashley then destroys the "VIP lounge"
Akira Tozawa & Reggie Bachelor Party:
Tozawa, R-Truth & Reggie are leaving the "Players Club" which is just a room backstage set up to look like the entrance to a nightclub. The guys are all talking about the great time they had. R-Truth then asks Reggie if he has left Dana Brooke alone with the 24/7 Championship, which Reggie replies yes. R-Truth then tells Reggie about how he shouldn't do that and then all of them rush off
Backstage With Austin Theory:
Theory says he and McMahon have decided to drop the Austin from his name, so he will now go by just "Theory". Adam Pearce then confirms he will be getting the US title shot that he must've set up with Vince McMahon. Kevin Owens then enters and asks what the hell is going on with Ezekiel/Elias, then Sonya Deville says she will get a lie detector test to get to the bottom of it. Owens then leaves. Sonya Deville then tells Adam Pearce that she has a plan for Bianca Belairs first championship defence, Pearce questions it but Deville rushes off.
Backstage With Queen Zelina:
Zelina cuts a promo about feeling liberated after cutting Carmella off.
Bianca Belair defeated Queen Zelina:
After the match, Sonya Deville makes an entrance. Deville congratulates Belair on her win at Wrestlemania. Deville then tells Belair that her next opponent was hard to choose and lists potential challengers. Bianca Belair then says she will take on anybody. Deville then reveals that she has an open contract for Belair to sign which could be against anybody, which Belair accepts to sign. Deville then goes to reveal Belair opponent, but attacks Belair from behind and reveals that the opponent is indeed herself.
Dana Brooke/Tamina Bachelorette Party:
Tamina, Dana Brooke and some other women are partying at a bar. Nikki ASH then sets up Dana Brooke to try pin her for the 24/7 Championship, But Tamina saves the pin and a brawl breaks out. The guys from the Bachelor Party get involved and split everything up. R-Truth then orders than there will be no attempts at the 24/7 Championship until Tamina & Tozawa and Dana Brooke & Reggie are married
Backstage With Sonya Deville:
Adam Pearce says that Sonya announcing herself as Bianca Belairs challenger is an abuse of power. Deville is dismissive and tells Pearce not to be jealous that she's still in her prime.
RKBro defeated Alpha Academy:
Randy Orton pinned Chad Gable. After the match, the Titantron shows the Usos arriving at the Arena. The Usos then make their entrance and head to the ring.
Randy Orton said he wondered when Roman was going to let his bitches off the leash. Usos say they heard that one before and challenge RKBro tag title unification match. The Street Profits then make their entrance. The Street Profits says they're next in line for a tag team title shot at RKBro. Orton then sets up the Usos vs Street Profits.
The Usos defeated Street Profits:
Jey Uso pinned Montez Ford. After the match, The Usos & RKBro stare each other down. The Street profits attack from behind and Riddle & Angelo Dawkins spill out to the floor and Randy Orton hits Montez Ford with a RKO, leaving Orton in the ring by himself. The Usos then slide in the ring and hit Orton with a double superkick. The Usos then pose with both sets of tag belts.