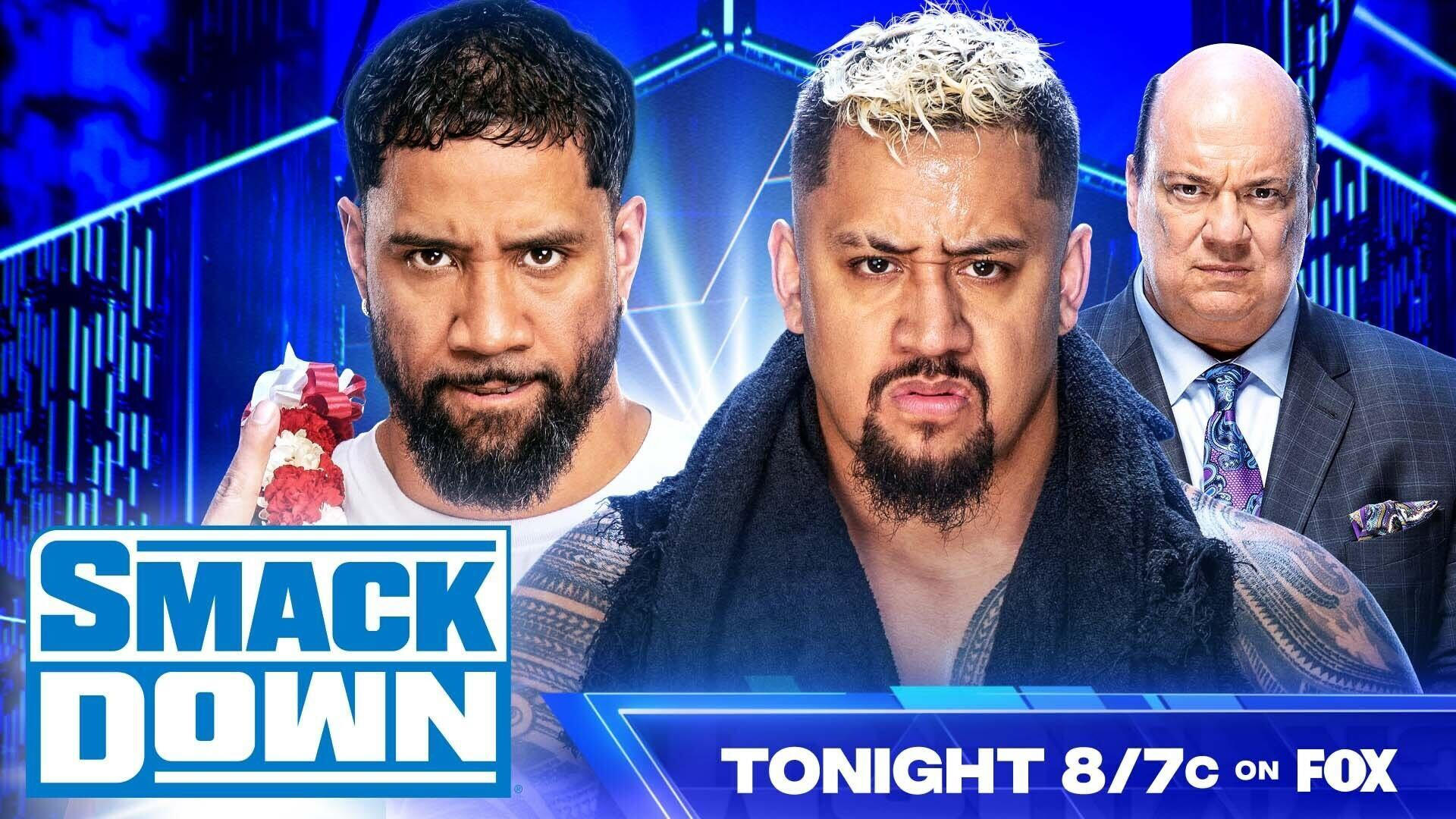 Welcome to WrestlePurists live coverage of the August 4th SmackDown, emanating from Dayton, Ohio. Tonight, Jey Uso is set to clash with younger brother Solo Sikoa just one day before he battles Roman Reigns in Tribal Combat. Also announced for tonight is Sheamus v LA Knight, before the two lock up again tomorrow in the Slim Jim™ Battle Royal™, and Asuka, Bianca Belair, and Charlotte Flair will be face-to-face-to-face.
LA KNIGHT DEFEATS SHEAMUS W/ THE BRAWLING BRUTES
The show opens with the megastar, LA Knight, who once again gets a massive crowd reaction. He comes down the ramp with a microphone in hand, pointed towards the crowd chanting for him. I love that instead of what chants, the crowd reacts with yeah chants. WWE shows a graphic of the competitors in the Slim Jim Battle Royal, and Knight proceeds to call them a bunch of stooges. He calls out The Miz – and the crowd boos. LA Knight digs in saying "Isn't he Mr Must See TV? If you ain't talking about me then someone told you the wrong story." He finishes his promo saying he's going to whoop Sheamus' pasty behind, with everybody sayin' L. A. Knight.
The two open with a physical exchange. Sheamus has the tougher physical mettle, hitting LA with some stiff shots and powerful slams. The two spill to the outside, and we see Santos Escobar making his way down the ramp. Shortly afterwards, The Miz, Grayson Waller, and Karrion Kross, and AJ Styles make their way down the ramp. All of these were announced earlier as competitors in the Slim Jim Battle Royal. Before we go to break, we see Sheamus deliver a sickening white noise on the apron.
We come back from break to see LA Knight in the Dublin Smile, but he quickly fights out. I love hearing the whole crowd chant yeah with every strike LA delivers. He hits Sheamus with a powerslam before the elbow drop. He puts Sheamus in a fireman's carry and drives him in to the mat, scoring a two count. Knight tries to hit Sheamus with the BFT, but Sheamus rolls him up. Knight manages to kick out before three, but Sheamus quickly hits him with an Irish Curse backbreaker. He picks up LA and heads up to the second rope for an avalanche white noise, but Knight has the kavorka in his loins to kick out. Sheamus doesn't let up, and puts Knight in the clover leaf, but LA manages to crawl for the rope break.
The two head up to the top rope, with LA attempting to jump straight to the top turnbuckle. He slips, but climbs back up. Again though, the two slip off of the top rope with a terrifying spill to the outside. While the official checks on the two competitors, the participants of the battle royal begin to brawl. Santos Escobar gets blindsided by Austin Theory, but he gets scared off by AJ Styles. We go back to the ring, and Sheamus and LA Knight are back to their feet. Sheamus picks up the Miz on the outside and delivers the ten beats, but Knight rolls him up. Sheamus manages to escape, but then LA Knight hits him with BFT for three, and wins tonights match.
Ideally I would've liked to see some more focus on the in-ring action, but I'm just glad that seemingly Sheamus nor Knight are injured before tomorrow's show.
BRAWLING BRUTES AND THE OC BACKSTAGE
We go backstage to see The OC and The Brawling Brutes engaged in a heated argument. Adam Pearce interrupts and declares that The OC will go head to head with the Brutes later tonight. After they leave, Sheamus and Styles stare down.
CODY RHODES VIDEO PACKAGE
We get a recap of the video package from earlier this week, which is seemingly edited like a 2007 Windows Movie Maker video. We hear some generic sad music while Rhodes gets mauled by Lesnar for a few minutes. As good as some of the matches these two have had are, I'll never forget the disappointing start to their rivalry that I had the displeasure of seeing live.
THE BRAWLING BRUTES V THE OC
I didn't realise they were going to do this immediately after the segment to announce this. The Brawling Brutes make their entrance, and we then go to commercial. When we return, the OC make their entrance with Michin accompanying them. The match opens with Holland and Gallows in the ring exchanging blows. You might call me a simple man, but watching two big men bounce off the ropes with neither one able to knock the other over always puts a smile on my face. Gallows puts Ridge in the corner, and tags in the "technically-savvy" Karl Anderson. Michael Cole's words, not mine.
Anderson tries to score a quick pin on Ridge but Holland kicks out. Ridge puts Karl in the "yorkshire merry-go-round," before tagging in Dunne. BUTCH quickly opens with a drop kick to Anderson's face, and then does his signature finger thing. He also twists Karl's ear and nose, what's next, toe manipulation? As funny as it can be, it's still absolutely cringeworthy to imagine Pete Dunne twisting your fingers. Anderson manages to fight out and brings in Gallows for some tag team offence. We go to the break with Gallows and Anderson standing tall over Dunne.
We come back from the commercial with Anderson attacking Ridge. As quickly as Holland has improved, I think his selling in some parts could still use some work, as Karl's offence here looks very soft. Ridge flattens Anderson before tagging in Pete Dunne, who launches straight to the corner to knock Gallows off of the apron. He bounces off of the ropes and hits Karl with a flying lariat, but Gallows runs back in to break it up. Holland fights Gallows off, powering him up in to a back body drop. Dunne and Anderson get back to their feet, but the crowd begins to go crazy. Out of nowhere, the Street Profits, dressed in suits, jump in to the ring and break the match up. Ford and Dawkins look a million bucks, literally and metaphorically, delivering tandem finishing moves in style. We've seen Montez in style before, but Angelo looks great in a suit too.
I'm excited to see how things with the Street Profits develop over the next few weeks. As much as I loved their face run, I think a heel turn and partnership with Bobby Lashley will be really rejuvenating for their act. Speaking of the man, he makes his way out to join the Street Profits on the ramp. The crowd goes absolutely bonkers, chanting for Bobby Lashley. Perhaps they'll keep the trio face moving forwards?
CHARLOTTE FLAIR VIDEO PACKAGE
After the match we see a video package of Charlotte Flair on a yacht talking about how she's Ms Summerslam, and has already done it all. Interestingly we see a glimpse of her delivering natural selection to Sasha Banks. She says that she already has Asuka;s number, and while Bianca has been on top for the past two years, Flair has been on top for her whole career.
PAUL HEYMAN DELIVERING THE CONDITIONS OF TRIBAL COMBAT
As we come back from the break, we see the graphic for tomorrow's championship clash between Jey Uso and Roman Reigns in "tribal combat." I was just asking myself what tribal combat actually is, but we see Heyman in the ring set to tell us exactly what it is.
Paul begins with "Ladies… if there are any in Ohio." He continues with his catch phrase but gets drowned out with boos. Heyman continues with his narrative that Jey is to blame for Jimmy's absence. Paul continues cutting a passionate promo about how Roman Reigns will walk in to Summerslam the tribal chief, and walk out as the tribal chief.
We see a video package narrated by Paul Heyman to explain tribal combat. We see artwork of the bloodline wearing the ula fala, and that in Tribal Combat there are no rules, except that the winner will remain the Tribal Chief. I love when WWE establishes an elaborate gimmick that is just no holds barred.
We return to Paul in the ring, but he gets interrupted by Jey Uso's theme music. Jey parades down the ramp, and poses on the top turnbuckle. He's still getting huge reactions from the crowd, which is fantastic to see. Jey has at least learned one thing from his cousin, which is to take forever with his entrance. He says that tomorrow night Tribal Combat is happening tomorrow. He's going to light him up with sticks, with chairs, and since he's the head of the table, he'll definitely be going through one. Jey says this passion you see in front of you right now, he's bringing tomorrow. He's bringing the spirit of his ancestors, his family, his culture tomorrow, and will become the new Undisputed WWE Champion.
Solo Sikoa's entrance music interrupts Jey. Solo gets in the ring and quickly tries to get his hands on Jey, but Heyman holds him back. Jey says that no matter what happens, Solo is always his brother and he'll always forgive him. Jey tells him that Roman is just giving him orders, and is saying all of the same things to Solo that Roman said to him. Paul begins to say that of course Solo doesn't believe that, but Sikoa stares him down. Paul trails off, and Solo stares back at Jey. He yells at Paul to leave, but when he turns away from Jey he's met with a shoe to the face. Sikoa spills out of the ring and Jey smiles. He tells Heyman to tell Roman that he'll see him tomorrow night, and to tell Solo he'll see him later tonight.
This is a good segment, but feels oddly placed in the show – I think this could've happened before their match in the main event. Multiple Bloodline segments have been commonplace on SmackDown for weeks now, but I'm hoping after Jey and Roman are finished that we'll get to see some other talent on the show.
BACKSTAGE WITH AUSTIN THEORY
We go backstage to Kayla Braxton, who is interviewing Theory before his apparent match with Cameron Grimes? I thought they were going to do Santos v Theory tonight, but that's on next week's SmackDown. Theory delivers a good line about how Santos injured his mentor, and it'll be a piece of cake for Austin to retain his title.
I have no desire to see an Austin Theory non-title match on the go home show of the company's second biggest show…
AUSTIN THEORY DEFEATS CAMERON GRIMES
The match begins and immediately Santos Escobar makes his way down the ramp. Distracted, Theory turns around and gets hit with a Cave-In from Cameron Grimes. Grimes would've scored three, but as he rolled up Theory, Austin's feet managed to touch the ropes. Theory rolls out of the ring and Grimes launches out of the ring. He continues to deliver a beat down to Theory in the ring but Austin manages to kick out once again. Regardless of the stakes of this match, it really showcases the in-ring prowess of Cameron Grimes. During his time in NXT I discredited him as just a silly gimmick guy but he has some terrifyingly good moves in his arsenal.
After some more brawling, Theory manages to deliver A-Town Down, and scores three. I really don't like him winning off of his first bit of offence in the match, especially considering he needed to punch Cena in his loins to win at Mania. Immediately after the bell rings we see a passionate Escobar attack Austin. Santos stands tall over Theory as we go to another video package.
ASUKA VIDEO PACKAGE
We see a video package of Asuka training with a punching bag, cutting a promo in Japanese while she trains. Asuka says she has a plan to retain her championship at Summerslam. Honestly this presentation of Asuka was really cool, much more grounded than previous iterations of her character. I also feel silly for thinking before that we would actually see the women come face-to-face-to-face before their match tomorrow, but instead we're getting video packages for each competitor. Thankfully we will be getting some women in the ring with:
THE GRAYSON WALLER EFFECT W/ DAMAGE CTRL
The Aussie icon, dynamite from down under, social media megastar Grayson Waller is once again acting as a chaperone for the women's division, hosting Bayley and IYO SKY ahead of Summerslam, where IYO has the chance to cash in her Money in the Bank contract and become the WWE Women's Champion.
He opens by saying that like in real life, one woman isn't enough for Grayson Waller, and tells the crowd to get on their feet for IYO and Bayley. IYO looks fantastic with the briefcase, but I think she'll look even better with the title belt. Waller begins with "ding dong hello!" and asks IYO if she's going to cash in tomorrow. Bayley cuts her off saying that Grayson must be an idiot if he thinks the genius in the bank is going to reveal her strategy before Summerslam. Over the speakers we here clocks ticking and Shotzi calling out to Bayley. As she starts to run out of the ring, Waller laughs, saying that he piped that in. Grayson asks why she's so scared of Shotzi, and speaking of, her entrance plays.
Bayley laughs, saying that Waller can't fool her twice, but out comes the tank and Shotzi waits on the ramp. Bayley sends IYO forwards, to confront whoever is in the tank, but they don't leave it. The camera pans back to Bayley, and in the ring stands Shotzi, sporting a new buzzcut look and… a fanny pack? Shotzi knocks Bayley down, and pulls out a set of hair clippers from the fanny pack. Shotzi chases Bayley out of the arena, and the camera pans back to the tank. The helmet comes off and reveals Zelina Vega driving the tank, who locks up with IYO SKY next.
ZELINA VEGA DEFEATS IYO SKY
The two start the match with back and forth strikes, with Vega taking early momentum driving SKY in to the corner. She rains down some right hands before hitting IYO with a running clothesline, scoring two. IYO gets up, but Zelina launches off the second rope with a meteora, scoring another two count. SKY gets up once more, delivering a double underhook backbreaker to Vega, before a knee strike in the corner. She steps over Zelina and makes her way to the top rope, but we see Shotzi and Bayley fighting at the top of the ramp. IYO is distracted by Shotzi trying to shave Bayley's head, and Zelina capitalises by powerbombing her off of the top rope. She hits the code red and pins IYO for three again.
It's cool to see Zelina get some big wins here but I really feel as though WWE uses the Money in the Bank briefcase as an excuse to hand out Ls to someone. I think SKY will cash in tomorrow and fail, causing her to split from Bayley.
BIANCA BELAIR VIDEO PACKAGE
In the third video package ahead of the Women's title match tomorrow night, we see a video package of Bianca working out. She says she's going to get her lick back at Summerslam and take back what's rightfully hers – The WWE Women's Championship.
Personally I think Flair is going to knock the title off of Asuka, and hold it for quite a while before we see Belair face Flair one on one.
JEY USO V SOLO SIKOA W/ PAUL HEYMAN
Before the commercial break, we see Jey Uso make his second entrance of the night. I'm wondering if Roman Reigns will show up to interrupt this match? I'd be surprised though as he usually gets a special graphic any time he's on the show. After the ads, Solo Sikoa makes his entrance with Special Counsel Paul Heyman. I think this is a showcase of his future, as after the Bloodline saga collapses I think Solo will be agented by Heyman. I've always loved Solo's presentation – he feels like an absolute monster with that music and lighting.
The two stare down in the ring while the crowd chants "Uso." Technically, they're chanting for both of them… nonetheless, they lock up, with Jey putting Solo in a side headlock early. The crowd chants "Solo Sucks" as he flattens Jey in the ring. Solo punishes Jey on the ropes, grabbing at his face and delivering some hard strikes. The two spill to the outside and Solo bounces Jey's head off of the announce table like a basketball, before picking him up for the spinning solo. Jey manages to escape, kicking Solo to the announce table. He gets in the ring, and launches out with an incredible tope suicida directly into Sikoa. We go to another commercial break as Jey rolls back in the ring.
After the break, Solo has taken back momentum, and has Jey in a deadly rest hold. Jey manages to escape, knocking Solo to the outside. He bounces off of the ropes again for a tope, but Sikoa interrupts him with a right hand as he reaches the ropes. Solo gets back in to the ring, bouncing Jey off of the ropes and landing a vicious looking Samoan drop. Jey props himself up in the corner, and Solo lines him up for a hip attack. Jey manages to roll out of harm's way, turning the fight back in to his favour. He lights up Solo with some more strikes, but Sikoa fires back with a clothesline from the ropes. Jey looks like he's been knocked silly but climbs to the top rope, delivering a crossbody to Solo that manages to score two. He lines Solo up for the spear, but Sikoa hits a spinning heel kick, and then spinning Solo. Grabbing Jey by the scruff of his neck, he sets up for the Samoan Spike, but Jey ducks underneath it. The two trade superkicks, but Mr. Uso bounces off of the ropes and fires back with a huge spear. He hulks up and climbs the top rope once more, landing the Uso splash and pinning Solo for three.
After the match though, Solo is trying to injure Jey before his championship match tomorrow. He tosses Jey to the outside and grabs a steel chair, but Jey superkicks the chair back into Solo's face. He lights up Sikoa with some chairshots, and Solo tumbles in to the time keeping area. Jey repositions the chair, and hits Solo with the side of the chair to Solo's face. He gets up on the announce table and gets the whole crowd on their feet in response.
This match was pretty good, and I see these two locking up again in the not-so-distant future, perhaps for a championship?
THE WRAP-UP
Overall I think this was a slightly disappointing go-home show. I would've loved to see the three women in the title match interact in the ring, but I feel as though the video packages really benefitted Asuka's presentation as the champion, however short that may last. I think that the Theory match was a bit of a waste of time, and Knight v Sheamus was a scary start to the show. The tag match felt a bit like filler, but the new All-Mighty Street Profits look like a force to be reckoned with. It's great to see the crowd reactions to Jey Uso, and although I don't think he needed two entrances tonight, it's always great to hear those loud cheers.
Make sure to stay tuned to wrestlepurists.com for more results, news, and features.