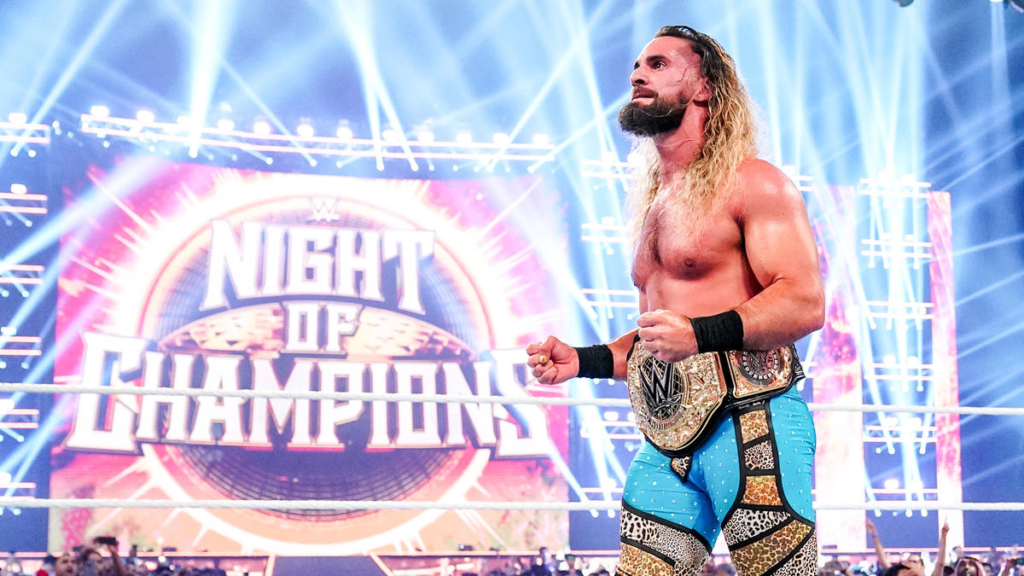 Seth Rollins has been one of the most popular acts in WWE for several years, and he saw that acclaim rewarded with winning the inaugural World Heavyweight Championship at Night of Champions in May, his first world title victory in WWE since 2019.
Rollins stopped by Logan Paul's IMPAULSIVE podcast in an episode recorded while the two were in London for Money In The Bank. Speaking with Paul and co-host Mike Maljak, Rollins covered a variety of topics, including a nagging back injury that has been plaguing him since 2019 which he's avoided getting surgery on.
"I try to just change my training up based on how I feel and it's constant injuries, you know? My knee's been bugging me since before WrestleMania. I was having issues with that. My neck been acting up, my lower back has been at me since 2019. Probably should get some surgery on that but trying to just do whatever I can to make sure I don't need it because I have a couple of stress fractures back there. So I tried some stem cells. I've done a couple of stem cell treatments and I found that they were temporarily helpful, and I wasn't taking time off so I wasn't just idling while I was on the stem cells."

– Seth Rollins
Rollins also addressed his real-life feud with fellow WWE star Matt Riddle. Rollins reportedly refused to work with Riddle, at least partially because of Riddle's ex-wife making disparaging remarks about Rollins' then-fiance (now wife) Becky Lynch back in 2019.
However, it appears that the two of them have reconciled. The pair even turned their past tension into a series of matches on WWE programming, the highest-profile of which took place at last year's Extreme Rules inside the Fight Pit with UFC Hall of Famer Daniel Cormier serving as the special guest referee. He made it clear that there was no longer any bad blood between the two.
"Look, I'm a professional, so if you want to work together, we can work together. Things that have happened outside of here, that is what it is. He apologized and we mended fences and I don't write anybody off. I'm not like one of those guys it's like, no second chances, you do wrong by me and I hate you forever. Like I'm not that stubborn, it's not that serious."

– Seth Rollins
Rollins was also asked about the Wrestling Observer Newsletter's Dave Meltzer. Meltzer, one of professional wrestling's preeminent historians, has also been a source of controversy over the years for his match ratings.
Rollins has also taken exception to some of Meltzer's reporting. Perhaps the most prominent example of this came after a 2019 story in which Meltzer claimed Rollins made a "rah-rah" speech prior to the Raw episode that followed the now-infamous "travel issues" that arose when WWE tried to leave Saudi Arabia after that year's Crown Jewel event, a claim that Meltzer later retracted.
In the interview, Rollins spoke about Meltzer, repeatedly showing his respect for his knowledge of history and his longevity, while also dismissing the idea of match ratings as a "silly" one.
"Don't even say his last name. Don't even give him the credit on this podcast […] Do you know, if I'm not mistaken, like I think Kurt Angle has no five star matches, one of the greatest of all time, and there's a plethora of these people […] My point is, Dave's great, he's a historian, Dave Meltzer is his name, he's great, he's a great historian, he's been a part of the business for a long, long time, he started with the Wrestling Observer Newsletter. That was his big thing, so they used to send out literal actual newsletters every month to subscribers just detailing what had happened anywhere in wrestling that month.

He's great as a historian, but match ratings are silly. Match ratings are very silly, it's so subjective. Like I said, if it's good, it's good. You know when something's good. I can watch a match on any show on the planet in front of a crowd of 70,000, in front of 20, if people are popping, it's a good time. That's the name of the game, but to like to put star ratings on it, good for you. Good for you, you found something that people have latched onto, and it's fun to debate, and all that stuff, but in the grand scheme, it means very little."

– Seth Rollins
Seth Rollins received a five-star rating from Meltzer at last year's Hell In A Cell event, where he and Cody Rhodes battled inside the titular structure after Rhodes tore his pectoral muscle. It was the first non-NXT WWE match to receive such a rating since 2011 and the first of Rollins' career, though fans of his will likely argue that he should have received several such ratings long before 2022.
Elsewhere in the interview, Rollins touched on his respect for Rey Mysterio, his match with Logan Paul at WrestleMania earlier this year, the time he was attacked by a fan at a Raw taping, and the joys of fatherhood.
He is scheduled to defend the World Heavyweight Championship against Finn Bálor at next month's SummerSlam in a rematch from Money In The Bank. It will mark their third time competing in a world title match against one another.
H/T to POST Wrestling, SportsKeeda, & WrestleTalk for the transcriptions.