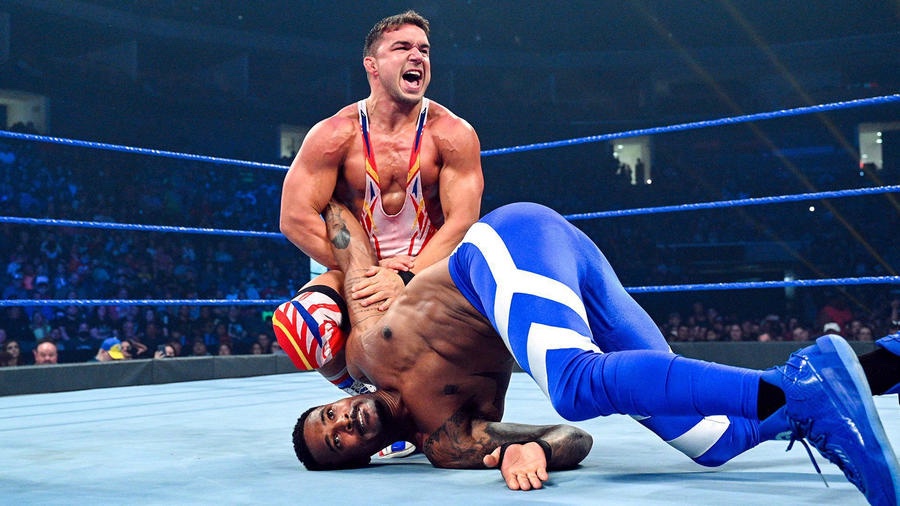 Xavier Woods has named Chad Gable as the most underrated wrestler in WWE.
Now as the leader of Alpha Academy, Chad Gable is enjoying a fruitful stint in his career where fans are wildly entertaining by the antics of himself, Otis and Maxxine Dupri. Even in segments that are meant to be comedic, the 37-year-old often provides glimpses into his natural athletic ability, such as when he lifted 300+ pound Ivar up for a German Suplex on this past Monday's 'Viking Rules' match.
So, in the debate of most underrated, Chad Gable's name is one that crops up time and again. Despite being very adept at his current role, many among the WWE faithful believe the company don't always utilise the former Olympian to his full potential.
Now, while speaking with Superstar Crossover, Xavier Woods has supported claims that Gable is the most underrated wrestler in WWE, stating that he deserves an even bigger spotlight than what he's been given to this point.
"Chad Gable. There are, there are a lot of very underrated people. And, not to get on a weird high horse, I don't believe that wrestling like owes you anything. You know, like wrestling is its entity in itself. And we are all trying to be the absolute best that we can be. And we all wanna a shot. We all wanna be on camera. We all want to have these long grueling matches to show everybody how hard we've worked and what we've been able to do. And I think that there, right now, especially right now, not just in WWE but in all of wrestling, I don't think that there's been a time where there have been more talented people across the board in this industry ever. And that's not a slight on the previous generation, but I do believe that the generation that comes before you, it's their job to help you become the best generation of all time. So it's our job to make the next generation the best generation of all time so that things get better for the boys, girls, and fans. So, right now seeing as many people as talented as they are in this industry, it makes me so happy for the future of what we have as pro wrestlers to see people grow. But I wanna see Chad Gable get a spotlight because he deserves one. He's a guy who came in, an Olympic-level wrestler, and fell into this and, and learned it quick and is athletic, agile, smart, creative, all of these things. And so my vote is for Gable. And that's a very long-winded way to say that."

-Xavier Woods
So far in WWE, Gable has held many tag team accolades, including titles alongside Jason Jordan, Bobby Roode and Otis. However, he is yet to hold a singles titles in the company, with a large portion of fans who are pulling for him to one day become a champion on his own accord.
H/T to WrestlingNews.co for the transcription.