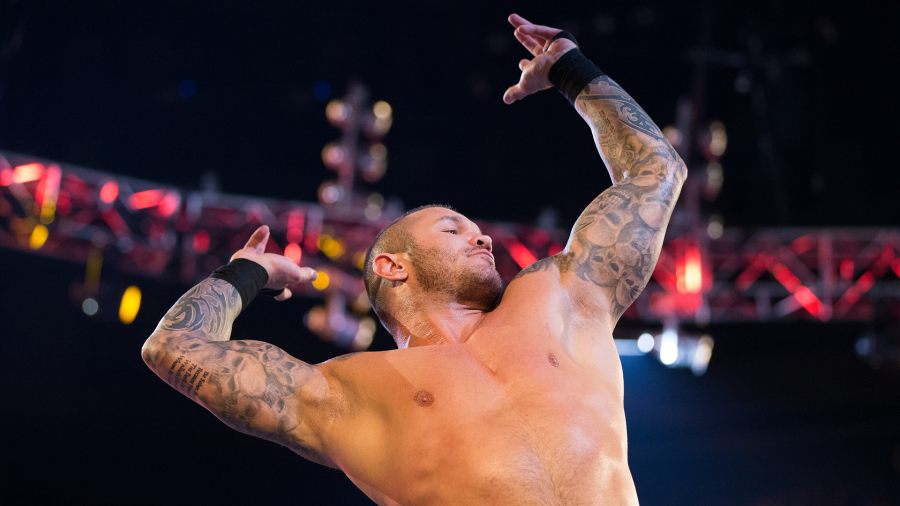 Randy Orton has been one of the WWE's most heavily featured stars for almost two decades, working with the likes of The Undertaker, Triple H, John Cena, and Daniel Bryan across his lengthy career.
Orton made his televised debut for the WWE in his early twenties, and has transitioned over the years from a talented young rookie into one of the business' most respectable figures.
Orton's many years of experience has naturally molded him into a mentor-like figure behind the scenes, with the promising young talent of today often seeking feedback and guidance from "The Viper".
Speaking to Pat McAfee on the Pat McAfee Show, Orton discussed his relationship with Edge when asked about what shifts his performances into higher gear, with Randy noting that Edge's return gave him someone to turn to for advice.
"The people I'm working with," he replied. "It started to turn around for me years ago, just because I was maturing, I became a father and stuff, but my opponents. Working with Edge two years ago, right when the pandemic, it was right before COVID, we started working. Having Edge come back and having that person who kind of mentored me and I looked up to, that bigger brother figure that I haven't had for a decade. Now, all of a sudden, I have this guy, 'Can you help me with this?' Instead of everyone coming to me or me feeling like I didn't have anyone to talk to, now I have Edge, who is probably one of the best minds in the business that I have ben fortunate enough to be in the ring with. He helped turn it around for me because he had that old school mentality and he knew how to work and he wasn't taught that 'when the red light is on, cream the shit out of the guy.'"
The pair have a storied history in the industry together, both tag-teaming as Rated RKO, and as opponents over the Intercontinental Title, as well as more recent outings at Wrestlemania 36 and Backlash 2020.
Orton continued, discussing the differences between working with Edge compared to some of the newer talent of today, with Orton highlighting the younger generation's lack of protection for their opponents.
"There is an art to what we do and a lot guys have lost that art. Instead of selling a punch because you need to sell a punch, now I'm protecting myself because I don't want to get my fucking jaw broken. That's unfortunate. The art to professional wrestling…when Vince (McMahon) was on (McAfee's Show), he talked about the number one priority, above all, being protecting your opponent. That's not taught necessarily in NXT. I know that because I've been in the ring with guys that came from NXT and they don't know what the fuck they're doing. It's unfortunate. It's just how kind of things are changing. Edge, I knew I could trust this guy and give this guy my body in the ring and I don't have to, in the back of my head, worry about him only being concerned with looking cool in the ring and hitting the fuck out of me and taking my head off. He knows I know how to work and when he hits me, I'm going to sell and react and make it bigger. He doesn't have to hurt me. The right way to do things in the ring, longevity-wise. There is a reason I've done it for 20 years and I'll do it for another 10 and I want everyone to put food on the table, clothes one their back, and take care of their families for 10, 20, 30 years but they're not going to be able to because they're going to be all fucked up. I'm trying to preach that longevity. If I'm able to think about what's happening in the moment and not worry about, 'here's this fucking guy, I don't know where he's coming from,' because you have to protect yourself,"
Orton closed by discussing his time working with Bray Wyatt throughout 2020-21, as well as praising his current tag-team partner Riddle.
"Edge made me realize, I can go 45 minutes with a guy that knows hat the fuck he's doing. Where are these other guys that know what the fuck they're doing? They started to come up. Bray Wyatt was there, I worked with him, it was a little odd. There were some issues where I think he wasn't able to do some stuff in the ring for awhile. That got weird, but he's a hell of a talent. Riddle, for the last year, he's only been wresting for six years, but he gets it. He knows how to sell and he captivates those people. He captivates me,"

Randy Orton
Orton and Riddle are set to defend their Raw Tag Team Championships at Wrestlemania 38 Night 2 against both The Street Profits (Montez Ford & Angelo Dawkins), and Alpha Academy (Chad Gable & Otis).
H/T to Fightful for the transcription.